Skincare doesn't have to be difficult. In fact, when it comes to beauty, you'll often find that less is more. 
However, if your current routine does not include a day cream, you may want to consider changing up the rotation. More potent than hydrating serums and lighter than night creams, we reveal all the reasons why a day cream like the Introstem Stem Cell Day Moisturizer is the skincare step you didn't know you needed.
First Thing's First, What is a Day Cream?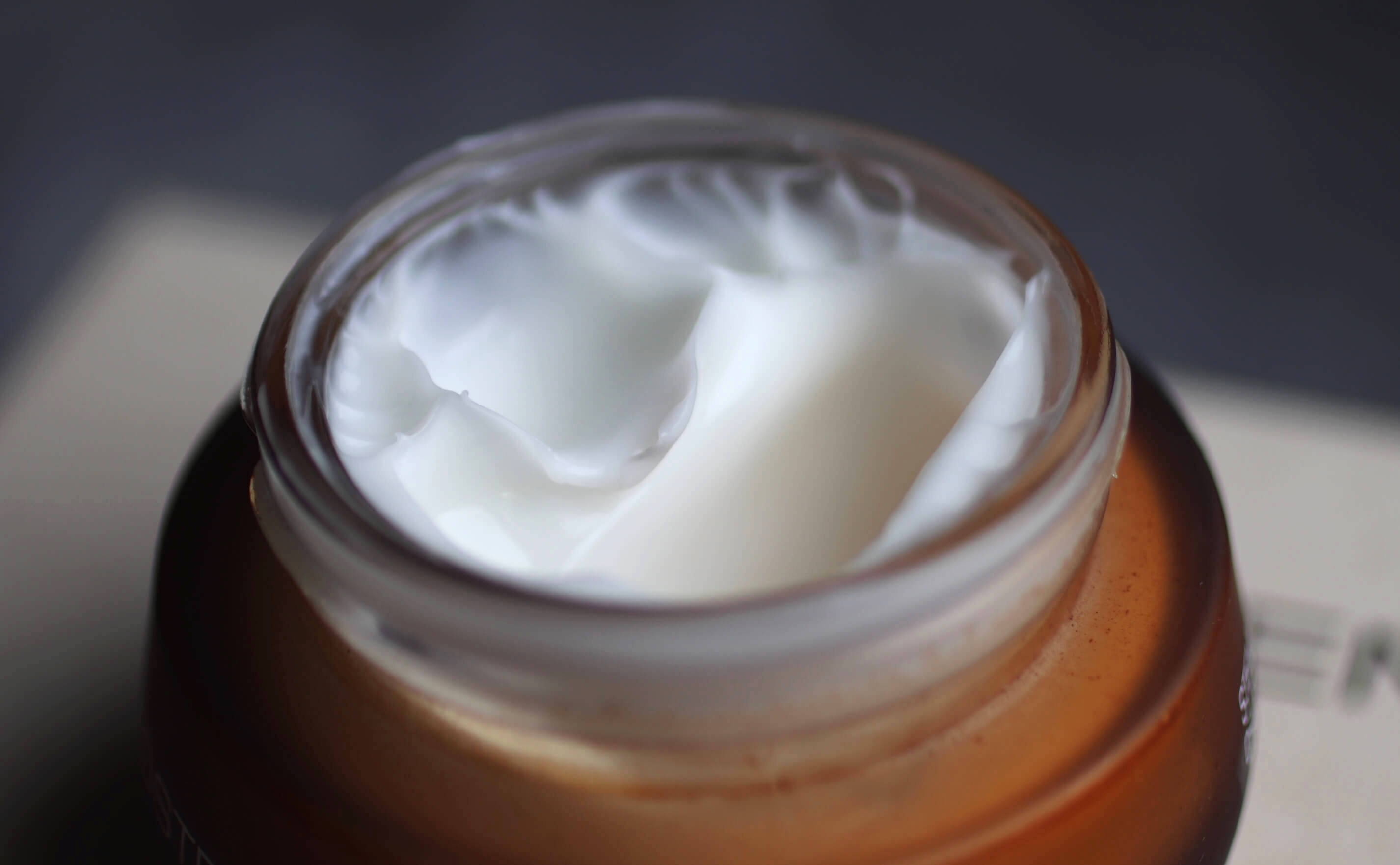 From gels to ointments, moisturizers come in various formulas and consistencies. While they all share a common goal of delivering moisture to the skin's outer and inner layers, certain intricacies set each type of moisturizer apart from the other.
For instance, a defining feature of lotions or gel-type moisturizers is their higher water content. By containing more water than oil, these solutions tend to weigh very lightly on the skin. This makes them a great match for oily or acne-prone skin.
Daytime creams are thicker and infused with more oil than water. As they are richer and more nourishing, cream formulations work especially well with drier skin. Those suffering from irritation, dryness, and conditions like eczema or rosacea can also benefit from day creams.
Because day creams are meant to be worn outside, they need to be purposefully formulated to withstand various situations: heat, sweat, changes in the environment, and even layers of sunscreen and makeup. No matter how enriching, they cannot weigh too heavily on the skin lest they cause sebum production into overdrive.
However, don't just stop at including any day cream in your routine; make sure you choose the right one for you.
To get you started, we round up everything you should be looking for when choosing a day cream below — as well as the reasons why Introstem Stem Cell Day Moisturizer reviews shows this cream to be the best one available. 
Abundant Antioxidants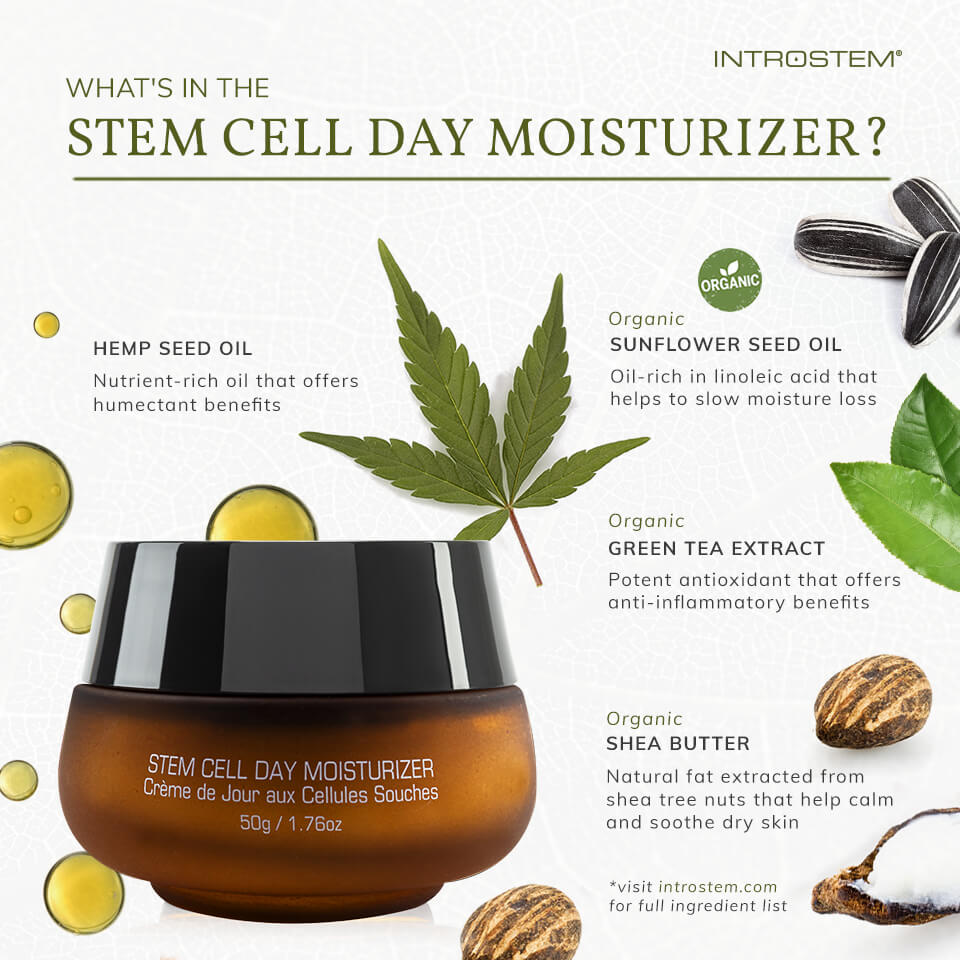 Many ingredients found in nature are rich in skin-boosting antioxidants. With the ability to combat free radicals and environmental stress, antioxidants are the kind of component you'll want to include in as many steps of your regimen as possible.
But what exactly makes antioxidants so great? Here's a simple explanation: 
Think of antioxidants as skin insurance. Even though you think you might not need them in your skincare products just yet, the benefits they provide are both preventive and reparative. The earlier you start incorporating them into your routine, the better.
Some of the many skin benefits antioxidants provide include: 
Preventing sun damage.

Antioxidants are anti-inflammatory, and this ability is especially helpful when the skin comes in contact with sunlight. More antioxidants mean a weaker inflammatory response to sun exposure—and therefore, lower chances of sunburn and skin damage.

Reversing signs of aging.

The majority of the visible markers of aging—think wrinkles, fine lines, and age spots—can be attributed to UV exposure. By reducing sun-induced skin damage, antioxidants can also slow down the appearance of telltale signs of aging. 

Brightening the skin. Besides causing skin stress, sun exposure and free radicals can boost melanin production. Melanin is the pigment behind the formation of acne scars, dark spots, and patchy skin tones. By combatting free radicals, antioxidants increase our chances of having a brighter, more even-toned complexion. 
One antioxidant-rich ingredient is present across Introstem's entire product roster: Grape Stem Cell Extract. Otherwise known as Vitis Vinifera Fruit Cell Extract, Grape Stem Cells are extracted from the skin and seed of grapes. Both of these are potent sources of phenolic compounds, which are antimicrobial and anti-aging antioxidants. 
How Does Grape Stem Cell Extract Work?
By patterning themselves after our cells, grape-derived stem cells can do what our natural cells do: heal wounds and regenerate skin. By doing this, cell turnover is improved, giving way to healthier and younger-looking skin.
The Stem Cell Day Moisturizer contains Introstem's signature Grape Stem Cell Extract, as well as other antioxidant-rich ingredients: 
Safflower Seed Oil

Vitamin E

Chamomile Flower Extract

Green Tea Leaf Extract
By working together, these products can protect the skin and combat potential sources of irritation — all while maintaining an ideal level of moisture. 
Soothing Ingredients
Another thing you should look out for when narrowing down your day cream options: soothing ingredients.
The skin's saviors when inflamed or irritated, ingredients that can soothe and calm flare-ups not only set the skin back into balance — they can help undo the damage caused by harsh ingredients, too. 
Here are some of the skin-soothers customers love in their Introstem Stem Cell Day Moisturizer reviews:
Chamomile Extract
Besides containing antioxidants, Chamomile Flower Extract hydrates and calms the skin. 
As a soothing ingredient, Chamomile Flower Extract combats inflammation with a variety of helpful compounds: hydrating and skin-refining apigenin, calming bisabolol, and chamazulene. These compounds are at the forefront of Chamomile Flower Extract's battle with dryness and irritation.
Green Tea Leaf Extract
Green Tea Leaf Extract is another antioxidant-rich ingredient that doubles as a skin-soother.
A multitasking ingredient, green tea ticks almost all the boxes because of its ability to:
Soothe hypersensitivity 

Minimize visible signs of aging

Regulate sebum production
On top of their ability to dial the skin back to a state of calm, these soothing ingredients can work well with any skin type.
Softening Emollients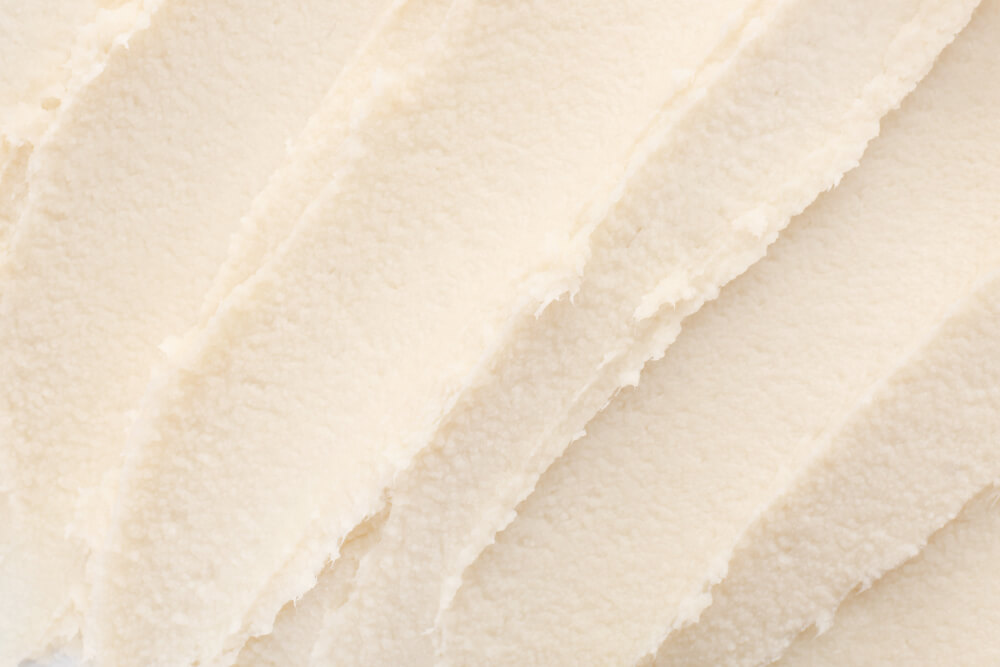 Moisturizers typically contain three types of ingredients:
Humectants, which draw water to the skin
Occlusives, which create a moisture-locking barrier
Emollients, which soften the skin
Here, we zero in on emollients. 
While the objective behind emollients is fairly simple, ensuring that the skin is soft and smooth brings its own host of benefits. Proper moisture equates to less irritation, flaking, and itching, which is why emollients are crucial in day creams.
In terms of ingredients, emollients can take on different names, forms, and textures. Anything from butter and oils to fatty acids and lipids falls under the emollient umbrella, as long as it contributes to the skin attaining a soft, even texture.
However, when it comes to day creams, oils are particularly common. 
Shea Butter
Introstem Stem Cell Day Moisturizer reviews show that the cream contains a long list of emollients. Among them is Shea Butter, a favorite across beauty brands all over the world. 
According to the skincare ingredient database INCI Decoder, Shea Butter is hard to beat as far as moisturizing ingredients are concerned. After all, it is the most popular natural butter used in both skincare and haircare products — and with good reason. 
A hydrator, antioxidant and emollient all in one, Shea Butter has a long list of well-studied skin benefits:
It protects from external factors.

Environmental stress isn't limited to just UV exposure. Anything from strong winds and pollution to your diet and nutrition can count, too. 

It plumps the skin. By keeping the skin's hydration and moisture levels in check, emollients like Shea Butter can help achieve a plump and healthy look.

It soothes allergies and skin conditions. As an effective emollient, Shea Butter is a common ingredient in dermatitis creams and allergy-busting balms.

It fades scars. Whether you have souvenirs from sunburns, stubborn scars from insect bites, or ghosts of breakout past, Shea Butter can ease the appearance of these marks over time. 
Aloe Vera Leaf Extract
Another emollient highlighted in Introstem Stem Cell Day Moisturizer reviews is aloe vera. This is an ingredient that you're probably already familiar with.
A mainstay in the medicinal practices of Greece, India, Egypt, China, Japan, and Mexico, Aloe Vera's health benefits have long been under study. The plant contains 75 different vitamins, minerals, enzymes, sugars, and acids that can contribute to neutralizing free radicals, calming down inflammation, and cleansing wounds.
Other emollients loved by customers in their Introstem Stem Cell Day Moisturizer reviews are: 
Isopropyl Palmitate

Caprylic/​Capric Triglyceride

Cetearyl Alcohol

Dimethicone
Altogether, these various emollients work to make the Stem Cell Day Moisturizer an effective, skin-softening day cream.
Lightweight Texture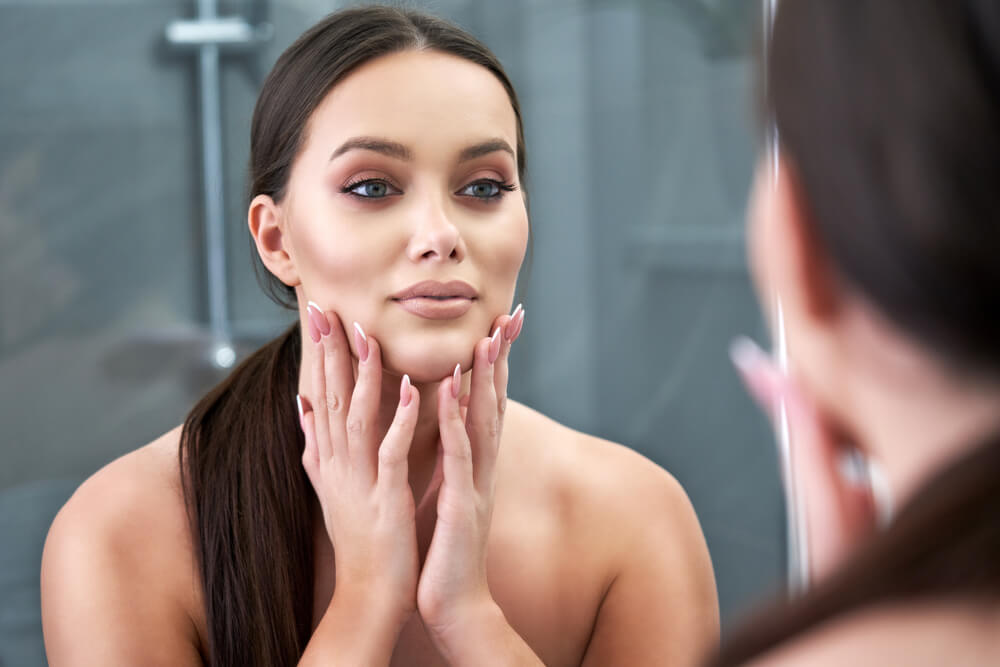 Despite the Introstem Stem Cell Day Moisturizer containing these rich emollients in abundance, it's important to remember that day creams are still meant to be worn under SPF and makeup. This means that no matter how nourishing a product's formula might be, its texture must still be lightweight and natural.
One of the common characteristics that customers praise in Introstem Stem Cell Day Moisturizer reviews is its light, weightless consistency. Even when between multiple layers of skincare and makeup, the moisturizer can sink into the skin without leaving a greasy, excessively oily finish.
Alcohol-Free Formula
A good day cream will reinforce the skin's natural oils. They keep our moisture levels in check and protect the skin from sensitivity.
This is why harmful alcohols should typically be avoided in moisturizing products. Alcohol, non-fatty ones at least, do the opposite of what a day cream should do. 
While fatty alcohols like Cetyl, Stearyl, and Cetearyl Alcohol deserve a seat at the skincare table, most "simple alcohols" do not. The term simple alcohols covers denatured alcohol (or alcohol denat), ethanol, isopropyl, and SD alcohol 40.
These alcohols may provide some benefits, such as lessening sebum and thinning out formulas to make for even application. However, these are also the common culprits behind the dry, tight feeling you may get from toners or gel moisturizers.
What Makes Alcohol So Damaging to the Skin?
Instead of harmful and sensitizing ingredients, the Introstem Stem Cell Day Moisturizer contains alternatives that can do what alcohol can — only without putting the skin at risk:
Propylene Glycol

and water work as solvents to help dissolve other ingredients in the product. In addition to this, Propylene Glycol also enhances how well a product penetrates the skin's inner layers. You may not have heard of it but it works wonders!

Ethylhexylgycerin

and

low-percentage phenoxyethanol

are used as preservatives to prevent contamination. 

An abundance of antioxidants such as Safflower Seed Oil, Chamomile Flower Extract, and Green Tea Leaf Extract step in to substitute the antibacterial and antimicrobial properties of alcohol.
Summary
If you find yourself wanting to incorporate a day cream into your skincare routine, make sure to opt for one that does more than simply moisturize the skin. Give your skin only the best by choosing a day cream that is free of harmful ingredients. A formula that's filled to the brim with antioxidants and softening emollients, yet still lightweight enough for daytime use. What's not to love? 
A powerful formula in a jar, Introstem's Stem Cell Day Moisturizer delivers on all of these prerequisites and more. Click through to read more Introstem Stem Cell Day Moisturizer reviews.
To discover more skincare innovations from Introstem, click here.