The thought of aging can be daunting, to say the least. While some don't have to deal with wrinkles, fine lines, and crow's feet until much later in life, not all of us are quite as lucky. Some of us are simply left to wonder which signs of aging will be the first to show through.
But there's no need to dread getting older and wiser. Aging can be a beautiful thing—especially if you have the right skincare routine to back you up. 
Formulated with potent botanical ingredients, the Introstem Hydro Collection is the first step to unveiling smooth, age-defying skin. Ready to start your anti-aging journey? Let's dive in.
The Introstem Hydro Collection
While mankind hasn't invented a time machine just yet, we've managed to create the next best thing. Introducing the Introstem Hydro Collection, a line of skin elixirs specifically formulated to combat aging and dehydration.
Like all of the products on the Introstem roster, the Hydro Collection is formulated with two of our superstar ingredients:
Grape Stem Cells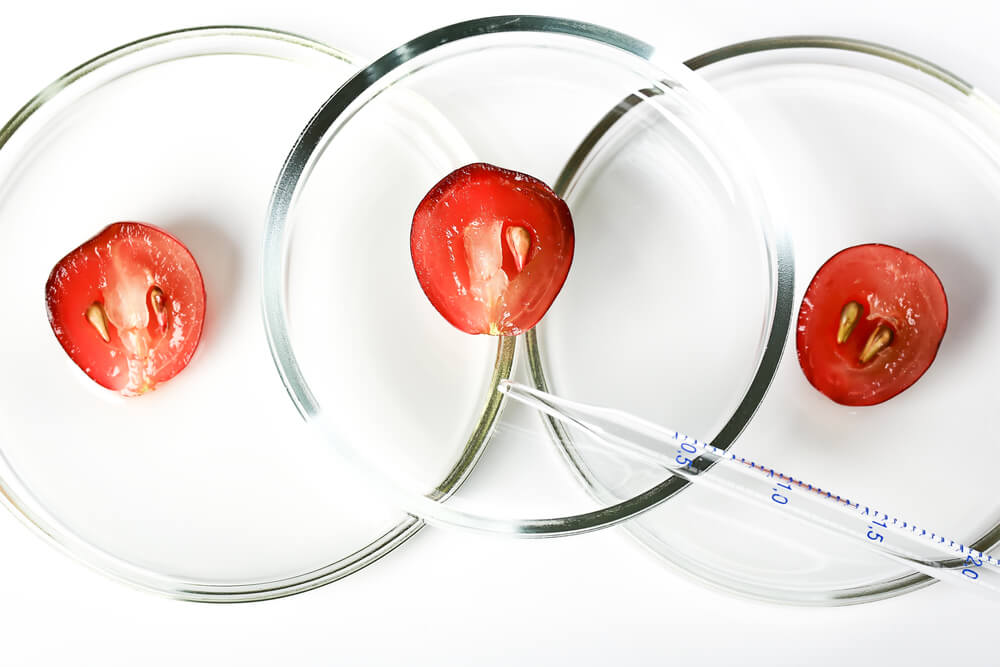 First, there's Grape Stem Cell Extract, otherwise known as Vitis Vinifera Fruit Cell Extract. By extracting stem cells from the plant, Introstem's products can maximize the greatest benefits that grapes provide.
One such benefit is the ability to combat photoaging caused by frequent exposure to ultraviolet radiation. UV exposure also happens to account for up to 80% of signs of aging. 
Grape skins and seeds contain phenolic compounds, which may very well be the closest thing we have to the fountain of youth. These help maintain elasticity, reduce inflammation and swelling and maintain elasticity in the skin.
The antioxidants in these compounds have also been proven to be between times more effective than cult favorite skincare ingredients. They're 20 times more effective than Vitamin C, and 50 times more powerful than Vitamin E. 
Hemp Seed Oil
The second ingredient is Hemp Seed Oil, an anti-inflammatory wonder. Rich in Omega-3, 6, and 9, this protein-rich oil hits backspace on barrier damage to unveil healthier, stronger skin.
A multitasker through and through, Hemp Seed Oil is also a humectant. This means it attracts water and binds it to the skin for long-lasting hydration. Despite being an oil, Hemp Seed Oil doesn't leave that heavy, pore-clogging feeling on the skin. In fact, it's an anti-acneic ingredient that can help the skin regulate oil production with continued use.
These staples are coupled with hydrating ingredients to plump up and nourish the skin, giving it an unmistakable lit-from-within glow.
True to Introstem's promise, all the products in the Hydro Collection are free of parabens. Even better, they're completely cruelty-free.
Let's unlock the secret to younger-looking, healthier skin. Learn more about the products that make up the Instrostem Hydrolift Collection below!
Hydro Transforming Mask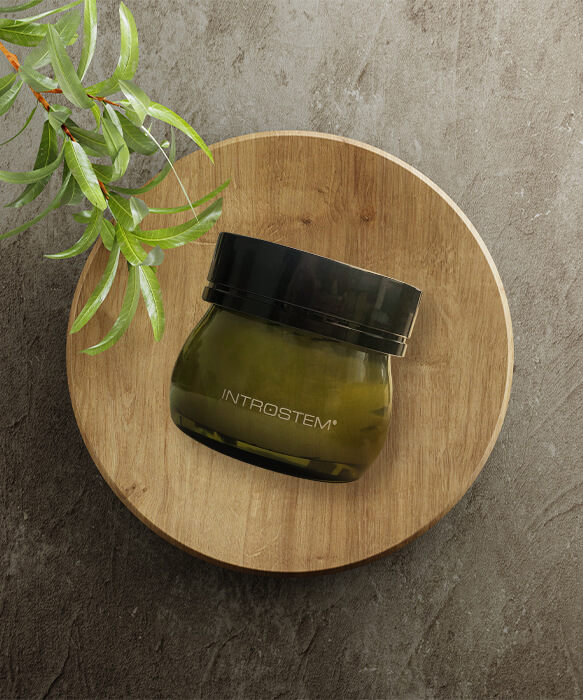 With so many stressors surrounding us, some of that pressure and anxiety are bound to show up on the skin's canvas. When you need to double down on the damage control, you can count on the Introstem Hydro Transforming Mask to work its expertly formulated magic.
Along with Grape Stem Cell Extract and Hemp Seed Oil, this mask contains Seaweed Extract, which can enrich the skin in a handful of ways:
Healing hypersensitivity. With zinc and magnesium to reduce redness, Seaweed Extract can not only soothe inflammation—it works as a protective barrier for sensitive skin.
Reducing fine lines and wrinkles. A source of antioxidants and amino acids, Seaweed Extract promotes collagen production, which helps to fill out lines and grooves that weather the skin over time.
Brightening & exfoliating. By sloughing off dead skin cells and targeting hyperpigmentation, Seaweed Extract reveals brighter, younger-looking skin.
Seaweed Extract also has the ability to regulate the skin's oil production. Further amplifying this are Bentonite and Kaolin. If these ingredients sound familiar to you, it's because they're extremely popular ingredients commonly found in clay masks.
Despite the abundance of oil-absorbing ingredients, there's no need to fret about overly stripping the skin. The Hydro Transforming Masks leaves the skin plump and moisturized, thanks to the fatty acids found in Seaweed Extract. Organic Honey, which is another natural humectant, also keeps the skin supple and moist.
Other organic ingredients found in the Hydro Transforming Mask include brightening Licorice Root Extract and exfoliating Willow Bark Extract.
How to Use the Hydro Transforming Mask
To do away with weary skin, apply a layer of the Introstem Hydro Transforming Mask on clean skin. 15 minutes, once a week is all you need to start trading in fatigue for freshness.
The Introstem Hydro Transforming Mask comes as a standalone product and is also available in the Hydro Collection set. For optimal results, use it with the Introstem Hydro Stem Cell Drops, which are also available in the three-piece set.
Hydro Stem Cell Drops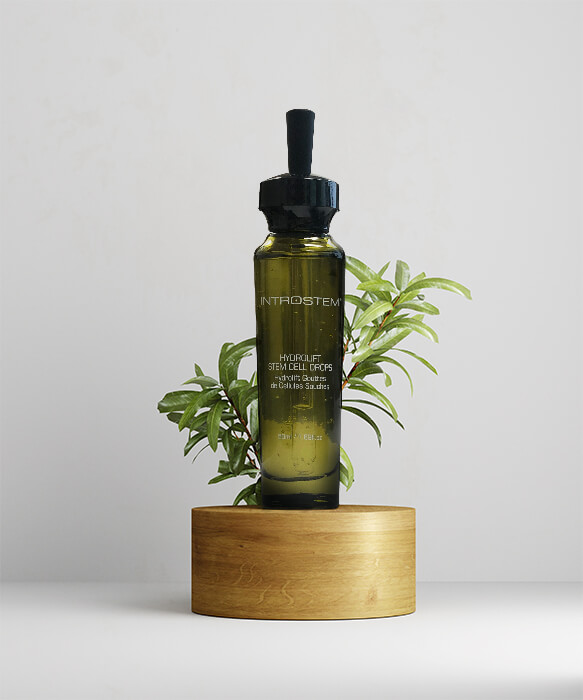 The perfect complement to the Hydro Transforming Mask is the Hydro Stem Cell Drops. After the mask heals and soothes, the Hydro Stem Cell Drops come in to reverse wrinkling, target dullness, and unveil a healthy glow.
One of the ingredients highest up the list is Glycerin, a plant-derived moisturizing ingredient that can pull moisture from the air and into the skin's top layer. Thanks to Glycerin's molecular weight, this moisture continues to seep in and is deposited into the skin's deeper layers.
If you've never heard of Glycerin before, you don't have to feel apprehensive. Chances are, it's in a few of the products you're already using. In fact, it's already naturally present in our skin! While Glycerin might not be as hot a buzzword as Hyaluronic Acid, it's just as effective at keeping moisture locked in.
The nourishment doesn't stop there:
The Introstem Hydro Stem Cell Drops are also powered by a curated blend of natural plant and flower extracts. You might be familiar with a few of them:
Fagus Sylvatica Bud Extract, otherwise known as Beech Tree Extract, which contributes to collagen and elastin enhancement.
Organic Camellia Sinensis Leaf Extract, a.k.a Green Tea Extract to fight inflammation and acne.
Organic Calendula Officinalis Flower Extract or Pot Marigold Extract. Antibacterial, antifungal, and anti-inflammatory, this ingredient soothes skin flare-ups caused by eczema, rosacea, psoriasis, acne, or changes in the environment. 
Organic Aloe Barbadensis Leaf Extract. A beauty staple across multiple cultures and generations, Aloe Vera Leaf Extract has long been used to relieve skin of redness, soreness, or sensitivity.
How to Use the Hydro Stem Cell Drops
The Hydro Stem Cell Drops, which come in the Introstem Hydro Collection set, are formulated to be a fixture in your daily regimen. Treat yourself to two to three drops in the morning and evening. Massage the solution into your skin, focusing on the delicate areas prone to fine lines. 
Hydro Face and Neck Cream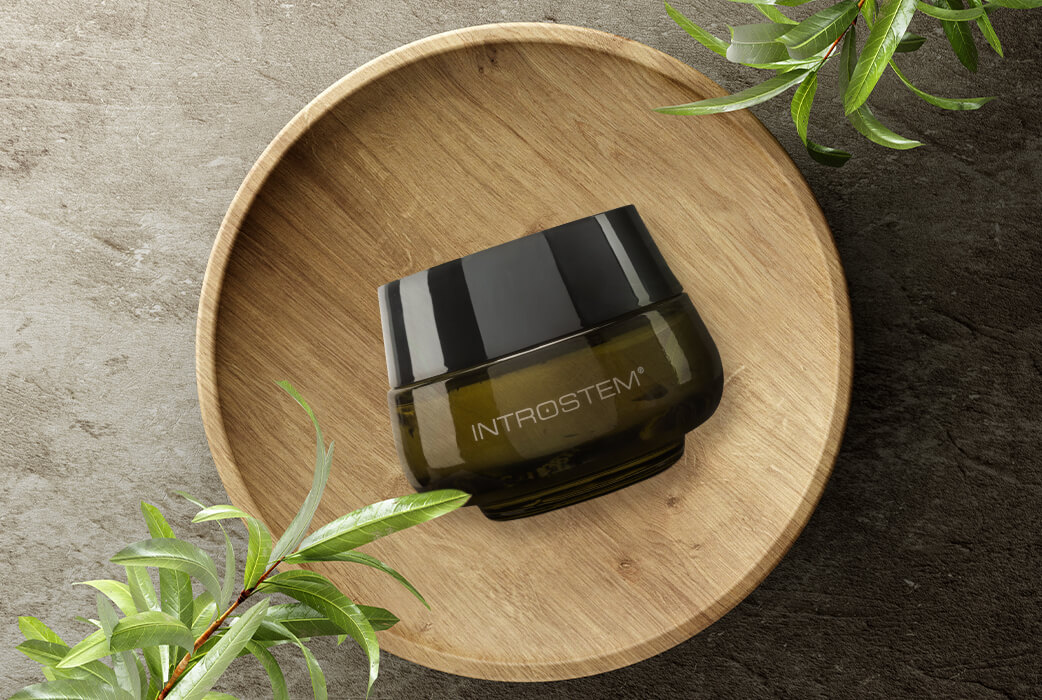 Aging often starts with that first wrinkle or fine lines, before the subtle sag begins to give way. Get ahead of the game with the Introstem Hydro Face and Neck Cream.
A best-seller, the Hydro Face and Neck Cream is packed with the ingredients the skin needs to keep its firmness and elasticity.
Peptides are something of a holy grail in the realm of anti-aging, a status earned through effective performance and tangible results. The best kind of double agent, these amino acids perform two primary functions in skincare:
First, peptides tighten the skin — and not in the uncomfortable, squeaky-clean way. They're the foundational blocks that are used to build collagen and elastin and have the ability to send messages to the body to produce even more collagen. This not only prevents skin from drooping and sagging but fortifies nails and softens hair, too.
Peptides not only strengthen the skin but contribute to its texture as well. By delivering hydration and moisture, these anti-aging powerhouses keep the skin looking young.
However, as powerful as they are, peptides can't counter aging alone. The Introstem Hydro Face and Neck Cream is further reinforced with Vitamins A and E.
Vitamin A, more popularly known as Retinol, works especially well in combination with the Hemp Seed Oil found across Introstem products. While Retinol stimulates collagen production and improves skin tone and texture, Hemp Seed Oil fights off irritation.
Purchase the Introstem Hydro Face and Neck Cream on its own, or as a set with two other Hydro products: the Transforming Mask and Stem Cell Drops.
Hydro Silk Capsules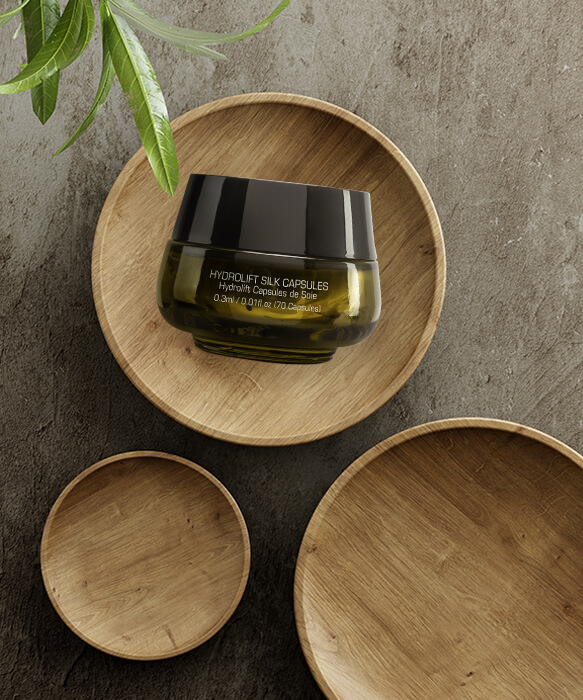 Infuse a little fun into your weekly regimen. A game-changing addition to any skincare routine, the Introstem Hydro Silk Capsules give tired skin a healthy, luminous boost.
Curious about what's within these little capsules? Here's a breakdown:
Titanium Dioxide. A mineral sunscreen filter, this ultra-gentle ingredient

shields the skin from both UVA and UVB rays.

 

Zanthoxylum Bungeanum Fruit Extract. Extracted from the fruit of Sichuan pepper plants, this softens and rehydrates the skin.
Spilanthes Acmella Flower Extract. Also known as Paracress Plant Extract, this ingredient has been used as a medicinal and antifungal cure for centuries. Today, it is used in skincare to constrain excessive contractions in facial muscles, effectively smoothing out fine lines.
Sodium Hyaluronate, a crowd favorite among dry and sensitive skin types due to its ability to replenish moisture from the epidermis down to the deeper layers of the skin.
With texture-enhancing ingredients like Neopentyl Glycol Diheptanoate and Ethylhexyl Palmitate, the formula within the capsules is rich and luxurious. 
To use, carefully break one or two capsules and massage on clean skin once a week.
Hydro Age Reforming IV Solution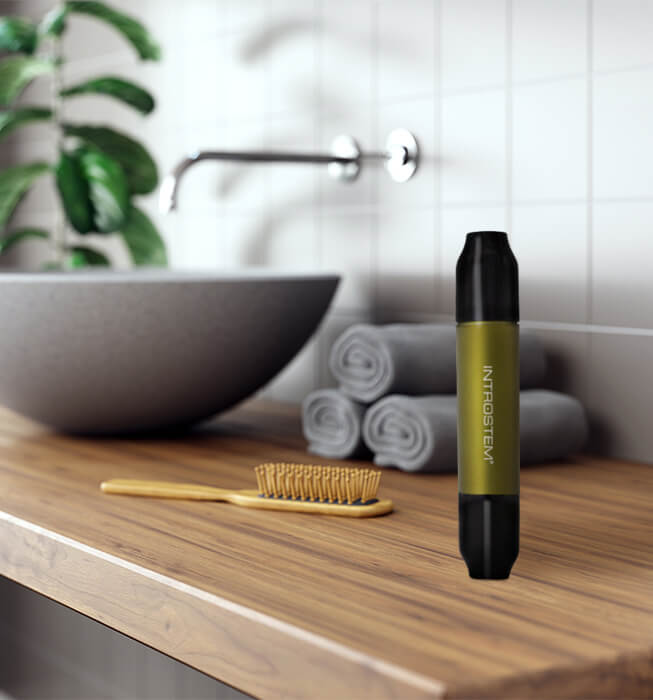 The last product from the collection is the Hydro Age Reforming IV Solution. Bringing together a novel applicator and some of the world's best anti-aging ingredients, this product delivers the best of science and technology in one convenient bottle.
In particular, two ingredients set this formula apart from the rest of the anti-aging products on the market:
Acetyl Hexapeptide-8, otherwise known as Argireline, has a reputation for being called "botox in a jar". While it doesn't work in the exact ways botox does, it still delivers impressive restorative effects — and in almost no time, at that.
By effectively binding water to the skin, fine lines become noticeably less visible. True enough, in several in-vivo studies, this peptide was proven to decrease wrinkle depth by 17% at a 10% concentration. These results came through in just 15 days.
The other key ingredient in the Introstem Hydro Age Reforming IV Solution is Dimethylaminoethanol Tartrate (DMAE). As intimidating as its name might sound, this ingredient is one you'll want to keep in your rotation.
The health industry loves it for the way in which it can boost memory and mood. In some ways, it does the same for the skin by keeping it firm, bouncy, and hydrated.
Dialing the skin back to its prime state, DMAE reduces irritation and plumps the skin to reduce the appearance of fine lines. This leaves the skin looking fuller and healthier. A study conducted in 2005 also shows that DMAE has the potential to subtly tone the facial muscles, contributing to a more lifted look.
These top-notch ingredients are combined with Vitamin E, Vitamin A, and antioxidant-rich Cucumber Fruit Extract to even out skin tone and stave off free radicals, which can damage the skin.
How to Use the Hydro Age Reforming IV Solution
An instant pick-me-up, reach for the Introstem Hydro Age Reforming IV Solution anytime your skin feels under the weather. To use, simply twist the top portion of the applicator to reveal a clear pump. Massage a couple of pumps of product, focusing on areas prone to age lines like the nose and mouth. 
Summary
Harnessing the skincare industry's newest discoveries and combining them with centuries-old beauty staples, every product in the Introstem Hydro Collection is formulated to be an effective anti-aging elixir.
We all want a second chance at youth, and this collection utilizes scientifically proven solutions to finally give your skin a do-over. Minimize the damage dealt by stubborn lines, wrinkles, and fatigue—without the need for invasive procedures.
With thoughtfully curated ingredients and a boost of hydration, the Introstem Hydro Collection helps you turn back time with long-lasting, tangible results. But don't just take our word for it; after all, there's no better way to see these products deliver on their promises than to experience them first hand.