With the summer here, we want to do everything we can to stay in the best of health on the inside and the outside. This includes keeping the condition of our skin at the highest level possible. As fun and carefree as the summer can be, we still do well to protect ourselves as much as we can.
This means stocking up on summer-loving skincare products to keep our skin armed and ready! Let Introstem be there every step of the way to ensure you get the most effective and nourishing products available.
Great skin for the summer means Introstem for summer. Here are the top 8 products by Introstem that are excellent to use during the summer!
Stem Cell Vitamin C Serum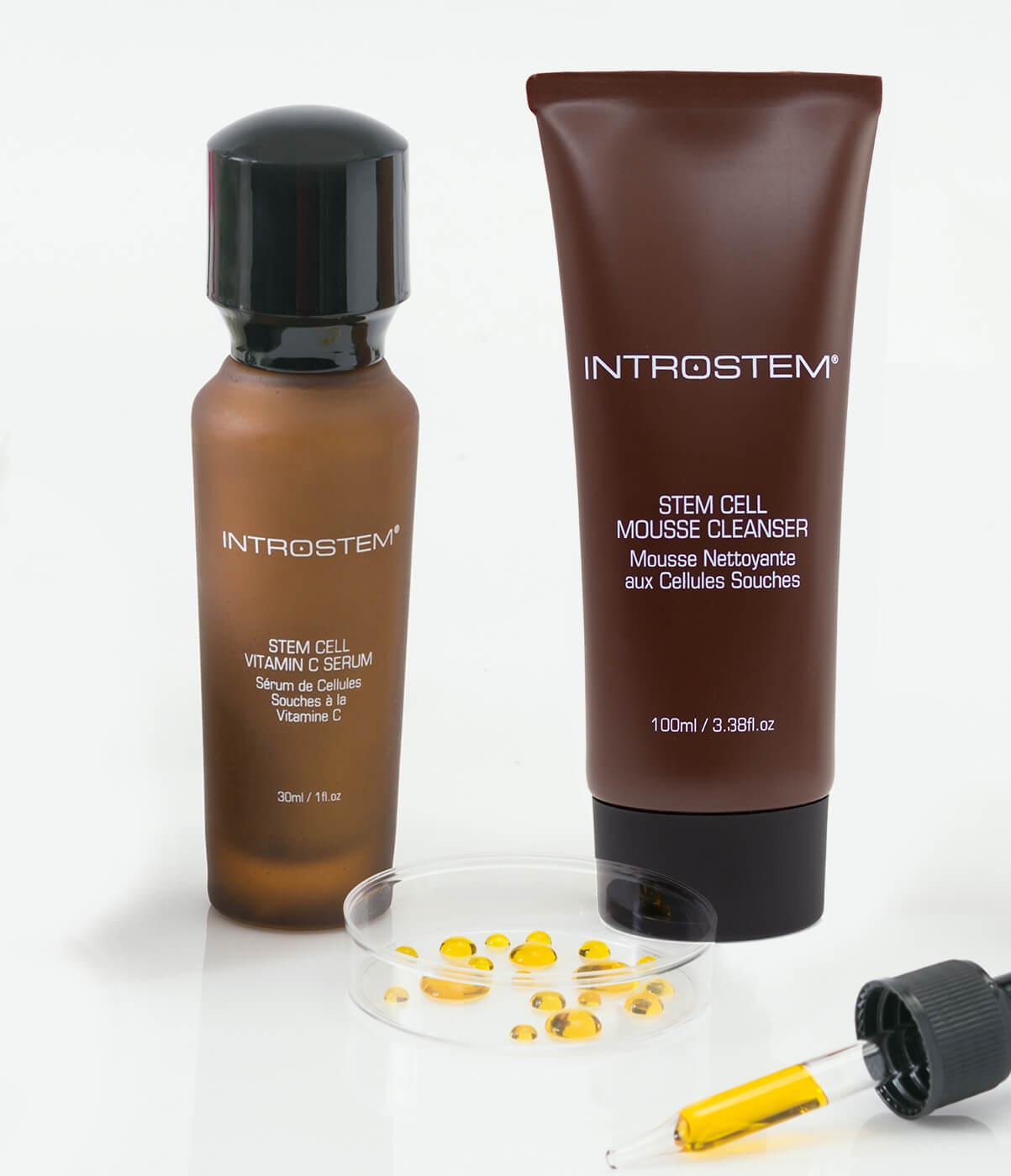 Perhaps you're already knowledgable about the incredible benefits that adding a serum into your skincare routine can bring. If not, no worries! Introstem's Stem Cell Vitamin C Serum is the perfect addition to take your skin to the next level. This serum is especially geared for individuals who have suffered from sun damage and are looking to reserve it. This serum is most beneficial when used daily and at night.
Ingredients like Vitamin A, Jojoba Oil, Olive Oil, and our incredibly formulated Grape Stem Cell extract make this serum an essential summertime product. What makes serums so effective is how concentrated they are and this Introstem serum is no different. Tired and dull skin from excess sun exposure and overall environmental factors will benefit greatly from this serum.    
Stem Cell Day Moisturizer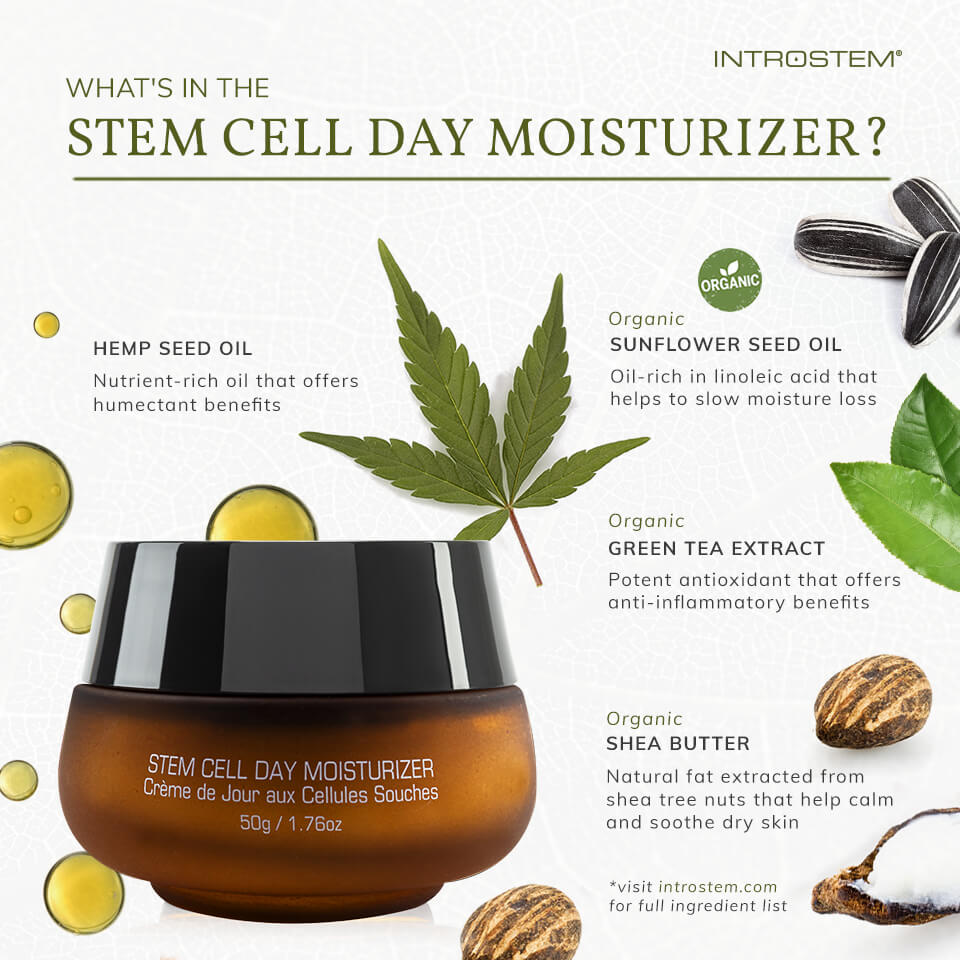 We might have forgotten to mention that Introstem for summer also means MOISTURE for summer. We can't stress enough how important it is to keep your skin moisturized during the warmer months. Moisture is important all year round but especially during the extreme seasons: summer and winter. Introstem's Stem Cell Day Moisturizer is the perfect moisturizer to use right under your favorite SPF.
We love this moisturizer because of its extra skin-nourishing ingredients. We've got Shea Butter, Vitamin E, Glycerin and more. Keep your skin supple and smooth with this incredibly rich moisturizer.
Want to really up your moisture? After applying our Stem Cell Day Moisturizer, apply a thin layer of a light, non-comedogenic facial oil to seal in the moisture for touchably soft and plump skin all day.
Stem Cell Night Repair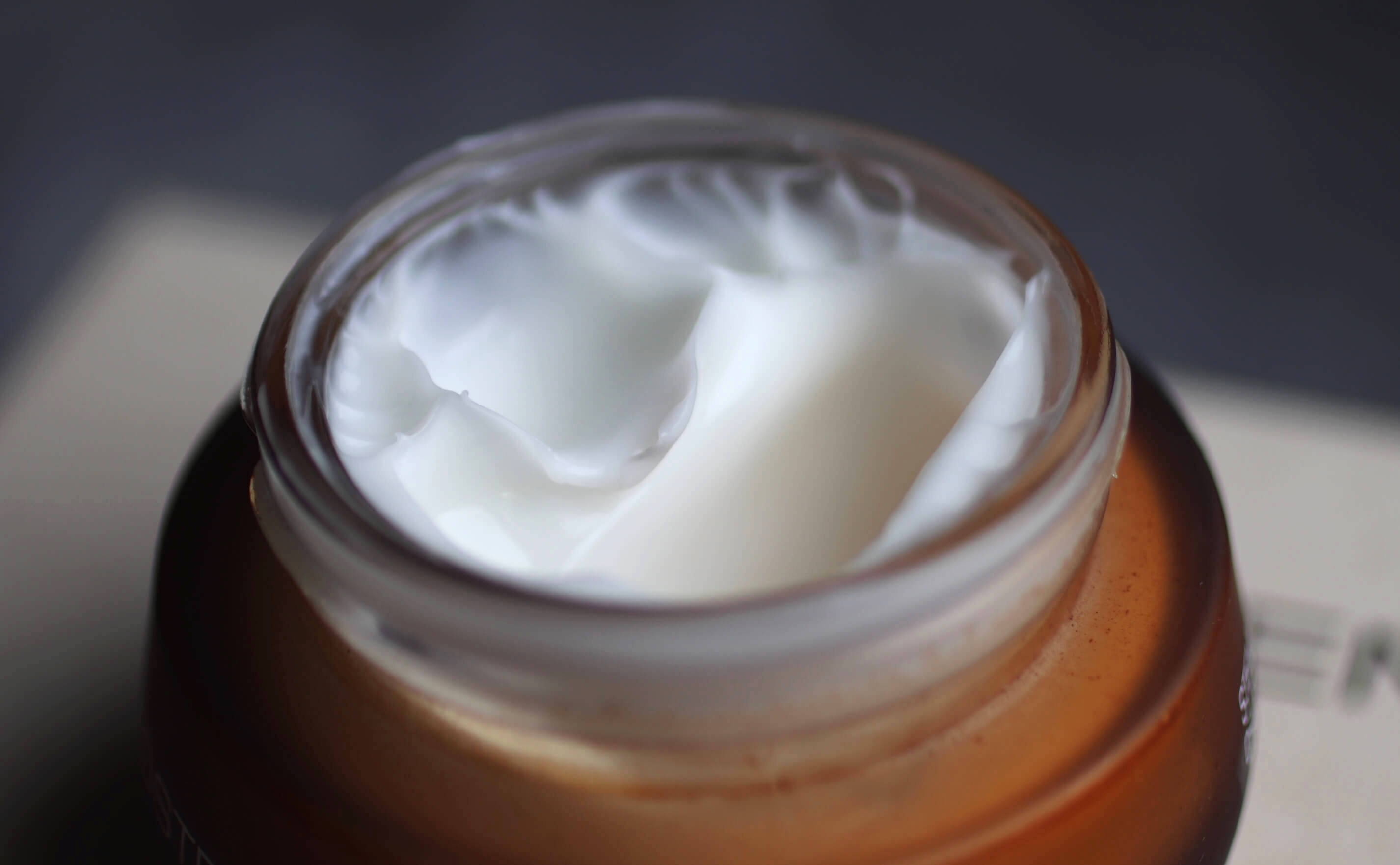 We know that some of you work outside during the summer and you need to keep your skin protected, while also doing everything you can to prevent any issues from coming up. Environmental stressors are at an all-time high during the summer so we want to take every precaution we can! Our Night Repair cream is the best protective and preventative product for summer skin issues.
Use at night to both repair your skin and get it ready for the next day. Formulated with our Grape Stem Cell Extract, essential fatty acids, and Green Tea extract, this Introstem for summer cream is fantastic for those looking to target several skin issues. Through consistent use, watch as your skin becomes refreshed and renewed! You'll wake up to a more rejuvenated complexion each time.
Stem Cell Rejuvenating Eye Cream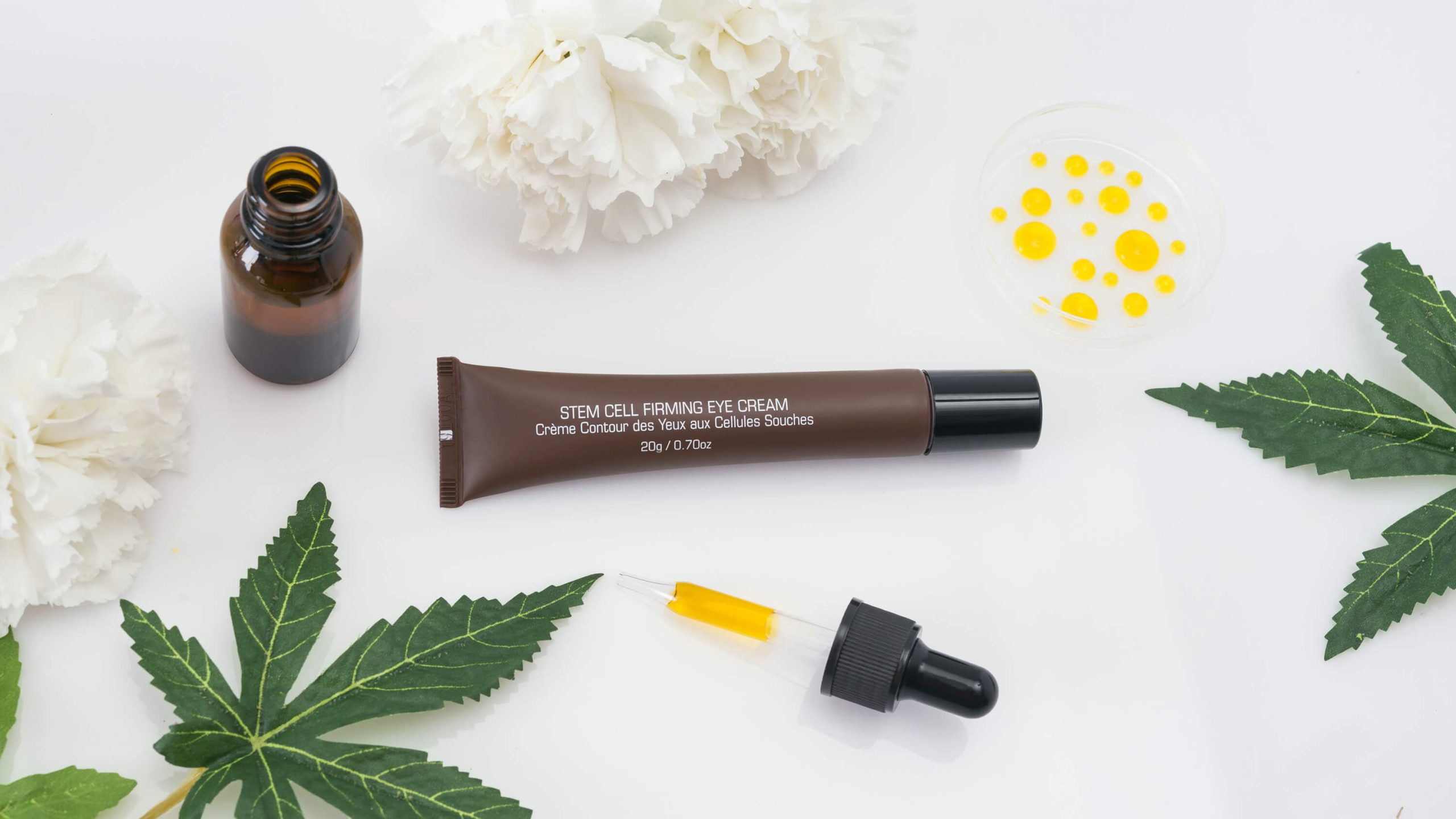 Don't forget your eyes! We always emphasize the importance of your skin and body being prepared and protected for the summer but we can't stress how important keeping your eye area in good shape is. Sun exposure and the overall extremeness of the summer can leave our eye area extremely dry and tired-looking. Keep your eye area hydrated and feeling great with our Rejuvenating Eye Cream!
The skin around the eyes is extremely delicate, which furthers the need for added protection during the summer. Our blend of Grape Stem Cell extract, glycerin, and caffeine gives you a youthful look while keeping your eye area hydrated and soft.
It's best to use this eye cream twice a day, in the morning and at night to combat skin concerns from all angles! 
Stem Cell Exfoliating Scrub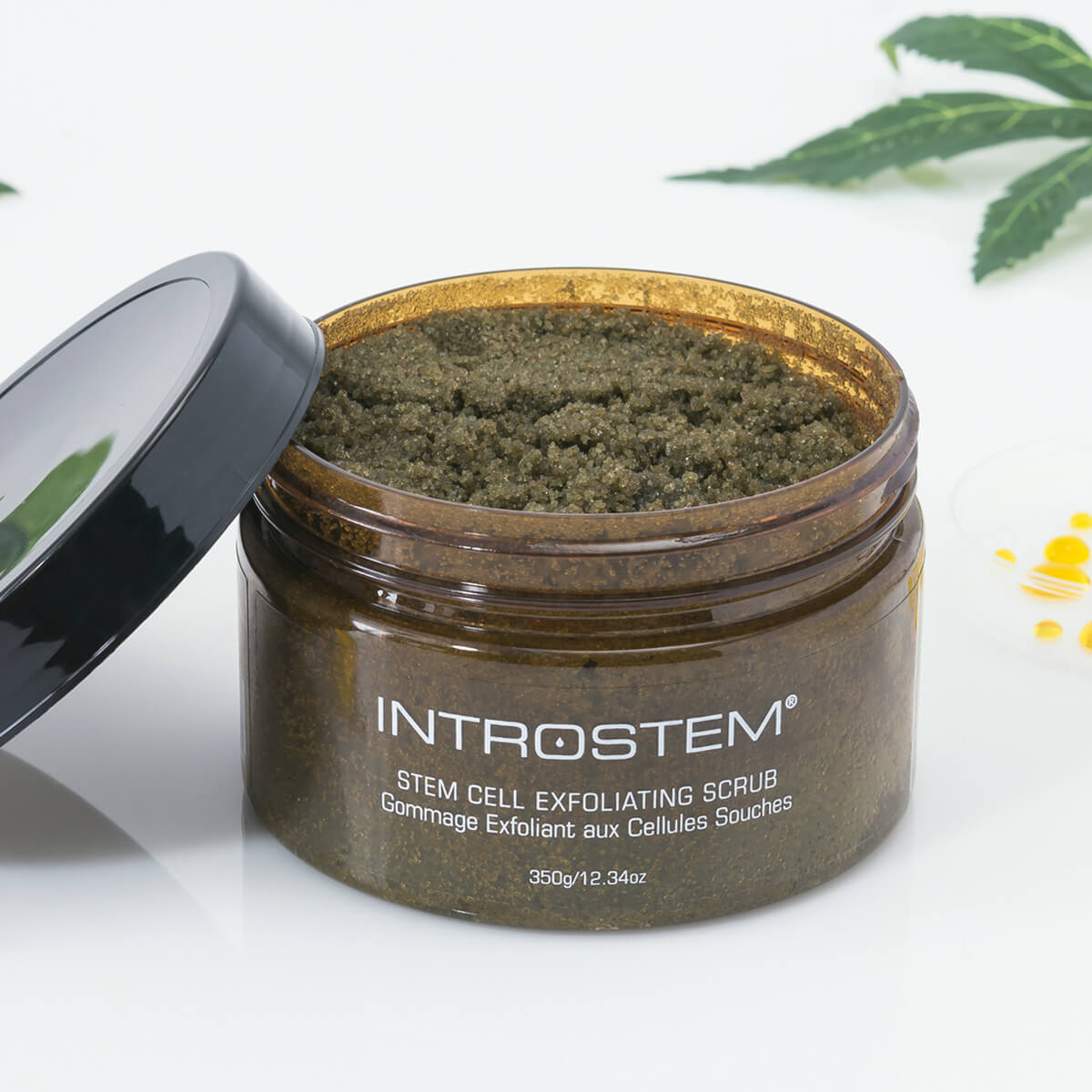 Exfoliating the skin is very important and it takes on a new meaning during the summer. It's a careful and healthy balance of sloughing off our dead skin while not sloughing off too much and possibly resulting in dry and scaly skin. The key to a great summertime scrub is the right amount of moisture and gentle abrasiveness. We never want to be too rough on our skin no matter what the season!
A great Introstem for summer skincare routine definitely includes our Stem Cell Exfoliating Scrub. Created with Vitamin E and gently fined salt to effectively but gently exfoliate your skin, this scrub should be included in your routine year-round to get and keep your skin smooth and soft.
Stem Cell Body Butter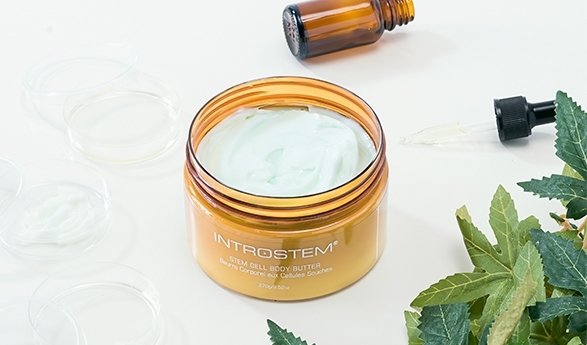 Our Stem Cell Body Butter is the perfect complement to our Exfoliating Scrub. Lock in all that moisture with our nourishing Body Butter formulated with Glycerin and Argan Oil. We love using Glycerin to help keep our skin hydrated because it acts as a humectant. This means that it can retain moisture. When applied topically, the skin is able to keep moisture inside and stay hydrated. The result is visibly soft, balanced skin!
Introstem's Top Summer Skincare Tips
Now that we know the best Introstem for summer products to have under our belts let's take a look at some helpful summer tips to keep our skin in tip-top condition! 
SPF
We already know which part of the skincare routine is stressed so much. Yep, SPF. Now, more than ever, it is very important for EVERYONE to include SPF in the skincare regimen. SPF has the ability to block the harmful sun rays that can greatly damage our skin over time even possibly resulting in skin cancer.
Make sure to include SPF in your routine every day, even if you're not going outside. You also want to wait around thirty minutes before heading outside to allow the SPF to absorb into the skin properly. In addition to SPF, protective clothing is also great to add. Don't be afraid to don a cute hat or visor!
Moisturize, Moisturize, Moisturize
We've been saying it throughout this whole Introstem for summer article and we'll say it again! Moisture is one of the biggest ways to protect your skin overall but especially in the summer and wintertime.   
Moisture is key for keeping your skin safe, soft, and smooth during the summer. This includes your body too! The summer sun can easily dry out our skin until the damage is apparent! Flaky skin, redness, dull and sometimes even the increased prevalence of wrinkles all can come from sun exposure and failing to keep our skin hydrated.
Hydration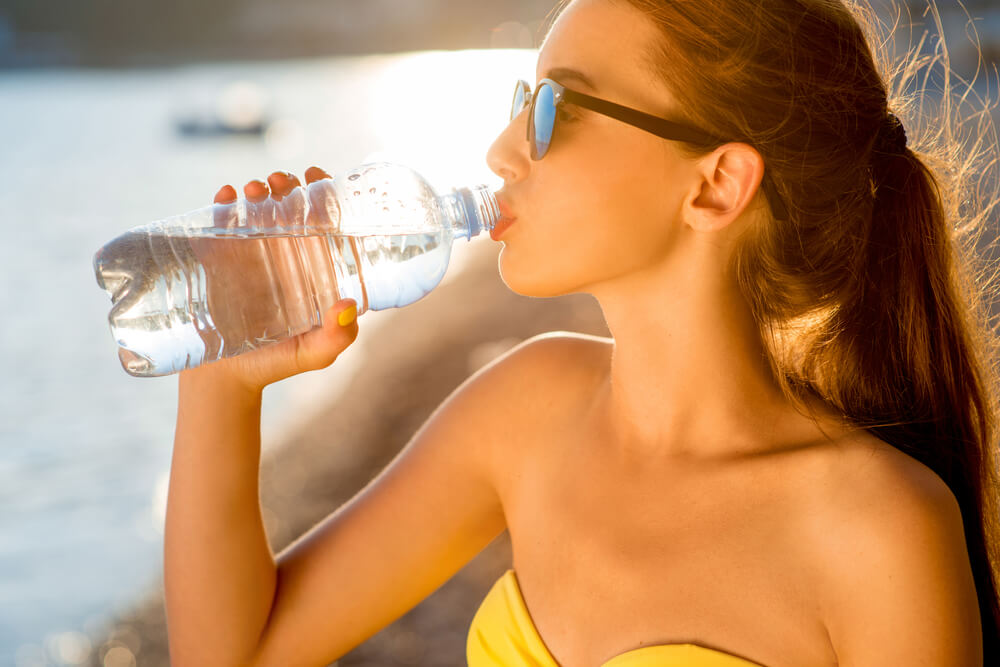 Right behind moisturizing is hydration! Think about it, moisturizing is the process of infusing moisture into your skin, hair, what have you. Hydrating is the process of actively retaining that moisture and not losing it, thus making us dehydrated. Get it? The same process goes for our skin, hair, and body.
Our bodies are made up of 70% water, so keeping our bodies moisturized and hydrated is super important! This is especially true during the summer where we are at a higher likelihood to lose more water from our bodies as a whole.
Exfoliating
Another important summer skincare practice is exfoliating. Make it a point to exfoliate your skin on a regular basis. This includes your face AND body! Understand your skin so you know how many times you should be exfoliating per week. More importantly, take note of your skin and how it changes once the summer is here. For some, they find that exfoliating three times a week instead of twice or once is more appropriate in the summer.
A powerful yet gentle exfoliating cleanser that Introstem carries is our Stem Cell Facial Peeling. This Introstem for summer product is excellent at smoothing the skin and revealing a refreshed complexion.
Don't Forget Your Eyes & Lips!
We mean it! Don't forget about the skin around your eyes and your lips. It's easy to become singly focused on our skin and making sure that we have the right SPF in our face moisturizer and in our body lotion but the skin around our eyes and the skin of our lips is just as important!
The skin around our eyes is susceptible to some major environmental and natural factors. This means sun exposure, gravity, age, and more all play into the appearance of the eye area. The skin on our lips is quite thin and delicate so SPF protection is a must no matter the season! Individuals with lips that are naturally more inclined to chap and become dry frequently should make it a point to keep their lips covered in SPF and moisturizing ingredients.
Consistency is Key
Remember, regardless of whether you are tackling a certain skin issue or just getting your skin ready for the summer, consistency is the key to everything. Creating and maintaining a great skincare routine is what will keep your skin protected and prepped in addition to helping resolve underlying skin issues such as lack of firmness or a rough and bumpy texture.
Trust us, your skin loves consistent use of good, quality products and are both healthy and effective. If you make it a point to be consistent with your regimen then you'll see a brighter, healthier appearance over time for sure!
So, What's the Bottom Line?
So, what's all this mean? Well, hopefully, you've taken away the fact that summertime skincare is very important. Environmental damage is heightened during the summer, meaning a higher chance of wrinkles and a higher chance of skin becoming dried out.
Be good to yourself and to your skin by keeping it in good shape all year round, so that you only have to make a few minor tweaks when the summer approaches. It's no problem to add a facial mist here or a higher SPF moisturizer there, but we don't want to have to go out and buy a whole new skincare line!
Remember, what you intake is just as important as what you apply so be sure to keep drinking water and eating a well-balanced diet to promote wellness overall.