We all curate our skincare routines in the hopes of achieving only the best outcome. But despite the painstaking trial and error process, there are moments when our regimens just don't give us the results we had hoped for.
Today, we're going to get you started on the right foot with some products from Introstem. Not only have they been thoughtfully formulated, but they also produce impressive results instantly.
Below, we discuss what exactly makes these products so great, as well as impressive Introstem before and after results:
What Sets Introstem Products Apart?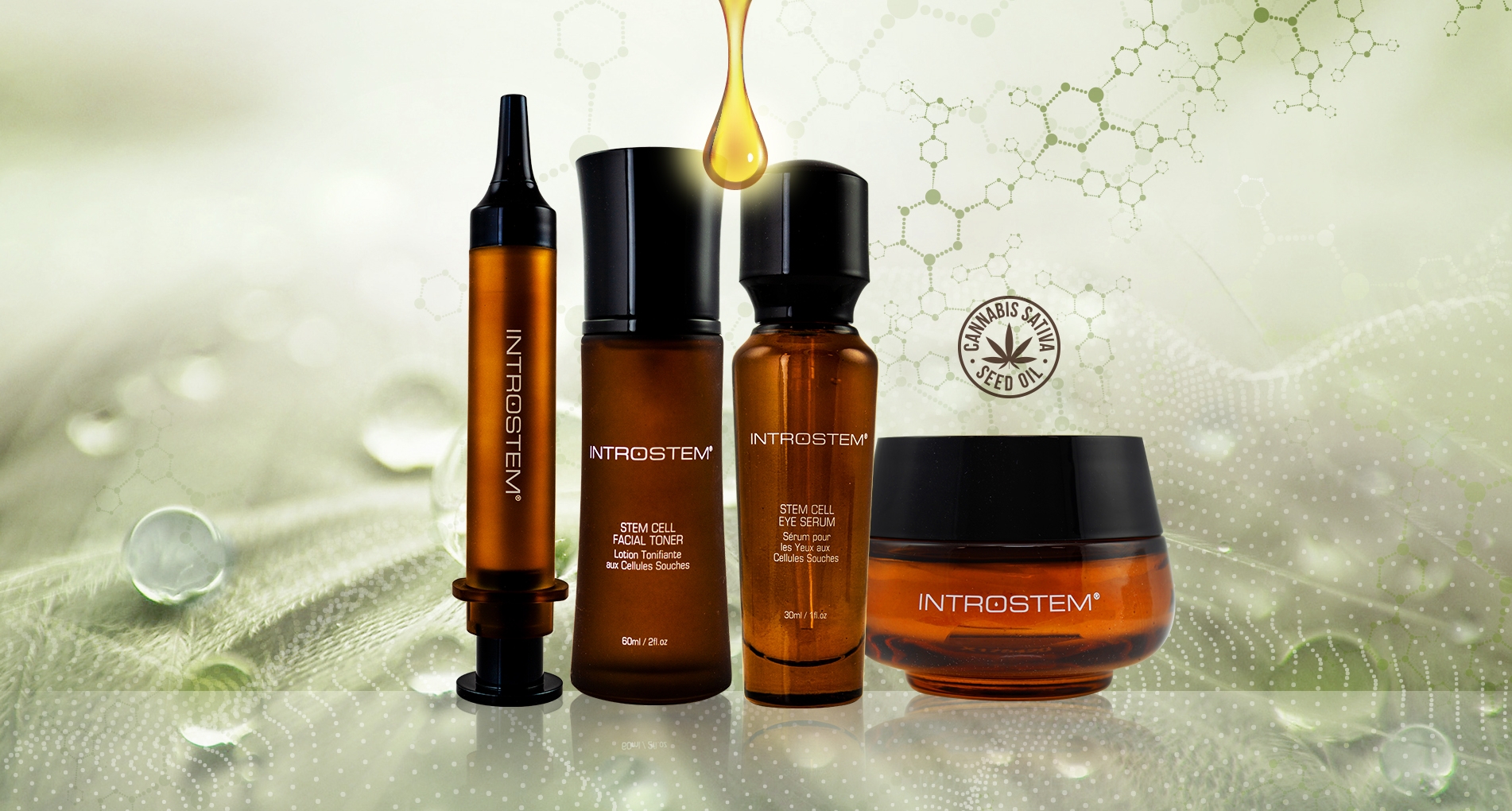 Before anything else, let's take time to dive into the nitty-gritty details. At Introstem, ingredients are king. This means that the experts who formulate each one of the products on the Introstem roster carefully consider the ingredients they use, and the benefits that they can bring to the table.
One particular ingredient that can be found across all of Introstem's products is Grape Stem Cell Extract because of how it's so effective at reducing the visible signs of skin aging.
Grape Stem Cell Extract is only one of the many components that contribute to impressive Introstem before and after results. Some of the other signature ingredients featured in Introstem's skincare blends include the following:
Mineral-rich Seaweed Extract

Amino acid-abundant peptides 

Green Tea Extract

Chitosan
With these ingredients at their core, many of our products are able to produce instant before and after results. Read on to learn more about these formulas…
The Stem Cell Mousse Cleanser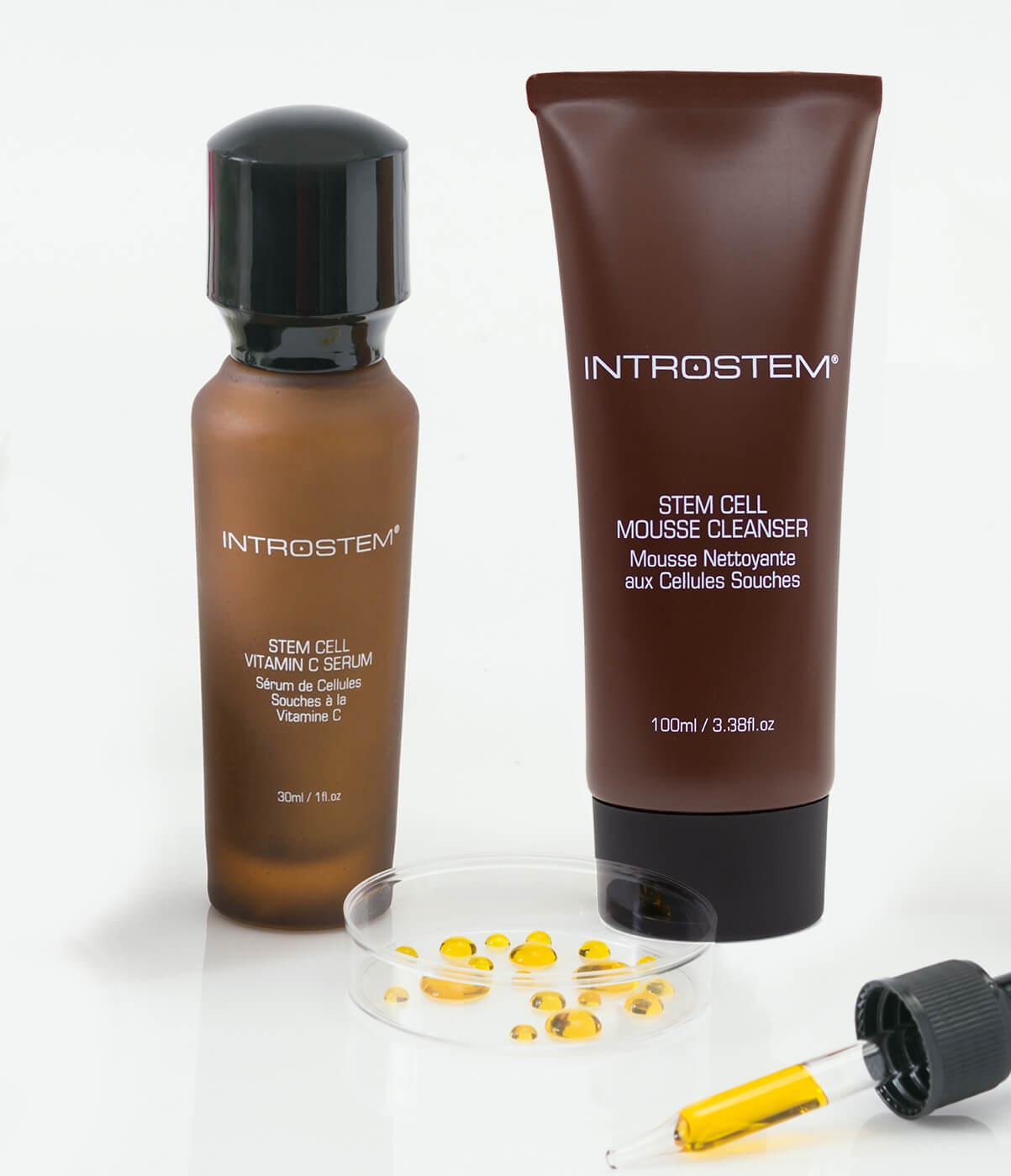 Even though cleansers stay on the face for only one to two minutes, this step can make or break your routine. Many cleansers contain harsh ingredients and tend to excessively strip the skin of their natural oils. While this can definitely bring about visible change, these aren't the ones you want.
To steer clear of that dry and tight feeling post-cleanse, opt for a product like the Stem Cell Mousse Cleanser. Effective yet gentle, this cleanser's lightweight formulation can bring instantly visible Introstem before and after results.
Many other cleansers on the market feature harmful ingredients like Sodium Dodecyl Sulfate (SDS) or simple alcohols, two things that can cause skin damage in the long run. Instead of settling for common cleansing agents, the Introstem Stem Cell Mousse Cleanser purposefully chooses skin-loving alternatives:
Coconut-derived surfactants such as these three are gaining traction in the skincare world. An ideal substitute for harsh, synthetic ingredients, they are gentler on the skin and kinder to the environment.
By supplementing these mild ingredients with Glycerin, Grape Stem Cell Extract, and a variety of other potent compounds, expect the skin to feel cleansed and soothed after one wash. Customers also report an improvement in the appearance of breakouts and skin texture in just two weeks. You'll find these Introstem before and after reviews on our website! 
The Stem Cell Facial Peeling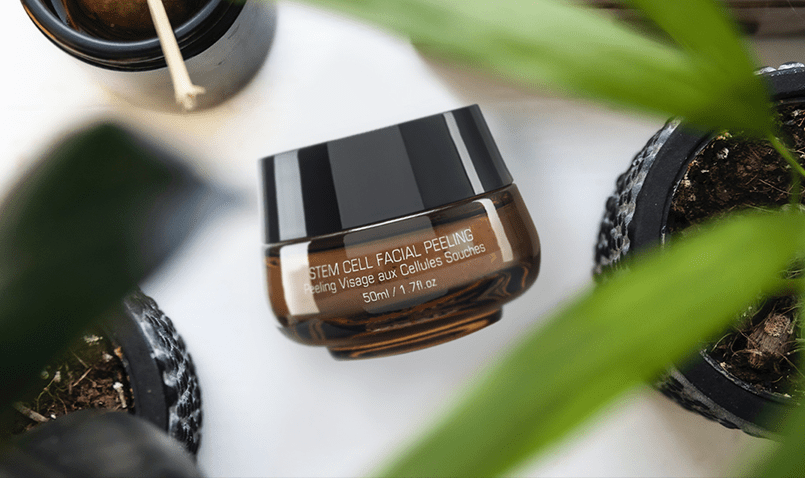 If you're looking for a deeper, more intensive cleanse, consider a product that can slough off dead skin cells with gentle exfoliation. 
The importance of exfoliation is often glossed over, or completely overdone. However, exfoliating is all about balance. Once to twice a week is ideal, as long as it is done with ingredients that are still kind to the skin. 
A couple of examples are Nut Shell Powder and Bamboo Extract Powder, which are the key exfoliants in the Introstem Stem Cell Facial Peeling. Relatively controversial ingredients, these natural powders have been on the receiving end of negative press for the past few years.
While the claims that these powders — if not finely ground — can be harsh on the skin aren't unfounded, it's important to remember that this is a looming danger for many other ingredients. Every physical exfoliating ingredient can cause micro-tears if not finely milled.
Rest assured that the Nut Shell Powder and Bamboo Extract Powder used in Introstem's Stem Cell Facial Peeling are expertly ground to the finest texture possible. No microabrasions here — just a cleaner, brighter complexion.
To achieve a visible Introstem before and after difference from the Stem Cell Facial Peeling, simply apply a small amount of product to dry skin a maximum of twice a week. Massage in circular motions for a couple of minutes before rinsing off with warm water.
The Stem Cell Exfoliating Scrub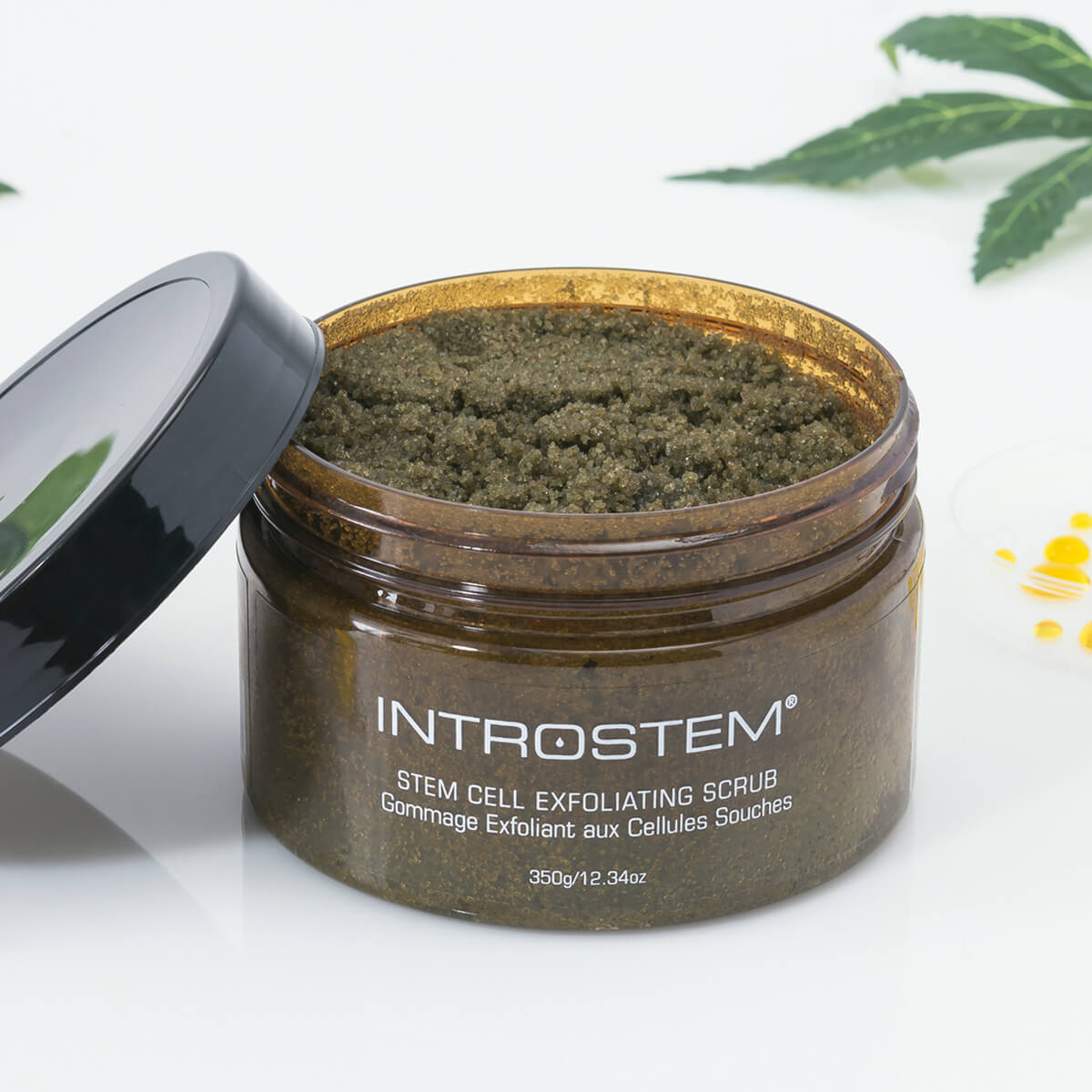 Just like facial exfoliation, keeping the dead skin off our bodies is essential, too. 
Body exfoliation has its fair share of benefits, too:
Promotes skin hydration.

Regular exfoliation means better product penetration.

By exfoliating your body, you ensure that the lotions and balms you apply every day don't go to waste. 

Gives the skin a refreshed and brightened appearance. Just like facial peeling and exfoliation, unveiling a fresh layer of skin makes the body look renewed. It's an easy way to a healthier glow!

Reduces clogged pores. Our faces aren't the only parts of our bodies that are prone to clogging and blemishes.

By sloughing off dead skin cells, you slim down the chances of body acne from manifesting.
The Stem Cell Exfoliating Scrub is our favorite body exfoliator. With Vitamin E to reinforce the feel of the skin, this product does the job without damaging the skin in the process. Even better, the formula is completely alcohol-free! 
To experience instant Introstem before and after results from the Stem Cell Exfoliating Scrub, simply massage the product into the skin once a week. 
The ThermoStem Mask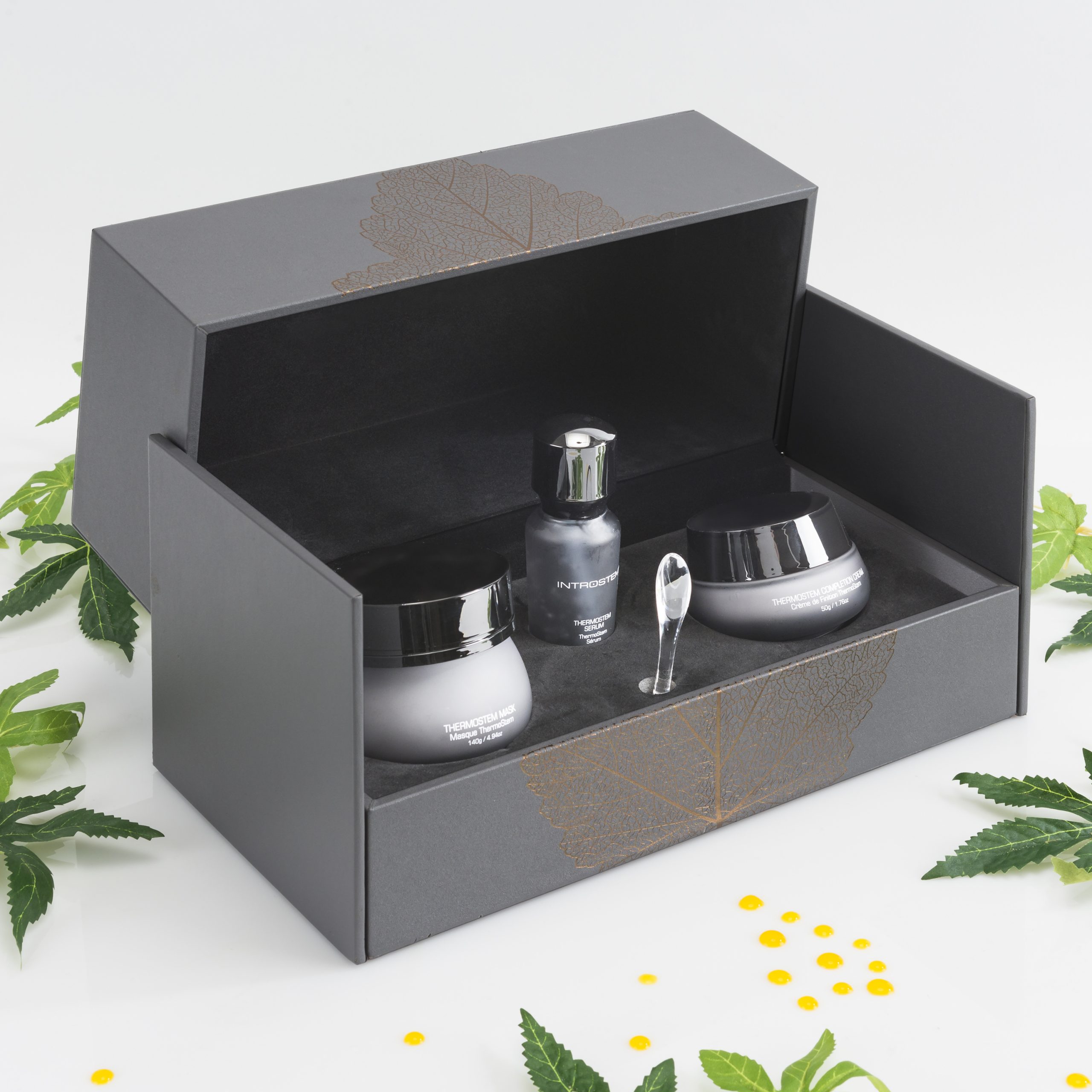 Few skincare steps are as luxurious as a mask. This is especially true when it comes to the ThermoStem Mask from Introstem, which we consider a spa experience in a jar.
The ThermoStem Collection takes the usual Introstem formula — convenience, luxury, and hand-picked and effective ingredients — and spices them up with a little heat.
Bringing literal warmth to your skincare experience, the ThermoStem Mask hinges on heat therapy.
Apart from the warming technology of this mask, its formulation features a rich blend of vitamins and botanicals. In the ingredient list, you'll find:
Retinyl Palmitate

Skin-brightening Ascorbic Acid

, otherwise known as Vitamin C. 

Organic extracts from mountain arnica, aloe, almond, coffee, lemon, and angelica root. We love the range of botanicals in this blend!
Enveloped in a kaolin-based formula, these ingredients work together to instantly soften the feel of the skin.
Eager to see the Introstem before and after results that customer reviews rave about? Once a month, apply the product to clean skin. For extra benefits, add in a few drops of serum and massage this into your skin until it has all fully absorbed. 
The Hydro Age Reforming IV Solution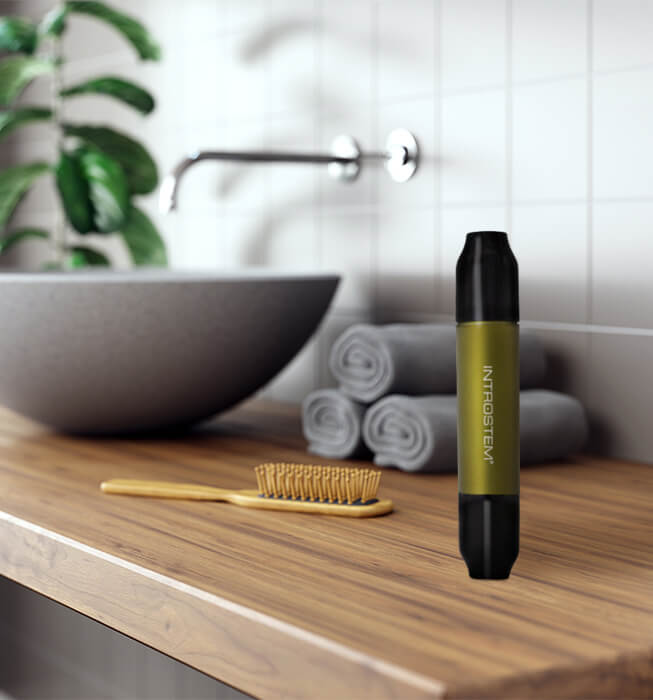 If it's an on-the-go fix you're looking for, the Hydro Age Reforming IV Solution has you covered. An expertly formulated blend of botanicals and some of the beauty world's most innovative ingredients, this is the ultimate combination of science and nature in one conveniently packaged product.
What is it about this Introstem product that produces instant before and after results, you might ask? Here's a breakdown: 
Acetyl Hexapeptide-8 or Argireline is a wonderful match for all skin types. It's loved for how it reduces the appearance of wrinkles.
Meanwhile, Dimethylaminoethanol Tartrate (DMAE) firms the look of the skin.
In true Introstem fashion, the Hydro Age Reforming IV Solution also hinges on the power of plant extracts. Here, you'll find a cocktail of Vitamins A and E, Cucumber Fruit Extract, Grape Seed Extract, Avocado Oil, Sweet Almond Oil, and Hemp Seed Oil. 
To use, twist the top of the applicator and press the clear pump that is ejected on the other end to apply a couple of pumps to your fingertips. Gently, spread the solution over the facial wrinkle you are targeting and pat it into the skin until absorbed.
The Stem Cell Non-Surgical Syringe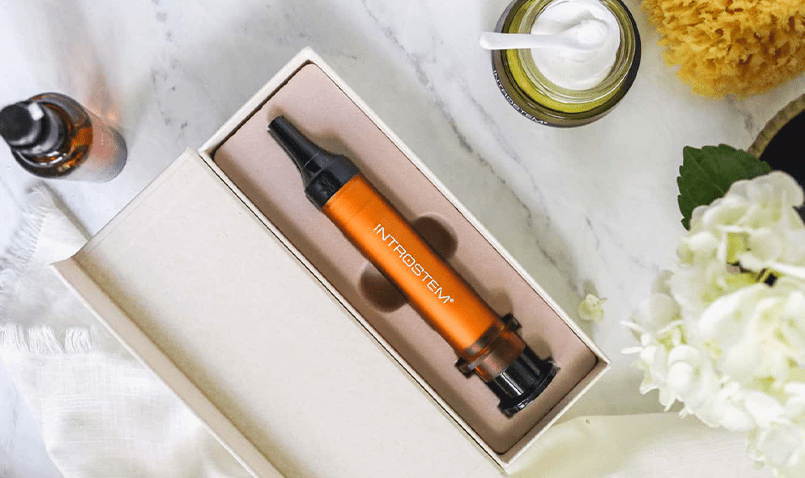 Hearing the word syringe can be a little terrifying to anyone who has a fear of needles. But don't fret; as far as Introstem is concerned, syringes are non-invasive and pain-free.
Rather than the spine-chilling, skin-piercing syringes most of us are familiar with, Introstem syringes are simply hyper-targeted and innovatively packaged skincare. By using the mouth of the syringe, specific areas of the face can be targeted and less product goes to waste.
Among our line of syringes, the Stem Cell Non-Surgical Syringe is our pick for visible Introstem before and after results. With peptides to firm your skin's appearance and moisturizing Sodium Hyaluronate, this solution instantly plumps and moisturizes the look of the skin.
The result? Shallower-looking frown lines, minimized appearance of wrinkles, and a radiant, lit-from-within glow. 
To use the Stem Cell Non-Surgical Syringe, simply use the applicator to release the product directly onto facial lines and wrinkles once a week.
Stem Cell Day Moisturizer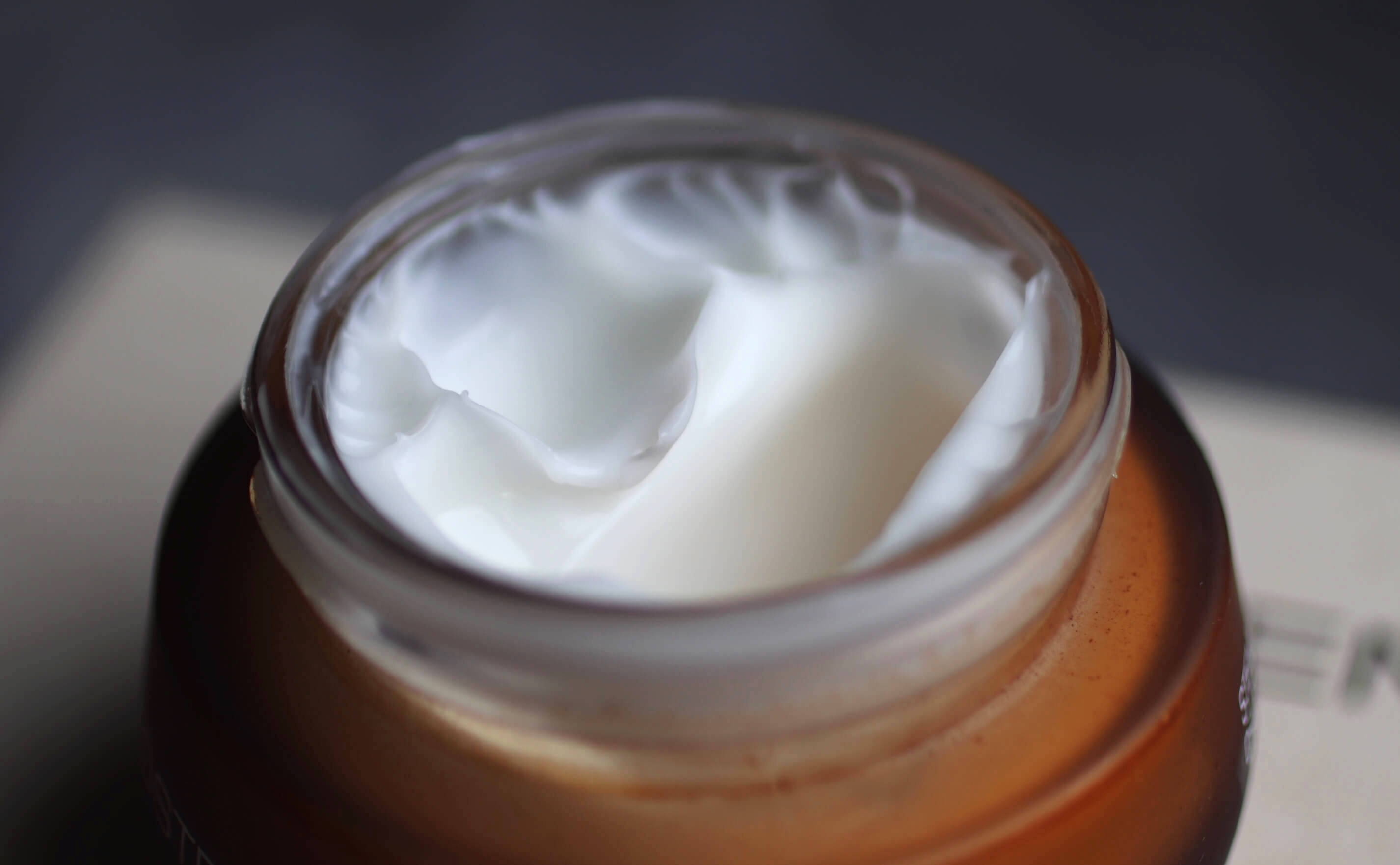 An Introstem best-seller, the Stem Cell Day Moisturizer combines some of the world's top skincare ingredients in a single formula:
Shea Butter simultaneously smooths, soothes, and hydrates the feel of the skin.

 

Grape Stem Cell Extract, Introstem's signature ingredient
Safflower Seed Oil moisturizes

 the skin.

Cetearyl Alcohol, unlike drying simple alcohols, is safe for use in skincare. A multitasking ingredient, it thickens the moisturizer's formula and stabilizes other ingredients. All the while, it softens the feel of the skin's surface, leaving it smooth to the touch.
For instantly softer and plumper-looking skin, use the Stem Cell Day Moisturizer as the last step in your skincare regimen. Gently massage the product onto cleansed skin until fully absorbed.
While it is certainly a bold move to claim that skincare can give instant results, Introstem products make before and after transformations possible. Take these skincare solutions for a spin and experience their effects yourself!