It's easy to get dark circles and puffiness out of the way. All you need is a bit of cold compress early in the morning and a few swipes of concealer to hide those eyebags. But something that's a bit trickier to diminish are under-eye wrinkles that develop as you age.
How to treat wrinkle under eye is one of the biggest questions you'll ask when you start noticing lines and bags that weren't there before. Luckily, there are tons of ways to attack it, be it through prevention or tightening up your undereye skin again. And Introstem is here to talk you through things. 
Here are some of the ways you can treat those wrinkles and pamper your skin to make it feel taut and youthful once more. By the end of this article, you should have a better idea of how to treat wrinkle under eye.
What are the Main Causes of Undereye Wrinkles?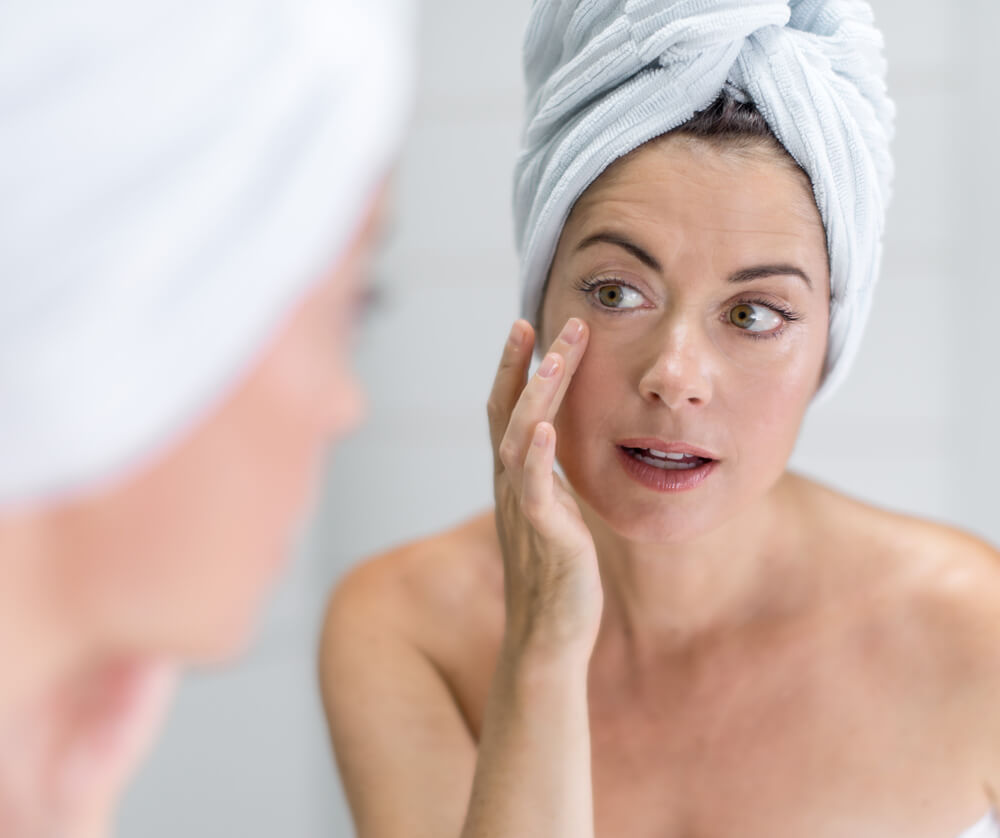 The older you get, the more collagen and healthy fats your skin loses. That makes it less elastic and prone to age spots, wrinkles, and other signs of aging. Nothing new here — anyone nearing their thirties should already know this.
But it's important to note that the skin under your eyes is way thinner than the rest of your face. It's more susceptible to becoming dry, sallow, and riddled with wrinkles and lines. And since it has tons of blood vessels resting underneath, you could even see discoloration as your skin gets more transparent. In short, your undereye skin ages faster.
Aside from the fact that your undereye skin is very sensitive to aging, there are a bunch of other external factors that can hasten the onset of wrinkles in the area.
The UV rays of the sun are just one of them. UV damage breaks down collagen and elastin in your skin. These two proteins are very important for keeping your skin tight and volumized. With less of them in your skin, you'll likely develop fine lines and wrinkles faster than you anticipate.
Smoking also aggravates skin aging. It deals free radical damage to your skin, making it dehydrated and weak. It also constricts your blood vessels, hindering the proper flow of nutrients in your skin. These can cause wrinkles—and more often than not, they will show up in your undereyes first.
Moisturize Your Undereyes Every Night with an Eye Cream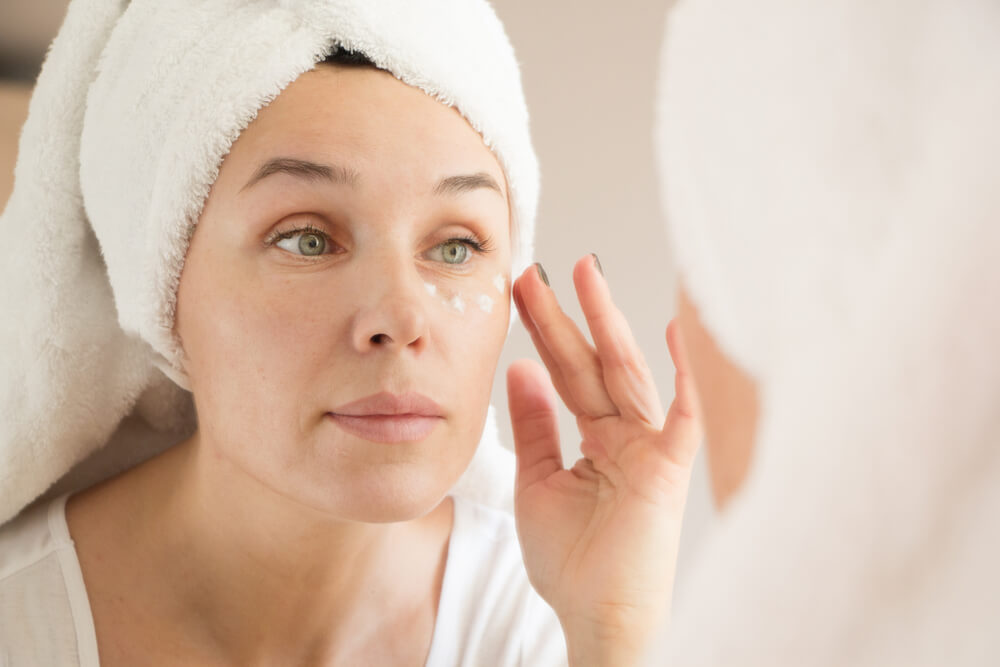 Our first tip for how to treat wrinkle under eye is perhaps the most important — moisturize nightly with a high-quality eye cream. Because the skin under your eyes will lose hydration and fats over time, it will be left dry and fragile. This will then lead to more wrinkles showing up out of nowhere.
You develop wrinkles under the eyes when your skin loses collagen, thereby decreasing your elasticity levels. Moisturizing ingredients like hyaluronic acid and nourishing oils help get that hydration back. By constantly replenishing your undereye skin of moisture, you can prevent wrinkles.
Many people have the misconception that eye cream is the same as your facial moisturizer, just with a higher price tag slapped on it. But that's simply not true.
Eye creams are chock-full of anti-aging ingredients and are often thicker than a moisturizer, since undereye skin tends to be thin and parched. These rich and nourishing creams are designed to reduce the appearance of lines and eyebags in the area, making your undereye look smooth and radiant.
One excellent eye cream you can use is the Introstem Stem Cell Rejuvenating Eye Cream. It's infused with anti-aging vitamins and botanicals to refresh, strengthen, and add a beautiful glow to your undereyes.
Our eye cream is formulated with caffeine, which helps alleviate puffiness and sullenness under your eyes. It also has collagen, grape stem cell extract, and retinyl palmitate to plump up the skin and eradicate wrinkles.
Incorporate Vitamin A and Hyaluronic Acid Serums Into Your Routine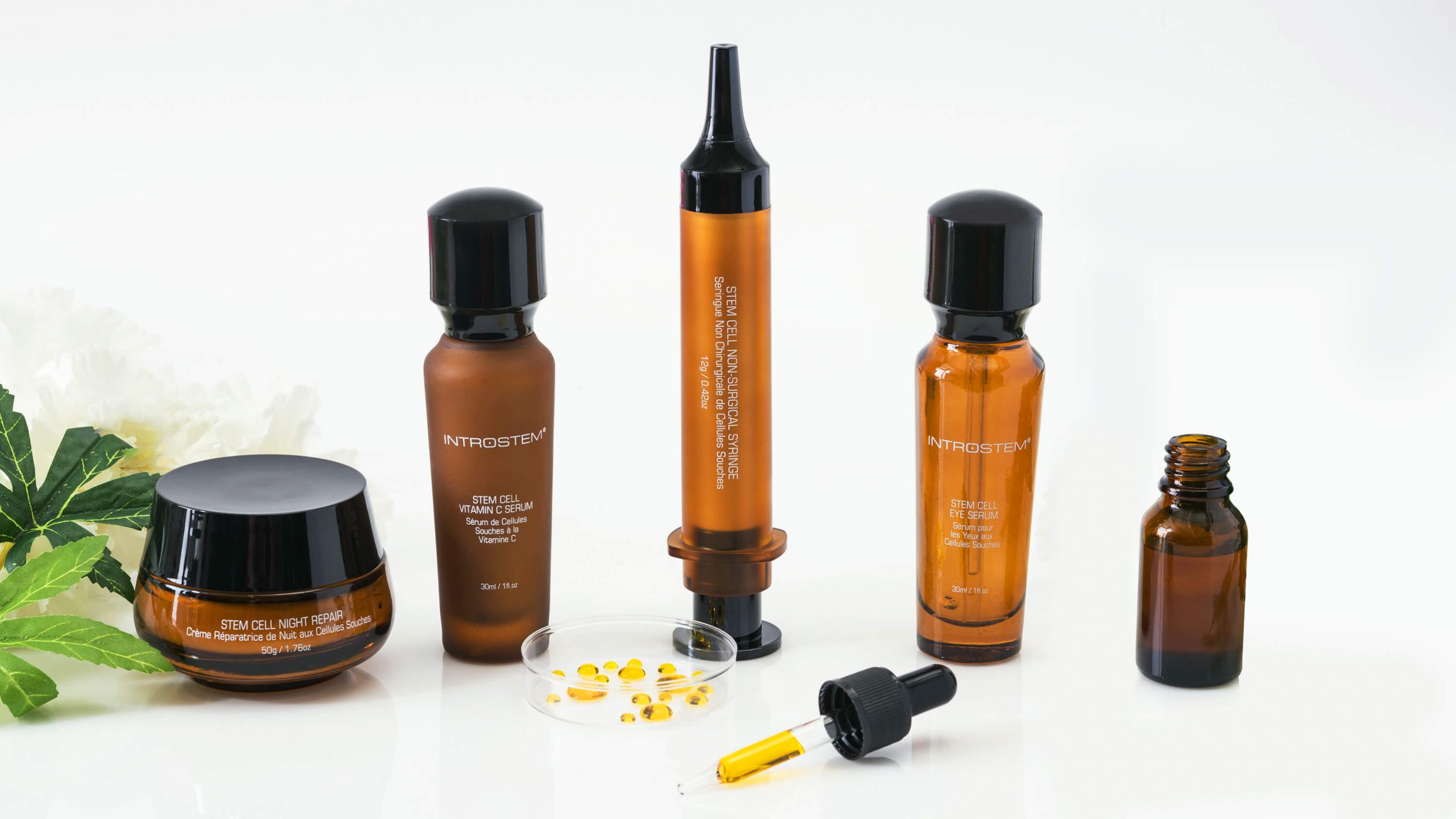 Vitamin A and hyaluronic acid are among the holy grails of any good anti-aging routine. Vitamin A boosts cell turnover to help your skin produce more collagen. Meanwhile, hyaluronic acid hydrates the skin deeply, adding more volume and bounciness to the skin to prevent wrinkles from forming.
At Introstem, our favorite derivative of vitamin A is retinyl palmitate. It's the gentlest type of retinol, so it's perfect for sensitive skin types. It works slower than other types of vitamin A, but works wonders for keeping those pesky signs of aging under control.
It firms up the skin, treats acne and wrinkles, and diminishes age spots. If you're wondering how to treat wrinkle under eye, look no further than retinyl palmitate.
Now, let's talk hyaluronic acid. This acid is excellent at drawing water from the air and pulling it into your skin. In our formulas, we use sodium hyaluronate — a derivative of hyaluronic acid that is smaller in molecular weight, making it even easier for your skin to absorb all that thirst-quenching hydration.
Since sodium hyaluronate hydrates your skin deep beneath the dermis layer, it helps keep wrinkles at bay, leaving your skin plump and youthful instead.
If you want to incorporate hyaluronic acid into your eye care routine, check out the Introstem Stem Cell Eye Serum. This ultra-hydrating serum moisturizes your undereyes, making them look and feel plump instead of riddled with deep lines.
Aside from hyaluronic acid, this serum contains peptides, vitamin C, and green tea — all of which are amazing for hydrating and conditioning the skin for a smooth, youthful-looking complexion.
And if you want to try your luck with vitamin A, check out our Stem Cell Non-Surgical Syringe. It has retinyl palmitate, cucumber extracts, and grape stem cell extract to soothe your undereyes and instantly beat the signs of aging, including wrinkles.
Exfoliate the Area Gently Once a Week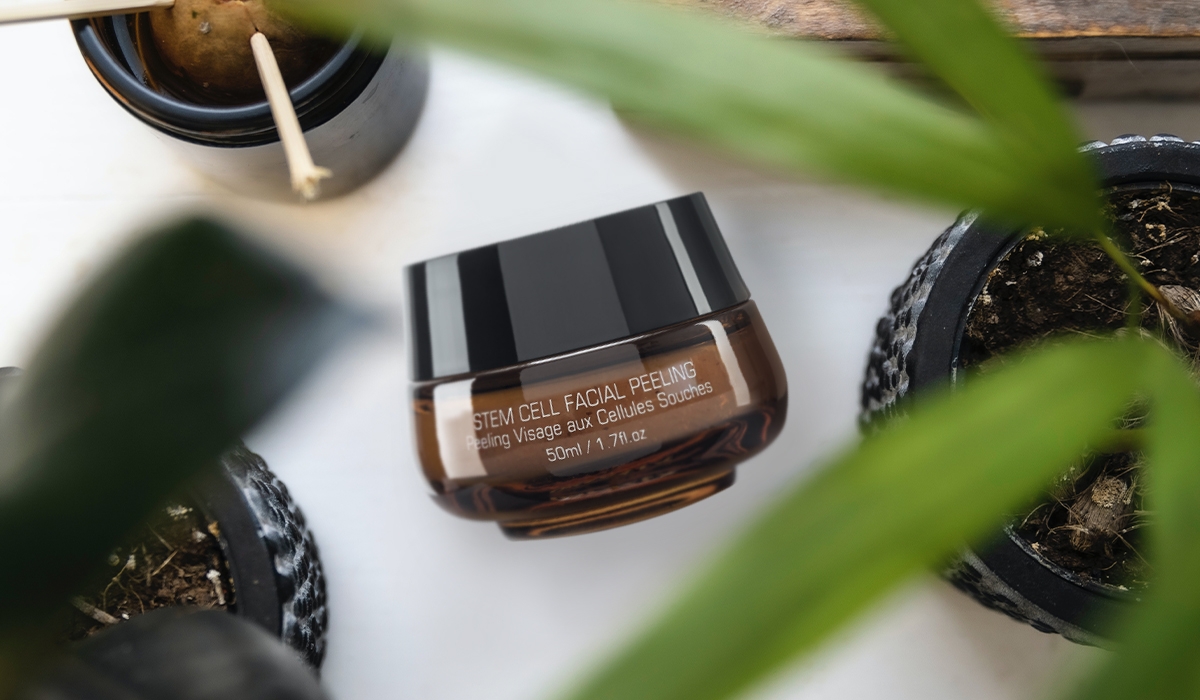 Exfoliating can be intimidating, but it's crucial for speeding up cell turnover in dry skin. Gently exfoliating once a week helps boost turnover—and consequently, collagen production — in your undereyes, minimizing the appearance of wrinkles and fine lines.
For a gentle exfoliator, use the Introstem Stem Cell Facial Peeling. The fine particles of nut shell powder are excellent for scrubbing away dead skin and toxins, as well as speeding up skin cell turnover. As a result, your skin will feel fresh and clean, and you'll have a boost of collagen not just in the undereye area, but all over your face.
Just be careful not to be rough and abrasive as you scrub in your undereye area. Remember that undereye skin is delicate and should never be tugged at unnecessarily.
Apply SPF Daily to Protect Your Undereyes from UV Damage
The UV rays of the sun are among the biggest causes of wrinkles in the eye area. That's why it's always important to give your skin a generous layer of SPF before heading out each day. After all, sunscreen is proven to protect the skin against photo-aging, which can lead to wrinkles and chronic skin dryness.
Sunscreen also keeps your skin from developing age spots and post-acne hyperpigmentation. So if you're curious about how to treat wrinkle under eye while keeping your skin clear and blemish-free, SPF is the way to go.
Try Out Red Light Therapy to Zap Away Wrinkles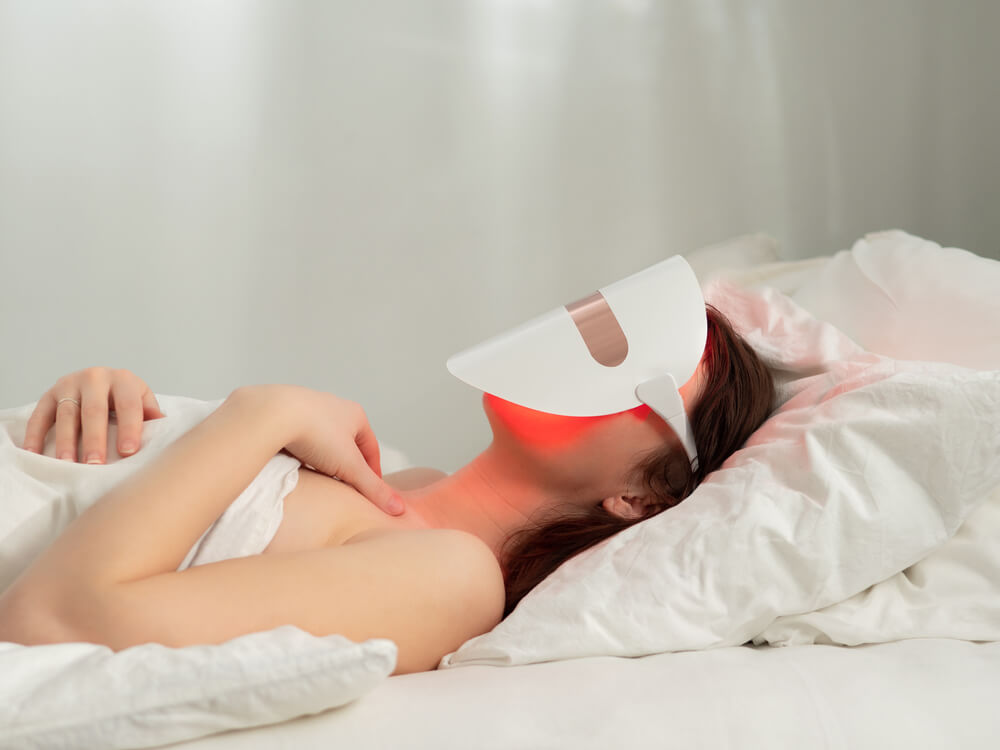 RLT is one of the most technologically advanced innovations in the skincare world today. Using red laser lights as a therapeutic technique has been found to help with many skin issues, such as wrinkles, stretch marks, and healing wounds and active breakouts faster.
There are many salons and spas that offer RLT treatments, whether it's through tanning beds or quick, soothing facials. Try getting a red light therapy facial with a focus on the undereyes to see how it zaps away stubborn wrinkles and fine lines.
Always Pat Products Into Your Skin; Never Tug
This one is more of a tip for wrinkle prevention instead of how to treat wrinkle under eye, but it's still super important to know.
Pulling at your skin and being mega-abrasive and rough when applying skincare in your undereyes can make it more prone to wrinkles and lines. Instead of rubbing and scratching your eye area, always pat products and oils into the skin instead.
Always tap your eye cream gently into your undereye skin. As you reach your eye's inner corner, massage the area gently as you put your products on. This pumps away lymphatic fluids stuck in your eyes. This method of skincare application also improves product absorption.
Nourish Your Undereyes with Your Fave Natural Oils
Wondering how to treat wrinkle under eye in a natural, holistic, and affordable way? Moisturize your undereyes with your favorite nourishing oils! Using oils like argan, marula, jojoba, rosehip, and sweet almond oils on your undereyes is a terrific way to hydrate your skin before you go to bed.
That doesn't mean you have to give up your eye cream, though. You can pat your fave oil into your skin right on top of your eye cream. This helps lock in all the moisture and hydration from your cream while reaping the benefits of botanical oils.
Treat Yourself to Facial Massages and Jade Rollers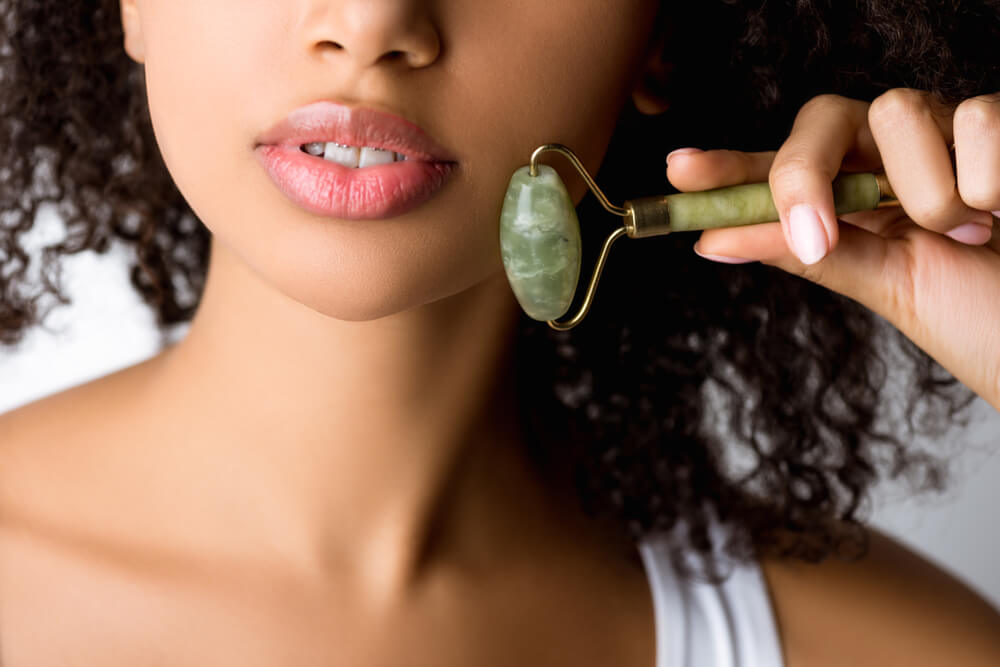 Pamper your skin by booking a facial massage or simply giving yourself one at the end of a long day. Massaging your skin with a nice cream or oil boosts blood circulation, helping to soothe and depuff your tired undereyes. If you want, you can even use a massaging tool, like the ever-popular jade roller.
Many people believe that jade rollers can help reduce lines and wrinkles even in your under-eyes. How? Simple — by calming your skin down and boosting blood circulation.
Jade has a cooling effect on the skin, making it super relaxing. At the same time, the swiping motion used to massage your skin with this tool helps improve the flow of nutrients across your skin. This helps smooth and plump up your skin, reducing wrinkles and puffiness in the undereyes.
Get a Microneedling Treatment at a Spa
Microneedling is the act of puncturing your skin, creating tiny holes and "wounds" in it to force it to stimulate collagen and heal itself. Basically, a skincare professional will intentionally damage your complexion to speed up the cell turnover process.
As your skin heals, it produces more collagen than usual — a must if you want to reduce the lines and wrinkles in your skin. This also improves the overall texture of your skin, making it smooth and bouncy to the touch.
And don't worry — microneedling is hardly ever painful! It's still considered a non-invasive alternative to surgery or fillers. Plus, you only have to do it a couple of times a month, so it's never that bad.
Try Quitting Smoking and Drinking
Our final tip for how to treat wrinkle under eye is good not just for your skin, but for your overall health as well: quitting your worst vices.
We've already talked about smoking and how it damages the skin from the inside out. Heavy smokers are known to be five times more vulnerable to skin aging and the early onset of wrinkles.
Aside from exposing your skin to carcinogens and oxidative stress, your skin also produces less collagen when you smoke tobacco.
Drinking too much alcohol is yet another no-no if you want to keep your undereye skin looking smooth, radiant, and tight.
Alcohol can be extremely dehydrating, and it can show in your skin if you drink too much and too often. Switch out wine glasses for extra bottles of water to keep your skin and body hydrated, and wrinkles away from your gorgeous eyes.
Conclusion
As you can see, there are many things you can change up in your skincare regimen or everyday lifestyle to alleviate wrinkles and keep your undereye skin from forming more of them. Hopefully, this quick guide gives you inspiration about how to treat wrinkle under eye.
Doing a couple of the things listed above can improve your undereye skin for sure. But doing all of them simultaneously is the best way to see results.
No more stressing about how to treat wrinkle under eye. Just follow Introstem's tips and tricks religiously and invest in skincare products infused with anti-aging properties, and you can say hello to smooth, tight, wrinkle-free under-eyes in no time!