Holiday shopping can make anyone feel like a kid entering a candy store. There are so many items to choose from to give your loved ones, from planners to artworks to clothes. But if you give them random things that aren't personalized, there's a chance they'll only get regifted, forgotten, or even tossed out.
Practical and well-thought-out gifts are the best ones out there. So, this year, try to give a gift that your friends and family will use every single day or wear proudly. Give them something that can make them feel confident and ready to take on the world — like the gift of great-looking skin.
To help make shopping easier for you this holiday season, take a look at Introstem's holiday skincare gift sets. Each one is designed for a specific skincare need.
Here are the five gift sets from Introstem. Scroll through to see what your loved ones can get out of them this holiday season.
The Gift of Skin That Feels Fresh & Purified: The Basics Gift Set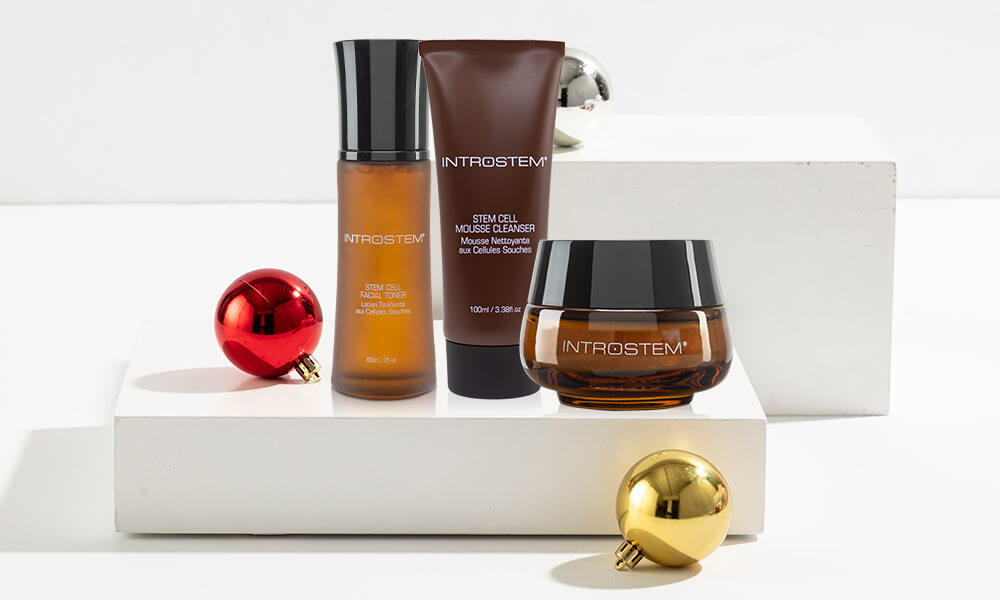 First up, we have the Basics Gift Set. It includes the Mousse Cleanser, Facial Toner, and Facial Peeling. It's the best set to gift to someone who needs to freshen up and purify the look of their skin, like those with oily skin that often gets clogged.
The cleanser is rich in hydrating botanicals, like lavender and chamomile extracts. So, even if you thoroughly cleanse your skin, you won't be leaving it feeling tight.
The toner, on the other hand, has aloe vera leaf juice as its second ingredient. Aloe soothes and calms the feel of the skin, while also moisturizing it.
Lastly, there's the facial peel. It's made with mandelic acid and walnut shell and bamboo powders to help exfoliate the skin. Using this peel helps shed off the dead skin and stubborn dirt that leaves the skin feeling dull and rough. 
The Gift of Radiant-Looking Skin from Head to Toe: The Body Gift Set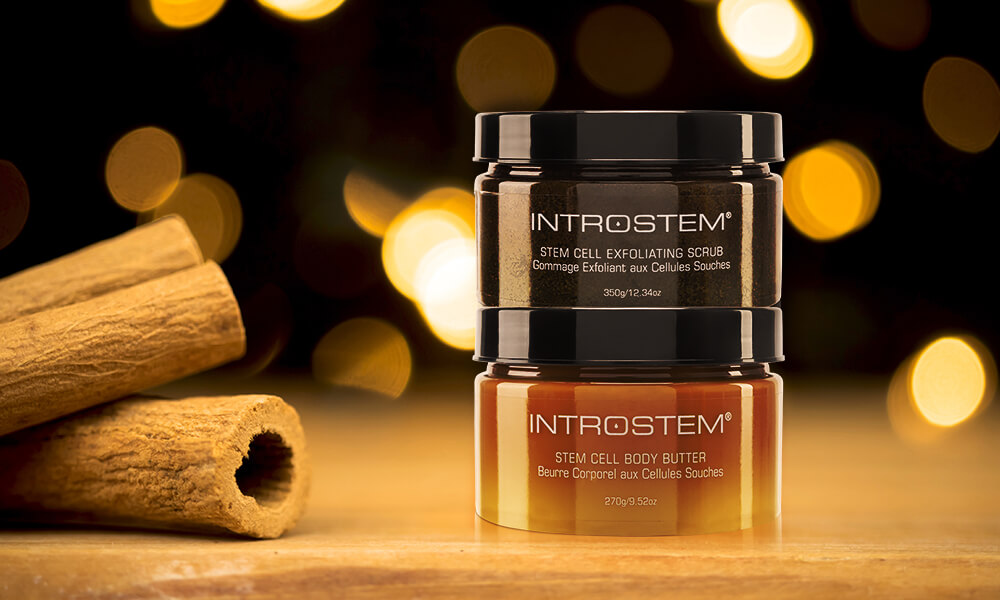 Skincare doesn't stop at the face. You also have to remind your loved ones to care for their skin from the neck down as well. Luckily, Introstem has multiple gift sets curated for the skin outside your face, just like the Body Gift Set.
This set contains only two items, but both are impactful for your skin. There's an Exfoliating Scrub to polish your skin and shed dirt, debris, and dead skin off it. It's great for those with flaky-looking skin that need a hand smoothing out and softening the look of their complexion.
Next up is the Body Butter. This is formulated with all kinds of rich oils and emollients to provide deep moisture to dry skin. This indulgent cream contains argan oil, which is rich in fatty acids, and vitamin E for intense moisturization. It's also formulated with urea, a known humectant with moisture-binding properties.
This gift set would be a great present for those who live in colder climates or are spending the festive season in a snowy area. Their skin will be more prone to drying out. So, exfoliating and moisturizing with a rich butter will do them good.
The Gift of Moisture All Over the Body, 24/7: The Complete Body Gift Set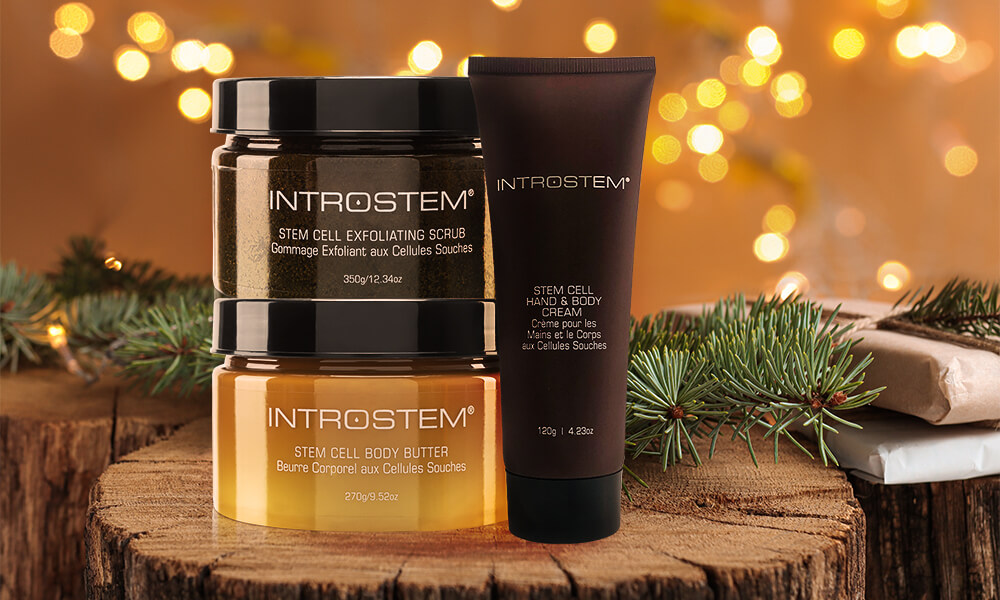 The second of the Introstem gift sets for the body is the Complete Body Gift Set.
Just like the previous set, this one includes the Exfoliating Scrub and Body Butter for your basic exfoliating and moisturizing needs. But what makes it special is that it also includes a Hand & Body Cream for deep moisture wherever and whenever your skin needs it.
Our Hand & Body Cream is formulated with goat's milk. This is super satisfying for those with rosacea or eczema because of how soothing it feels. 
Hand cream is a must for anyone nowadays. Because of the pandemic, we've grown accustomed to washing and sanitizing our hands all the time. That's great for disinfecting but can end up drying your hands. This is where a hand cream comes in.
A good hand cream will replenish the moisture that the skin on your hands loses throughout the day. It's a great way to keep your hands feeling soft even when you're out and about.
It's super important to care for your hands because they're one of the few parts of your body with thin, delicate skin. As you get older, they become one of the first areas you'll notice the appearance of folds, sagginess, and loss of elasticity. Using a hand cream regularly can hydrate it and delay those visible signs of aging.
The Gift of a Hassle-Free, Glow-Boosting Beauty Routine: The Glow Gift Set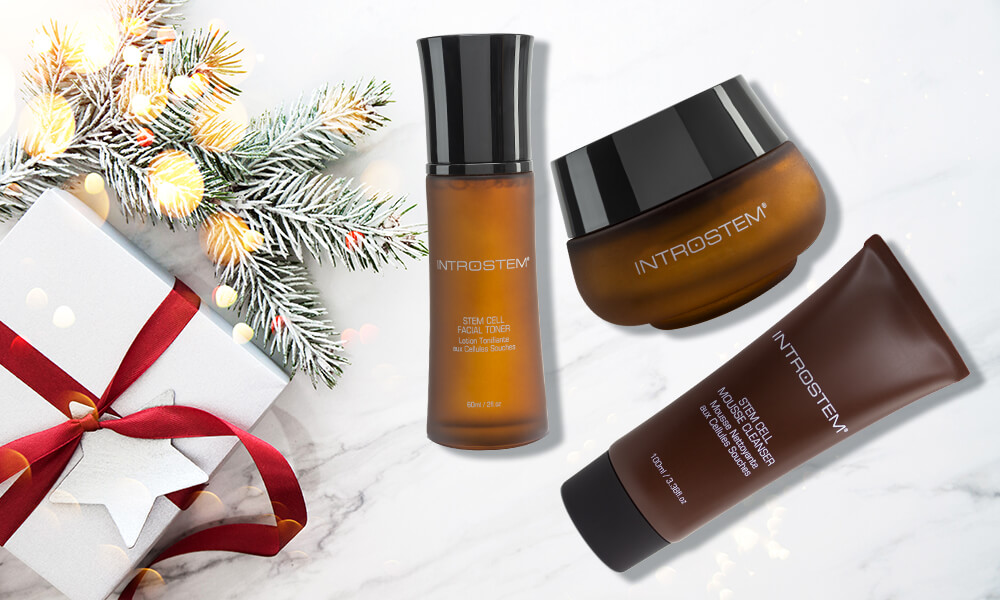 If you know anyone who wants to give their skin a glow-up as a New Year's resolution, giving them a mini skincare routine is the best way to help. This Glow Gift Set has every step of a basic skincare routine — cleansing, toning, and moisturizing.
This set is essentially the same as the Basic Gift Set used for thorough cleansing, but instead of a Facial Peel, you get a Day Moisturizer to amp up the radiance. With the grape stem cell extract-infused cleanser, toner, and moisturizer, your loved ones' skin will look super supple and glow to the heavens.
The moisturizer is chock-full of cutting-edge ingredients, like safflower seed oil, shea butter, aloe leaf extract, and fatty alcohols. It even has vitamin E for more elastic-feeling skin and vitamin A to help minimize the look of wrinkles and lines.
The Gift of Spending Time with Yourself to Unwind: The Self-Care Gift Set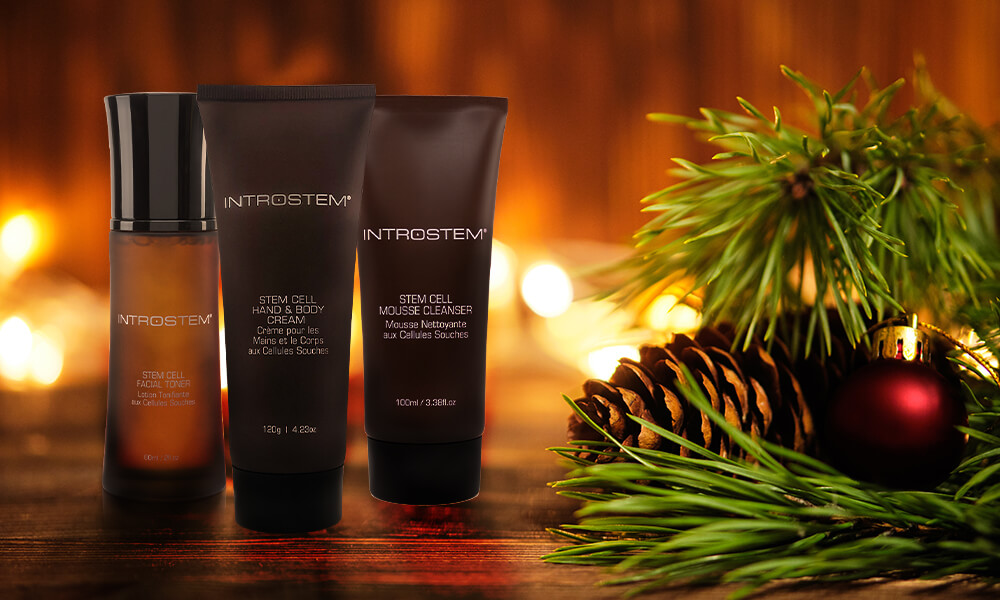 For many people, focusing on skincare every day is a part of their self-love routine. It's a way to calm down and relax after a long, hard day, so it's a huge part of people trying to practice self-care and mindfulness for their mental health.
If you want to give your friends the gift of both beautiful skin and the chance to get some me-time, give them the Self-Care Gift Set. This set includes the Mousse Cleanser and Facial Toner, both of which help wash away the sweat, makeup, and worries of the past day.
It also has the Hand & Body Cream, which is a terrific way to make your skin from head to toe feel smooth, silky, and well taken care of. Since the cream is super indulgent and hydrating, it will make you feel like you're being pampered at a spa, especially if you massage it into your skin daily.
Using a hand cream while you're on the go is also very comforting. Think of it as your tube of self-care for when you're out and about. It's a small way to indulge yourself when you're stressed or feeling overwhelmed. At the same time, you're moisturizing and softening the feel of your hands.
How Do You Want to Help Your Loved Ones Achieve Perfect, Healthy Skin?
When you give skincare as a present, you're giving a tangible item, sure. But it's way more than that. When sharing skincare products you love with others, you're giving them a brand new beauty experience and a way to achieve the glow they've always wanted to flaunt.
It's easy to drive to your local drugstore and pick up a couple of skincare products there. But why not make it more special and go the high-end route when shopping? Gifting high-end skincare isn't just about the price tag. It's also about innovative ingredients your loved ones might not have tried yet.
This season, introduce them to Introstem and our key ingredient, grape stem cell extract. It's going to be their secret weapon in achieving terrific-looking skin for all of 2022.
How to Choose the Right Gift Set for Each Person on Your List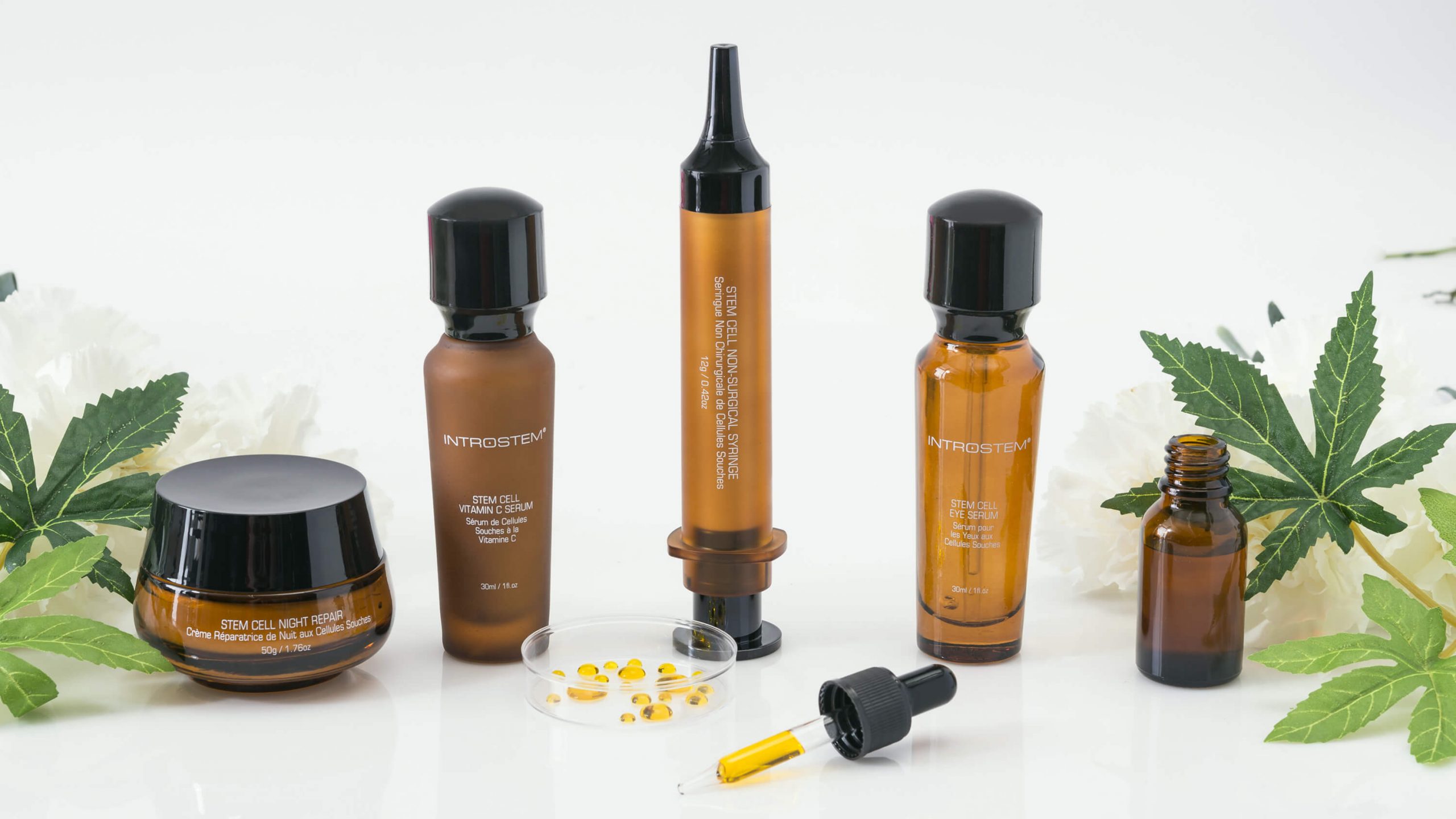 If you've made it this far, then you probably have a few favorite gift sets in mind already. Fight the temptation to buy them just because they have cute packaging or come at a good price. The most important thing you must think about is whether your gift receiver will love it.
To pick out the best gift set for your loved one, there are a couple of factors you have to keep in mind.
The first is their skin type. This one's pretty simple. All you have to remember is that oily skin will love skincare that leaves their skin feeling purified, like the ones in the Basics Gift Set. Meanwhile, dry skin needs super rich ingredients for extra moisture. So, think about giving them the Body Gift Set.
The next thing you have to consider when picking out a gift set is how old your loved one is. If you're shopping for teens and young adults, you should go for basic cleansing sets or ones that are designed to fight acne and breakouts. If you're shopping for an aunt or mother-in-law, a set that reduces the visible signs of aging is the way to go.
Another factor is where they live. If they live in an area that is dry and has little to no humidity, like in a desert state or a snowy city, think about gifting them the Complete Body Gift Set for their exfoliating and deep moisturizing needs. If they live in a hot climate, lightweight products work better.
Last but not least, think about what their mindset is when it comes to skincare. Some need more help building an entire skincare regimen. So, for that, you should gift them the Glow Gift Set since it is a mini skincare routine in itself.
Or if you have friends and co-workers who love skincare because it helps them treat themselves after a long day at work, give them the Self-Care Gift Set to help them pamper themselves more.
Conclusion
Some people think buying gift sets is a lazy way to look for presents, but that's not the case when you do so with the Introstem gift sets. Every single one is designed to cater to a specific skincare need.
So, not only are you giving fine, high-end beauty products to your favorite people for the holidays, but you're also sharing with them the gift of terrific-looking skin.
To have maximum impact in gift-giving, make sure you have a thorough understanding of your friends' or family members' skin type, age, and product preferences before selecting which of the gift sets you want to give them. This assures you that they'll absolutely love this year's present!
So what are you waiting for? Cut down on that long, stressful holiday shopping time and go for luxurious skincare gift sets from Introstem. They're convenient for you, and super effective for your loved ones' complexion!