Seasons tend to affect you differently depending on what type of skin you have. For oily, acne-prone skin, summer's humid air might be a challenging ordeal. But it can also be taxing on dry skin as hot weather means excessive water loss due to perspiration.     
At Introstem, we're prepared with all the necessary summer skincare products to keep your skin looking healthy and fresh! With natural extracts, peptides, and vitamins, our nutrient-rich formulas will leave your skin looking revitalized and well-balanced. You can't go wrong if you choose Introstem for summer!
Let's talk about the 5 Introstem for summer skincare products that you'll need this year to take your beauty regimen to the next level.
1) Stem Cell Vitamin C Serum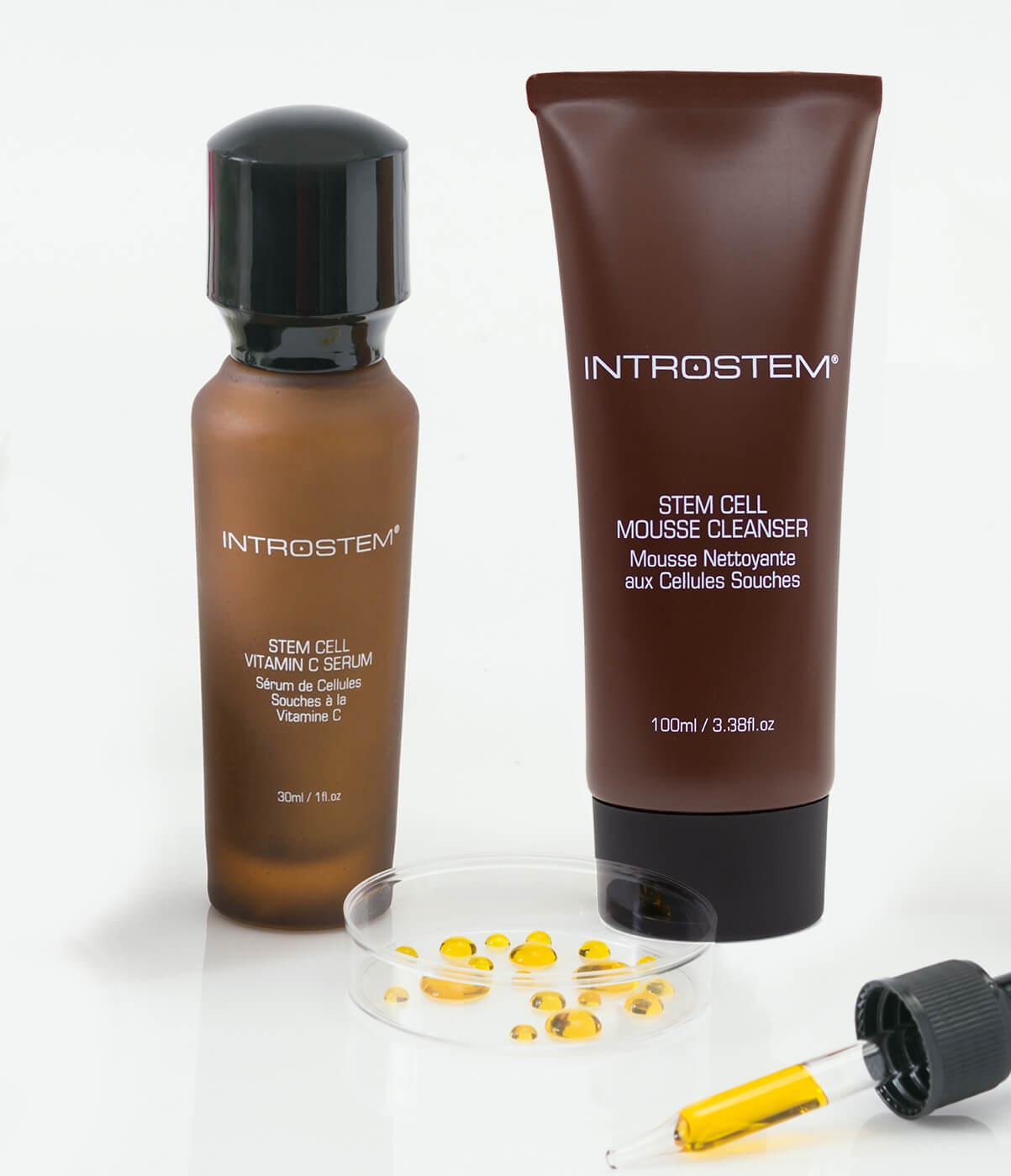 Compared to moisturizers, serums are a great way to enhance your skin. They are lighter so they won't feel too heavy on your skin during the humid weather. But most importantly, serums are great for treating your specific skin concerns. They deliver precise ingredients to your skin in concentrated amounts, whether this may be hyaluronic acid, essential vitamins, peptides, AHAs, or anything else. So, if your skincare routine doesn't include a serum, you need to make some changes!
If we're talking about summer skincare, vitamin C is a go-to ingredient. There's a reason it's been leading the skincare wave; it serves an integral role in diminishing the visibility of many skin concerns. It works wonders at reducing the appearance of fine lines, sagging, and wrinkly skin. It's also great for improving the tone and texture of your complexion, making your skin appear balanced and smooth. These are some of the reasons that vitamin C is a key ingredient in many serums designed to diminish the visible signs of aging. 
So, when you're choosing Introstem for summer, you should incorporate our Stem Cell Vitamin C Serum. The formula includes a rich concoction of nutrients and vitamins to give your skin an enhanced, fresh look! Let's take a closer look at what's inside…
What's in it?
This sensational nighttime serum includes two forms of vitamin C (Tetrahexyldecyl Ascorbate and Ascorbyl Palmitate) that work to clarify the feel of your skin and brighten up its look. We've also incorporated vitamin A and vitamin E acetate to help improve the look of your skin tone. These two vitamins provide a smoother look to your skin when the sun's harsh rays cause it to discolor. Our formula also infuses enriching natural ingredients — jojoba seed oil, olive fruit oil, and grape cell extract — to diminish the appearance of tired, lifeless skin.
With all these benefits, you can't go wrong with our sensational nighttime serum.
For the best results, we recommend using this Introstem for summer wonder serum on freshly cleansed skin. Take a small amount and apply it to your face and décolletage area. Massage gently into your skin until it's completely absorbed. Use it every night before heading to bed.
2) Stem Cell Day Moisturizer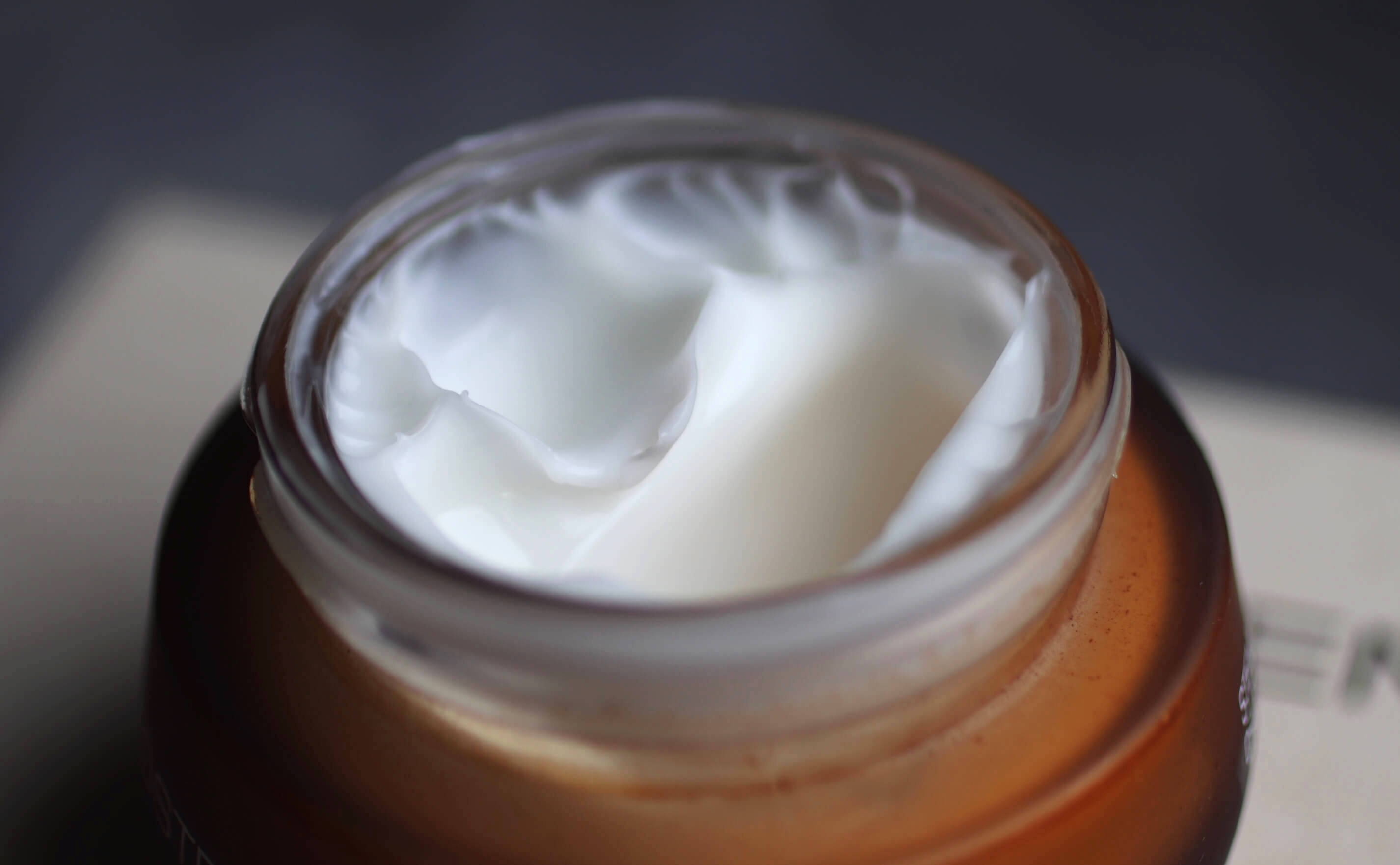 Do day and night creams have to be different? The short answer is yes. To elaborate — during the day, our skin is exposed to many things, including harsh UV rays and pollution. And in the intense heat of the summer, this exposure can be especially harmful to your skin.
That's why day creams are designed with specific ingredients that help to provide a proactive solution for these concerns. By equipping your skin with the necessary protective ingredients, you can minimize the signs of damage. In contrast, your night cream typically incorporates ingredients that offer a reactive solution — it's geared more toward the healing aspect.
So, having a good day moisturizer at your disposal is pivotal for the overall well-being of your skin. Enter another Introstem for summer favorite: the Stem Cell Day Moisturizer!
What's in it?
This rich cream features a skin-loving blend of shea butter, safflower seed oil, vitamin E acetate, and grape stem cells to relieve dry skin, making it appear fresh and youthful! Shea butter and safflower seed oil are both rich in linoleic acid, which is known for its ability to keep your skin moisturized without leaving a greasy look. The vitamins E and A in the formula work to diminish the look of fine lines and wrinkly skin. You'll also find chamomile, green tea, and aloe vera extracts in our Stem Cell Day Moisturizer. These organic ingredients will give your skin a plumper and more youthful look.
For great results, make sure to include our summer day moisturizer in your daily routine! Apply a generous amount onto cleansed skin and massage it in gently until it's fully absorbed.
3) Stem Cell Night Repair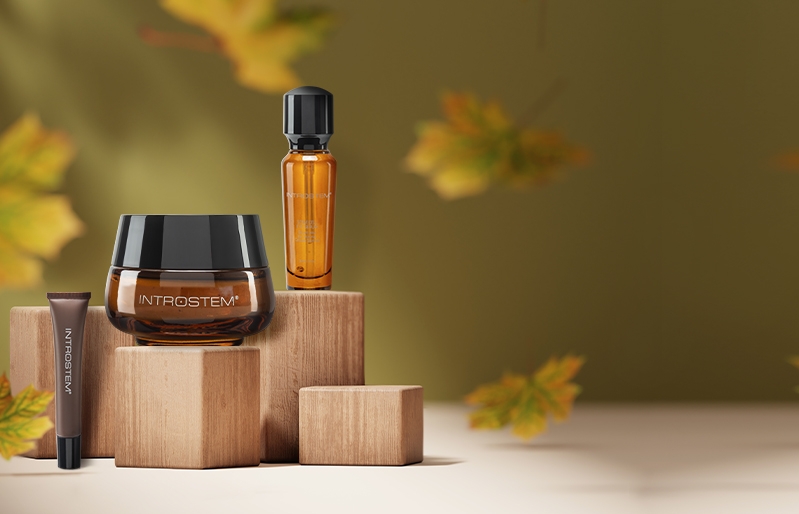 Night creams are designed to help your skin heal as it enters recovery mode i.e. when you sleep at night. That's why the best time to fall asleep is by 10 pm, as that's when the process tends to begin. According to Dr Engelman, a dermatological surgeon in NYC, when our body is in a deep sleep, our skin's metabolism increases, improving cell turnover and renewal.
Your nighttime skincare routine is very important because you'll be giving a helping hand to your skin's natural process. And we've got a great nighttime product for you; our Stem Cell Night Repair.
What's in it?
This formula is designed to make your skin appear firmer, toned, and lifted as you wake up in the morning. It's enriched with essential fatty acids, organic extracts, and skin-loving vitamins to make your skin feel relaxed and soothed.
Infused with vitamin A and two forms of vitamin E, our Stem Cell Night Repair formula promises to enhance the overall look and feel of your skin. This lightweight cream also incorporates Sodium Hyaluronate to relieve dry and flaky skin by increasing hydration levels. We've also infused this sensational night cream with hemp seed oil to moisturize your skin without clogging your pores. 
Use our Stem Cell Night Repair in the evening before heading to bed. Apply the cream to cleansed skin generously, massaging into your face and neck until it's fully absorbed.
4) Stem Cell Facial Peeling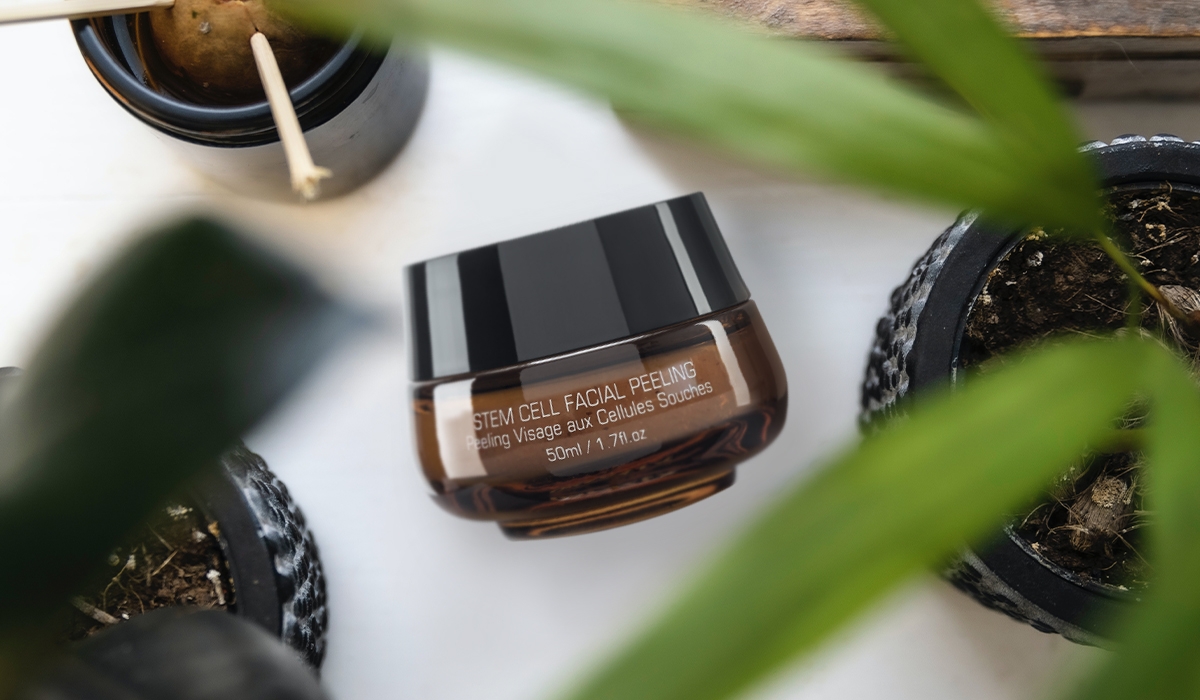 Because of the increased humidity around you in the summer, your skin becomes greasy and thus more prone to acne. So, what can you do about it? Moving to a less-humid area might be out of the picture but exfoliating your skin certainly isn't!
Exfoliating helps remove dead skin cells and dirt particles accumulated on the top layer of your skin. These dead cells tend to appear dark as a result of prolonged exposure to harmful rays from the sun. As a result, they can make your skin look unbalanced, dull, and aged. But Introstem for summer skincare is here to take care of that.
Our advanced Stem Cell Facial Peeling is a gentle yet powerful cleanser to make your skin look instantly refreshed and uplifted.
What's in it?
This formula is infused with bamboo and walnut shell powders to rid your skin of impurities and dead cells with ease.
It also incorporates essential vitamins A, C, and E to diminish the visible signs of damage on your skin. These vitamins help reduce the look of aging, including wrinkles, fine lines, sagging, and flaky skin. We've also added bitter orange oil to the mix. It works to refresh, cool, and tone your skin.
Our Facial Peeling formula promises a clear, glowing complexion that doesn't come at the cost of having your vital oils removed! We recommend using this Introstem for summer skincare product one to two times a week. Apply it to dry skin and massage in circular motions for 30 seconds. Rinse thoroughly with cool water afterward. Follow up with the Stem Cell Day Moisturizer!
5) Stem Cell Exfoliating Scrub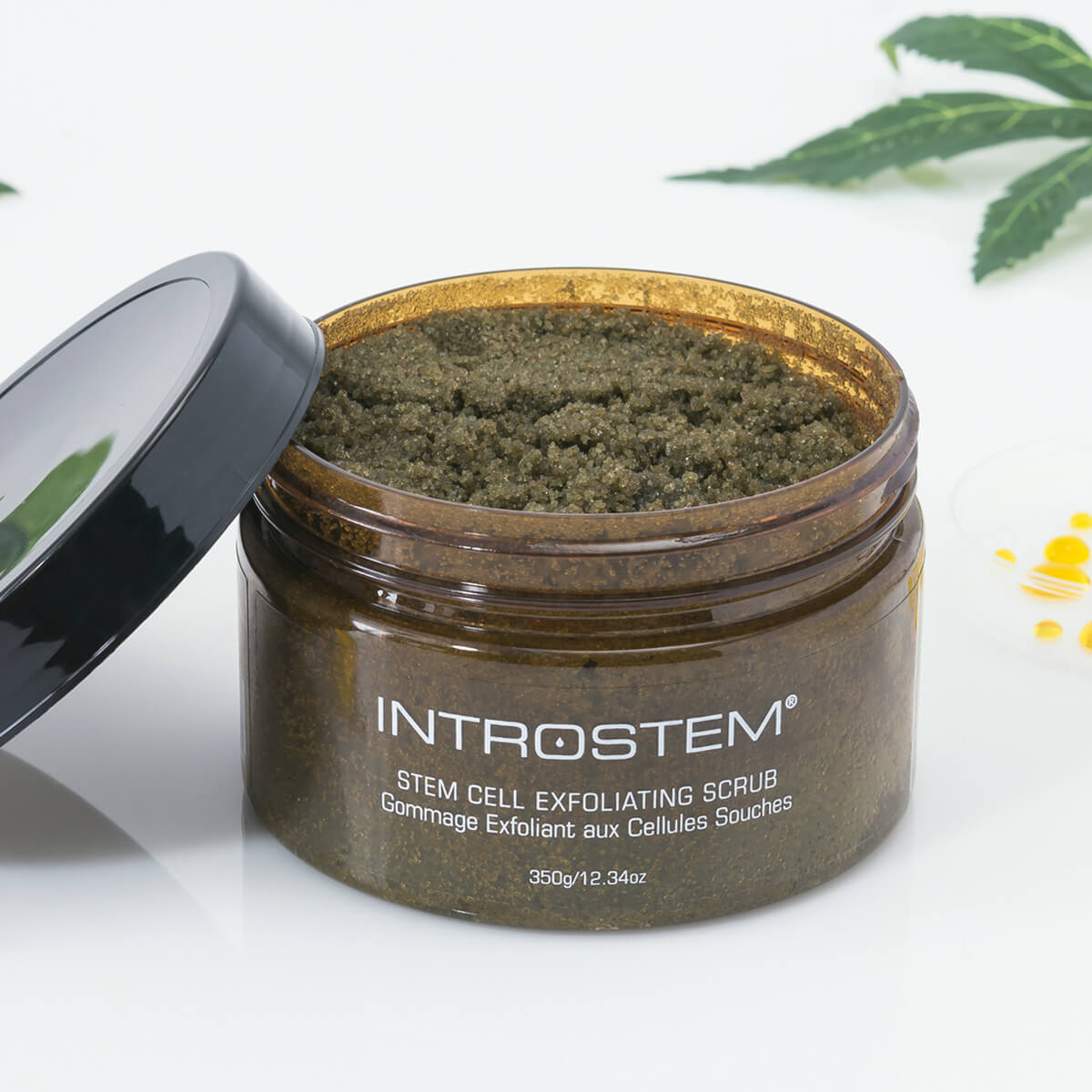 Here's your reminder to keep the rest of your body in mind when choosing skin care for summer…
Our Stem Cell Exfoliating Scrub is a sensational formula that's designed to make your skin glow! With the exfoliating power of salt blended with the skin-enhancing capabilities of vitamin E and mineral oil, this body scrub removes dead cells gently but effectively.
It'll make your skin look brightened and refreshed in the summer! For optimal results, massage the scrub into your skin across your body, focusing on typically exposed areas. Use it once a week.
Make Your Skin Glow with Introstem for Summer!
Choose Introstem for summer and you'll no longer look at skincare the same way! Our nutrient-rich formulas will keep your skin looking healthy and fresh all summer long. Make the right choice for your skin; enhance your skincare game today with Introstem.