We've long heard the debate about the need for eye cream versus just a moisturizer, and concluded that, yes, the skin around the eyes needs the extra TLC of an eye cream. But what about an eye SERUM? Is it a game changer or just another unnecessary step?
Serums for the face have grown in popularity to the point that a serum is a part of any thorough skincare routine. So, it makes you start to wonder why your eyes aren't also getting some of the serum love. 
Here at Introstem, we're going to discuss why adding an eye serum to your routine will step up your skincare game and, with regular use, could possibly reduce physical signs of aging around the eyes!
Why the Eyes Need Extra Care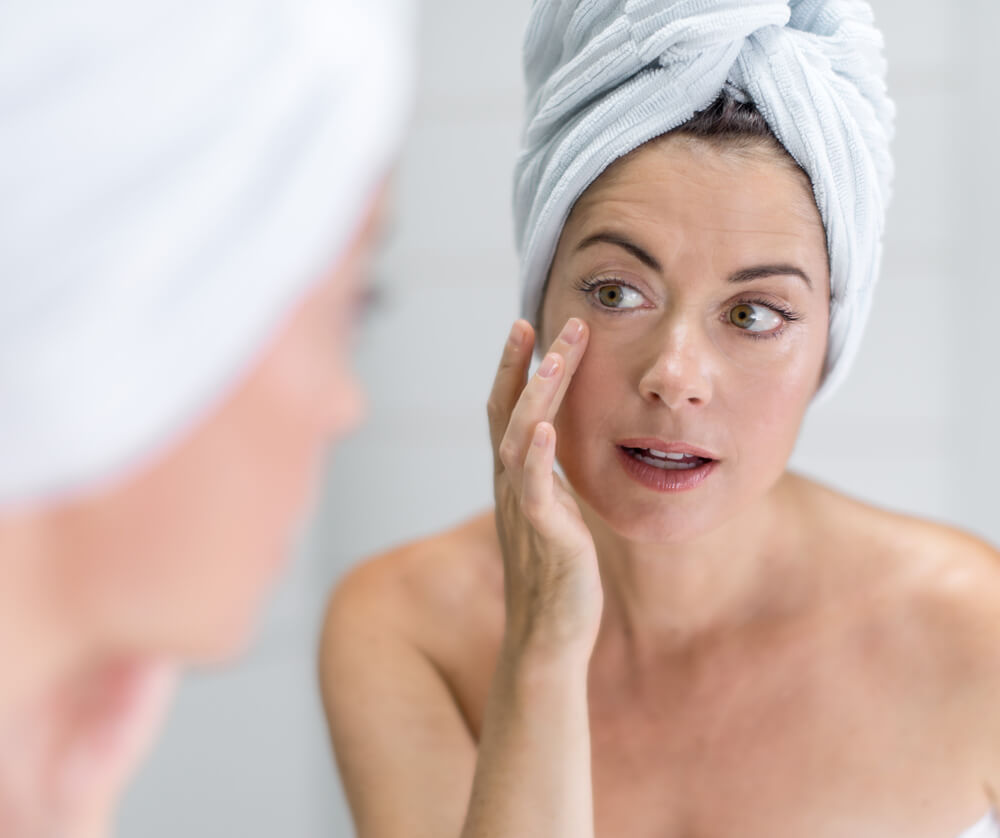 The skin around the eyes is especially fragile and requires extra care to stay looking its most youthful and revitalized. Using specialized products for the eye area is important for the following reasons: 
The skin around the eyes is thinner and more delicate than skin on the face, making it more prone to wrinkling

The skin around the eyes also has few active oil glands. So, you need to supplement moisture by using a hydrating eye serum and cream 

Your eyes get quite the "workout" compared to the rest of your face! Daily expressions cause a lot of movement in the eye area. This results in the appearance of "crow's feet," or small horizontal wrinkles in the outer corners of the eyes
As you can see, it's easy to understand why the eyes require a product in your skincare routine that's just for them. Let's look at why a serum, specifically, is an amazing choice to care for the skin around your eyes.
What Does a Serum Do, Exactly?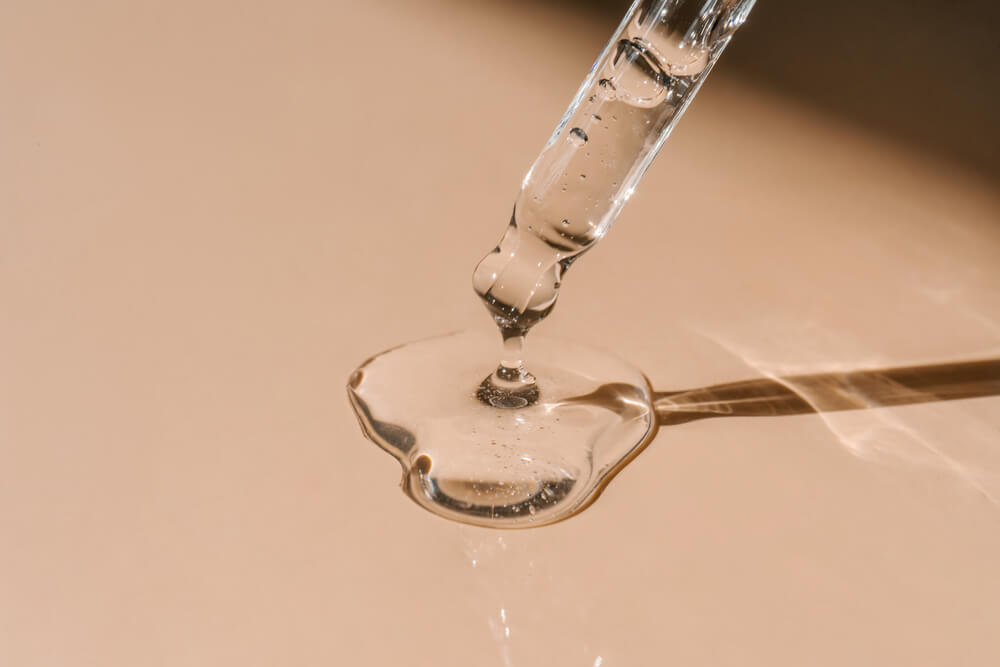 You might be wondering what a serum does that a moisturizer does not, and why using just an eye cream might not be enough to deliver the look of a more rested, rejuvenated eye area.
Serums are highly concentrated formulas of potent ingredients that sink deeper into the skin than a moisturizer does. This allows a serum to deliver a heightened dose of ingredients. This means more dramatic results than just a moisturizer alone. 
A serum is not a replacement for a moisturizer. Instead, it should be used in conjunction with your favorite moisturizer and SPF. Because you want your skin to reap the maximum benefits from your powerful serum, it's important to apply your skin care products in the right order. Go from lightweight to heaviest: 
Cleanser, to completely cleanse the skin so your other products can sink in deeply

Toner or Essence, if you choose to use one

Serum to deliver a potent dose of ingredients

Moisturizer to seal in your serum and provide a moisture barrier

SPF to prevent further sun and environmental damage
This order can be followed for both the face and the eye area. Application for the eye area would include your normal cleanser, an eye serum, and an eye cream. With these steps, you'll be improving the look of texture, wrinkles, and discoloration before you know it!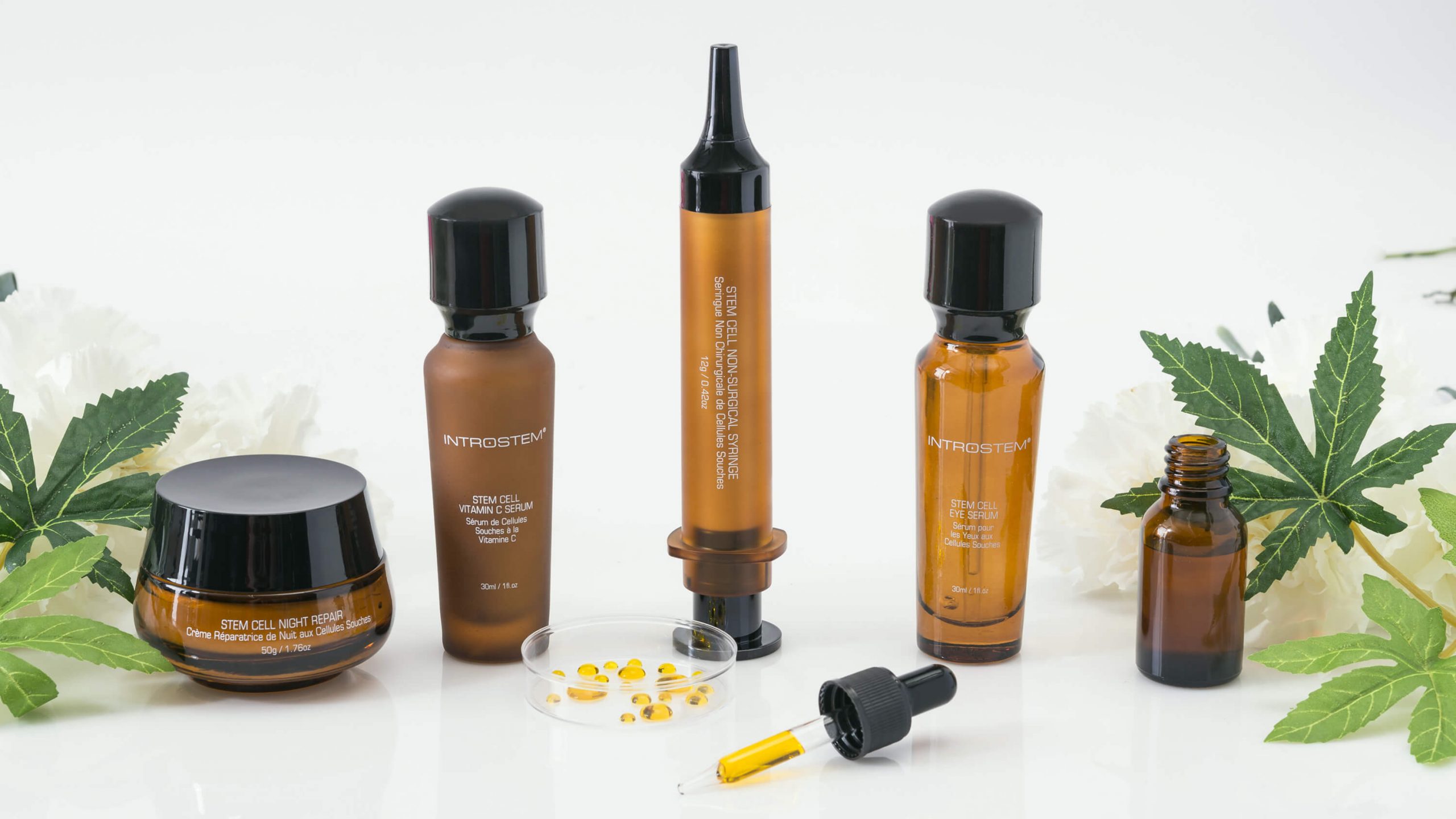 Ingredients to Look for in an Eye Serum
What ingredients should your face and eye serums contain? Well, experts agree that it's important to look at ingredients when purchasing any serum, and they also agree on a few key players when it comes to ingredients that deliver the most desired results: 
Glycolic acid and Vitamin C can help with brightening and lessening the appearance of discoloration

Hyaluronic acid and ceramides can improve moisture levels and seal in moisture, respectively

Stem Cells

to heal and regenerate the feel of the skin
These ingredients can all work wonders when delivered to the skin via a serum. That's why it's such a game changer to introduce an eye serum into your skin care routine – an eye serum is the best way to apply potent and effective ingredients to the skin!
The Benefits of Grape Stem Cell Extract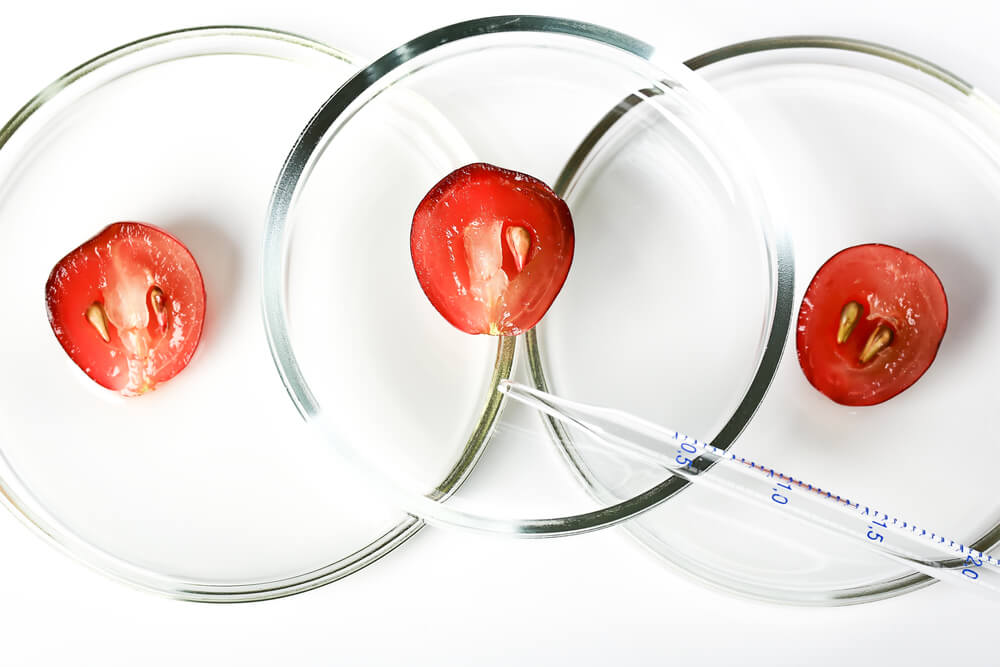 Here at Introstem, our products deliver tangible results thanks to our star ingredient: Grape Stem Cell Extract. Combined with other powerful botanicals, antioxidants, and humectants, grape stem cell extract can deliver incredible results as far as lessening the look of skin damage and aging. 
They can help to lessen the visibility of wrinkles and give the skin a firmer look and feel. Furthermore, grape stem cell extract is gentle and results in little to no skin irritation, which is a plus for everyone!
The power of grape stem cell extract to fight the look of sun damage and deliver a smoother, firmer, and more radiant look is exactly why Introstem uses it in all of our products. It truly is a "star" ingredient that everyone can use to treat a variety of visible skin care concerns. 
Now that you know how Introstem's grape stem cell extract can improve your skincare routine, let's talk about how this scientifically proven ingredient can work wonders for the eye area! 
The Stem Cell Eye Serum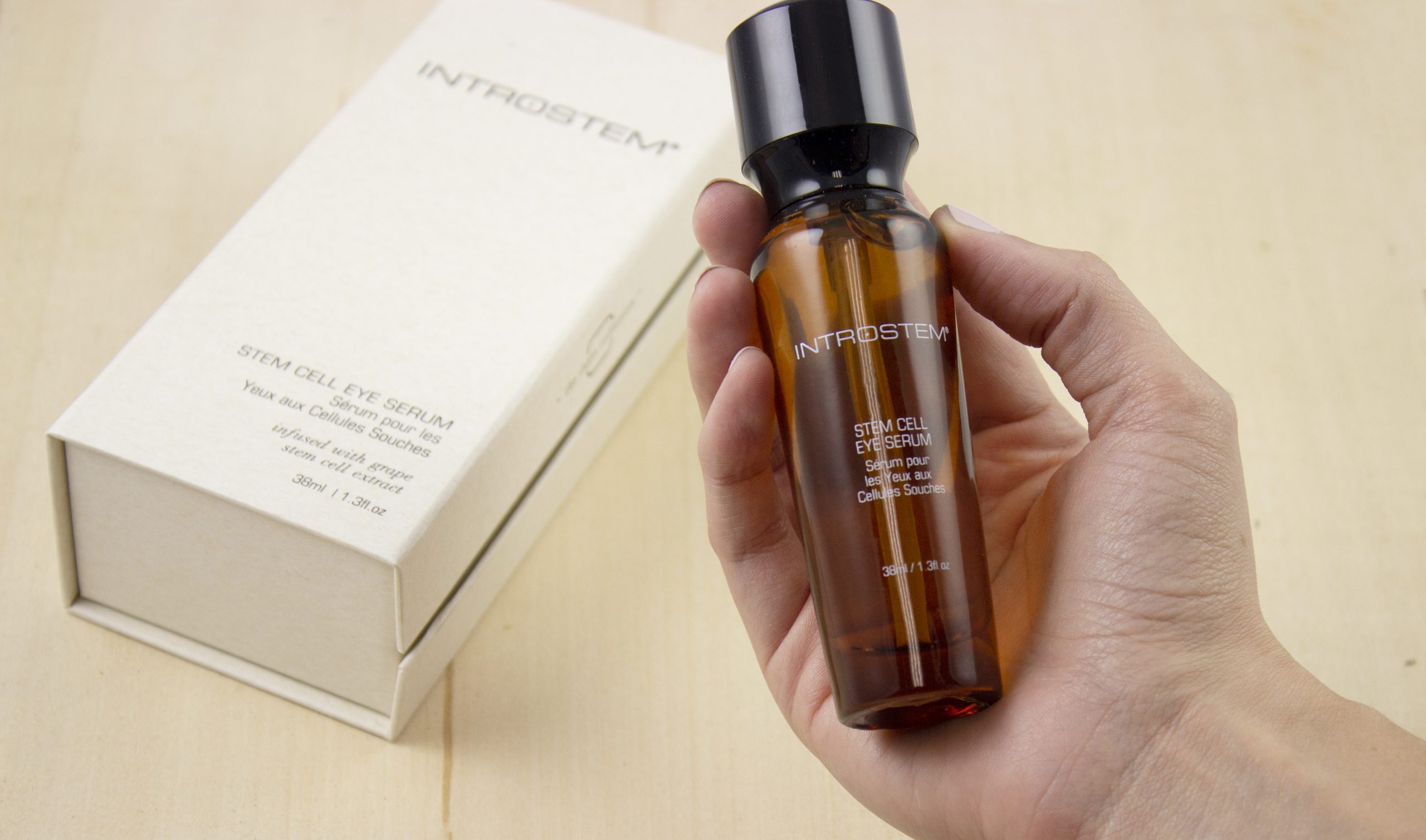 Introstem's Stem Cell Eye Serum is the perfect eye serum to introduce into your routine to experience the skin-loving benefits of stem cells. Because stem cells are so powerful and have so much potential to firm and smooth the complexion, you don't want them just sitting atop the skin. Instead, you want them to penetrate deeply and really sink into the skin! That's where using an eye serum comes in.
We suggest starting with a gentle cleanser so that your skin is clear to absorb your eye serum. The Stem Cell Mousse Cleanser is a rich, lathering cleanser formulated without sulfates and without harsh surfactants. Surfactants are the ingredients that separate dirt and oil from the skin, but some can leave skin stripped of its moisture barrier. Our mousse cleanser contains coconut-derived surfactants, as well as chamomile and glycerin, to gently cleanse while leaving the skin looking and feeling calm and clean.
The Stem Cell Mousse Cleanser currently comes in an indulgent premium gift set that will include your full-size cleanser as well as daytime and nighttime moisturizers!
After cleansing, you want to apply 1-2 pumps of your Stem Cell Eye Serum around the orbital bone of the eye, or the bone along the edge of the eye socket, as well as onto the upper and lower eyelids. An eye serum can be used twice a day, morning and night, when applying your skincare. 
Using the Stem Cell Eye Serum will help the eye area feel plumper and firmer than if you were using an eye cream alone. In addition to grape stem cell extract, the serum contains hyaluronic acid, Vitamin C, and aloe leaf extract – all ingredients that can make a difference in the look and feel of your eye area!
The Introstem Power Duo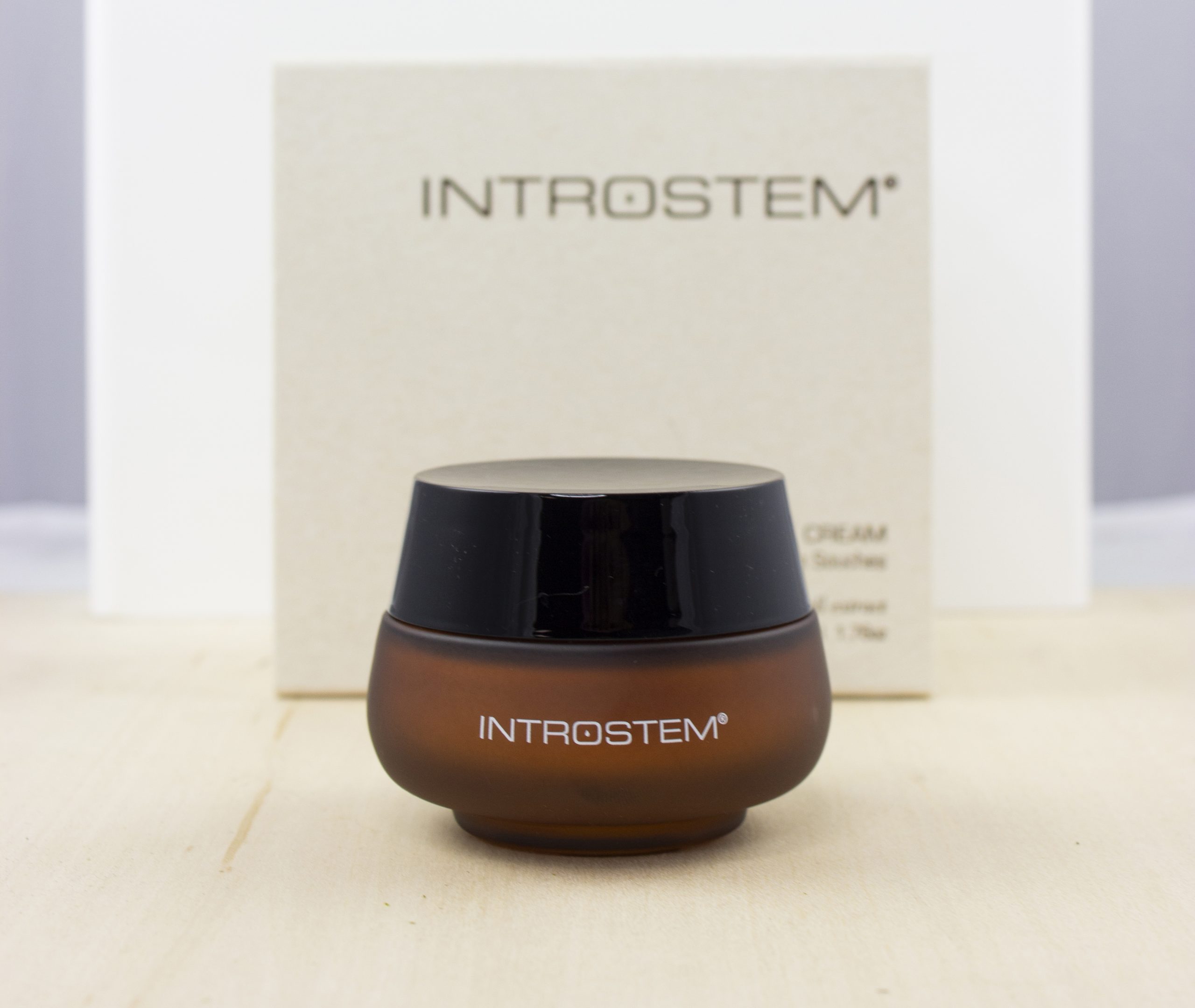 Introstem offers a full eye care routine that will help you reap the maximum benefits of grape stem cell extract as well as Introstem's other proven ingredients, such as vitamins A, C and E, peptides, green tea extract, and seaweed extract. 
Follow up your eye serum with the Stem Cell Rejuvenating Eye Cream. It's a highly moisturizing eye cream made with grape stem cell extract, and Vitamin E to help build a strong moisture barrier on the delicate skin of the eye area. The thinner skin around the eyes requires extra moisture. And this eye cream is the perfect thing to aid with moisture retention and give the eye area a smoother, plumper look. 
Introstem's eye serum and eye cream combined are a power duo. Together, they give you maximum hydration and result in a glowy, youthful-looking eye area. When using this duo, you'll experience:
A plumper look and less visible wrinkles thanks to retinyl palmitate and collagen

An eye area that appears less puffy due to caffeine in your eye cream

A possibly firmer- and smoother-feeling texture because of the star ingredient in both products – Grape stem cell extract!

Increased moisture levels due to Vitamin E and hyaluronic acid
Using an eye serum and an eye cream together will assure you're providing your eye area with the best care and giving it the attention it deserves. Applying both, morning and night, will leave your eye area looking its best and reduce the visible signs of aging around your eyes.
A Spa-Like Experience for the Eyes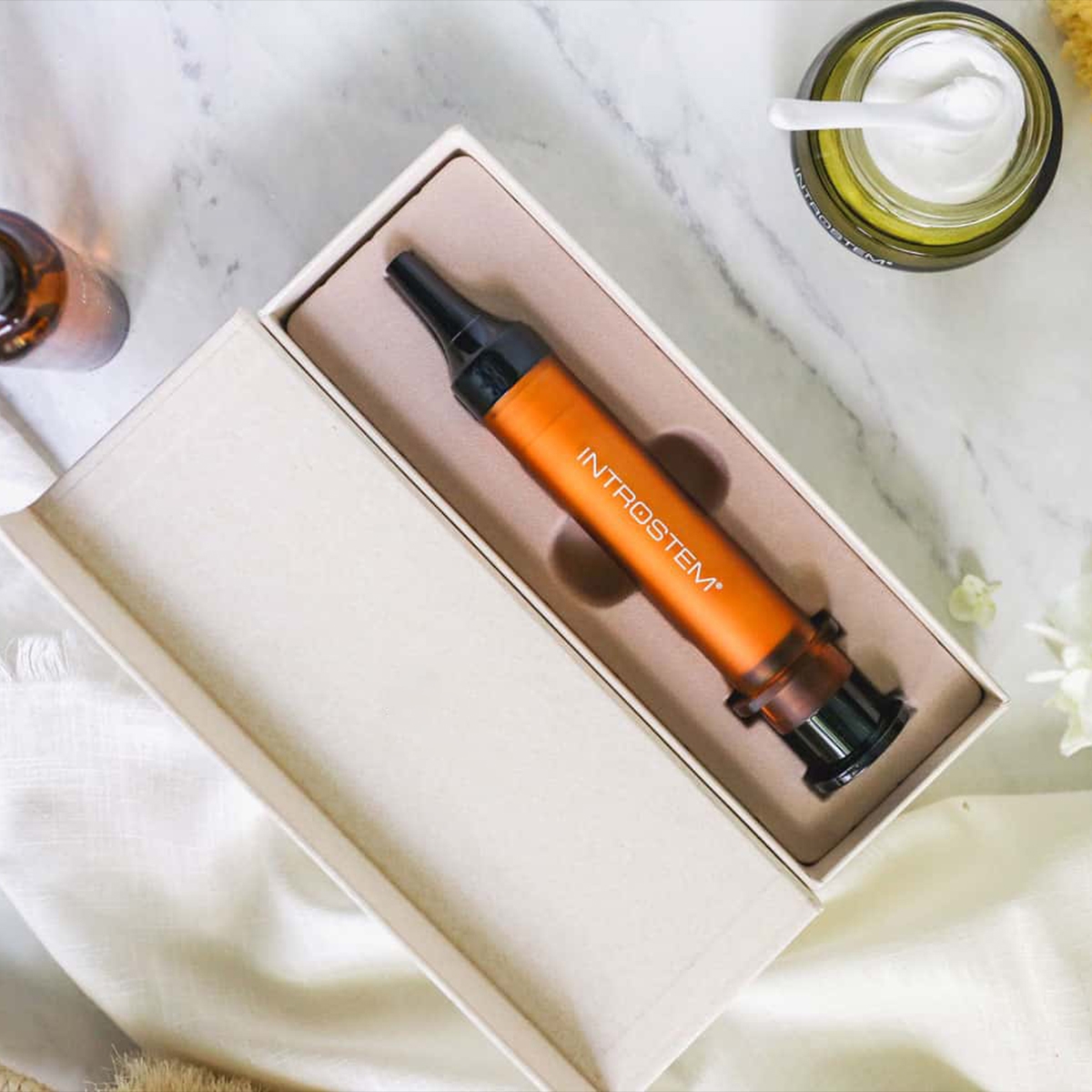 We all want to up our skin care game, but don't always want the added time and energy commitment! If you want to add some extra TLC time for your eyes, in addition to using your eye serum and eye cream, you can indulge in the once-a-week, luxurious Stem Cell Anti-Aging Wrinkle Treatment. 
The Stem Cell Anti-Aging Wrinkle Treatment is applied directly to wrinkles around the eyes, not to the whole eye area like your eye serum and eye cream are. The potent formula of grape stem cell extract, peptides, and hyaluronic acid targets the visibility of the deepest wrinkles. It'll leave the eye area looking more youthful and refreshed.
Because you use this exquisite syringe once per week, it doesn't involve much of a time commitment. It also doesn't count as an extra step in your daily routine. It's a win-win product – tangible benefits with an easy, once-per-week application!
We suggest layering your Stem Cell Anti-Aging Wrinkle Treatment between your eye serum and eye creams. Always layer products lightest to heaviest. Your order of application should be eye serum, treatment, and then eye cream.
Save TODAY on Your New Eye Serum!
Getting on Introstem's exclusive email list offers you amazing savings on the Stem Cell Eye Serum and other scientifically-proven Introstem products. Subscribers save 20% off a purchase and unlock access to the best sales and giveaways! Becoming an Introstem insider here will assure you're always getting free shipping and are the first to hear about exclusive new product drops.
You can also enter our monthly Product Giveaway, where 5 lucky winners get $500 worth of products EVERY MONTH! 
Conclusion
Using a new eye serum will elevate your skin care routine and deliver incredible ingredients deeper into the skin around your eyes. With the skin around the eyes being thinner, drier, and more prone to inflammation than the surrounding skin on the face, a specially formulated eye serum is your best defense against the appearance of dryness and wrinkles around the eyes. 
Introstem's Stem Cell Eye Serum uses power-ingredient Grape stem cell extract. It creates the look of firmness, youthfulness, and vitality around the eyes. You'll feel more confident knowing you're giving your eye area the best care and attention with Introstem's lineup of products.
Click here to browse more of Introstem's stem cell-infused bestsellers.