Have you been struggling to find an exfoliant that works well for your skin? One that thoroughly clears out your pores without leaving your skin feeling raw and irritated?
Here at Introstem, that's a common complaint that we often hear. And it's also the reason why we created our Stem Cell Facial Peeling.
This single product has the potential to transform not only your entire skincare routine, but also your complexion. How? Read on – we're about to explain!
But First…What Exactly is the Stem Cell Facial Peeling?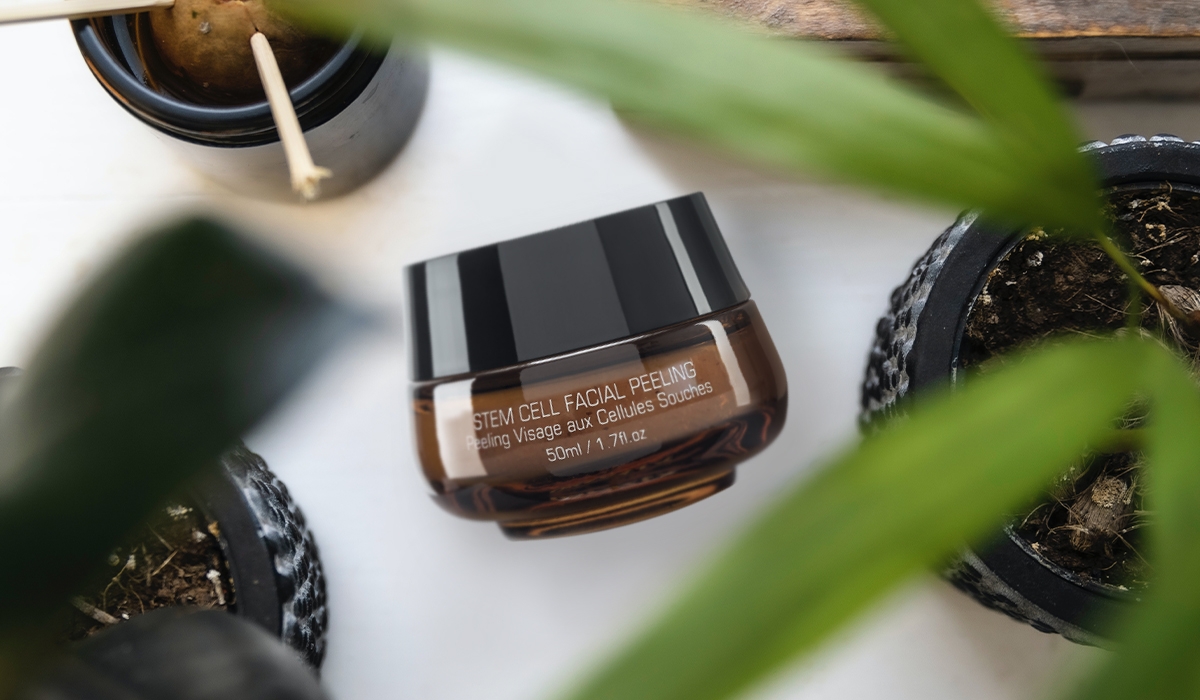 If you're not yet familiar with the Stem Cell Facial Peeling, it's time for a quick introduction.
This product is an exfoliant, but it's unlike any other exfoliant you'll have ever used. Usually, exfoliants can be categorized as either a chemical exfoliant or a physical exfoliant. However, our Stem Cell Facial Peeling is a gel-like formula that's a little bit of both. This enables you to reap the benefits of both chemical and physical exfoliation.
You'll be able to enjoy the satisfaction and the instant gratification of physically removing all of those dead skin cells from the surface of your skin. This is thanks to the bamboo extract powder and the walnut powder that we've included in this formula.
However, you'll also be able to benefit from the deeper exfoliating experience provided by a chemical exfoliant. This is down to the mandelic acid in the Stem Cell Facial Peeling. It may not be as well-known as some of the other alpha-hydroxy acids out there, but it's great at what it does. It's also much more gentle, which is how we're able to combine it with physical exfoliants, without causing any damage to the skin.
As you can see, the Stem Cell Facial Peeling is a pretty unique product. However, in addition to leaving you with beautifully exfoliated skin, it offers up a number of other benefits too. Let's take a closer look at them:
1) It Brightens the Complexion
Although our skin naturally sheds dead skin cells, this process slows down with age. This means that all of those dead cells start to pile up on the skin and inside the pores, leaving the skin looking dull and rough.
Regular exfoliation helps to clear this buildup away. By doing so, the skin naturally takes on a slightly brighter look.
However, we wanted our Stem Cell Facial Peeling to take things a step further. So, we added vitamin C into the mix. In case you didn't know, vitamin C is a true superstar at brightening and lightening the appearance. That's why you'll find not one, but two forms of this potent antioxidant in our facial peeling. This brings your complexion double the brightening benefits – what's not to love?!
2) It Helps to Fade the Look of Dark Spots and Acne Marks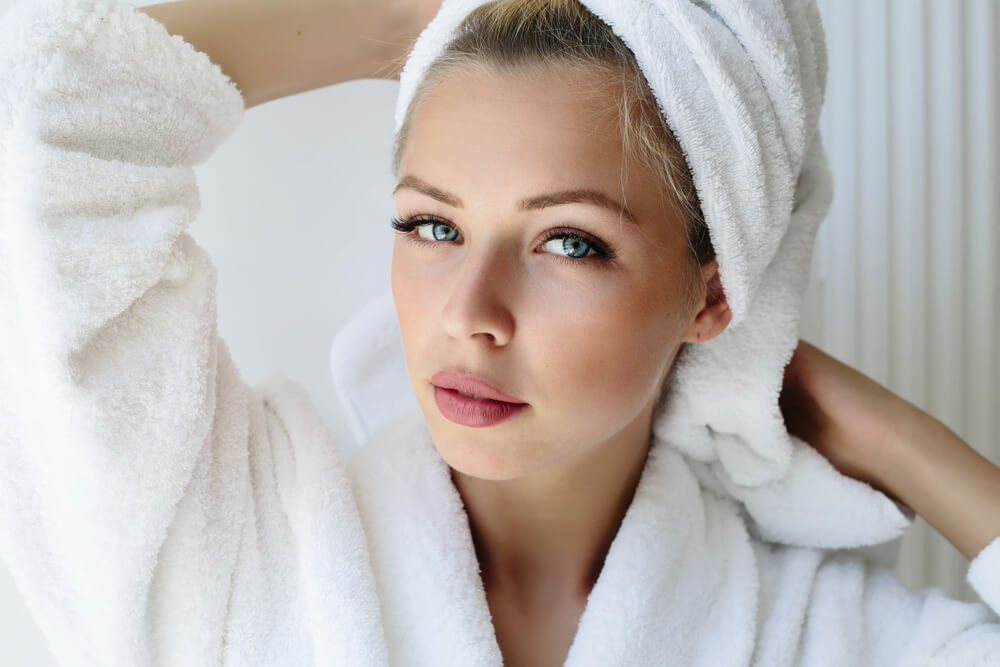 In addition to brightening and evening out the overall look of your skin, our Stem Cell Facial Peeling can also help to fade the visibility of dark spots, acne marks, and other blemishes or areas of discoloration.
Well, firstly, exfoliation in general already helps with this. By removing the older and more discolored skin cells, exfoliation will slowly help your skin to regain its balanced look.
However, our exfoliant does all of this and more…
It's all down to the potent antioxidants that we've included in the formula. Grape stem cells are one example – Introstem's signature ingredient. You'll also notice green tea extract in this blend, an ingredient that has been proven to reduce the appearance of hyperpigmentation.
3) It Reduces the Appearance of Aging
Fine lines often start to appear when a person is in their early 30s. Over time, these continue to deepen, resulting in wrinkles. It's always a good idea to have a few different products in your skincare arsenal to lessen the look of these lines, and our Stem Cell Facial Peeling should, without a doubt, be one of them.
We've already mentioned a few of the antioxidants that we've included in this formula. Vitamin C, grape stem cells, green tea…however, the list goes on. One in particular that we would like to draw your attention to is vitamin A. If you've been noticing the appearance of fine lines and wrinkles and this ingredient isn't in your skincare routine, then you've been missing out.
Vitamin A has been proven, in countless studies, to help reduce the visibility of wrinkles. It's one of the most-studied compounds in the industry, meaning that it's also one of the safest. While some forms of vitamin A are known for causing side effects, we've made use of retinyl palmitate, a far gentler version. It may be milder, but, when used regularly, results are the same. You'll experience skin that looks smoother, firmer, and more lifted, but without having to worry about side effects.
4) It Reduces the Appearance of Acne Breakouts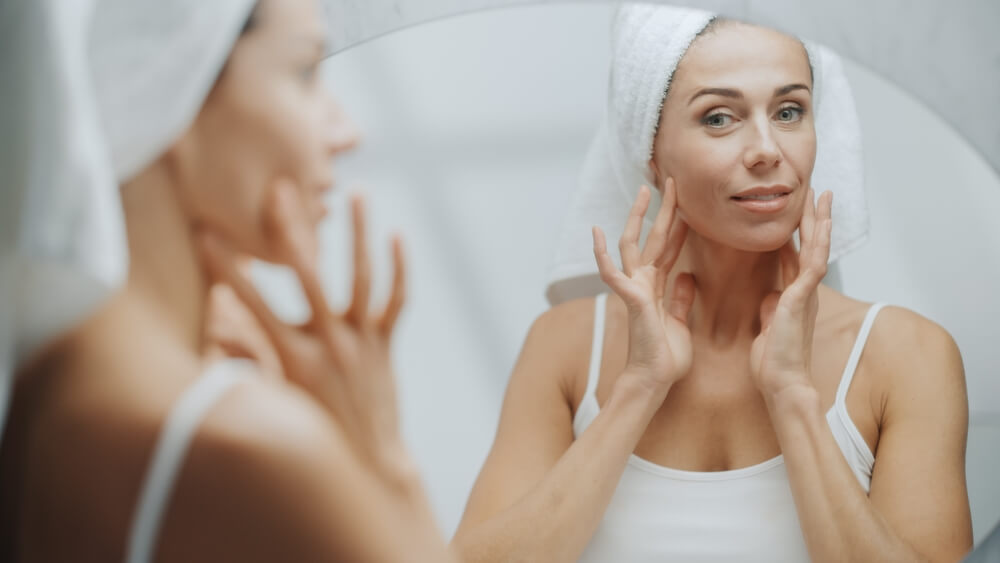 Clogged pores are a huge acne trigger. In fact, without clogged pores, breakouts wouldn't even occur.
How can you keep your pores clear and free of blockages?
There are a few ways to do this, and one of them is by regularly exfoliating your skin. However, you need to be careful about the method of exfoliation that you choose if you have acne-prone skin…
Go with a formula that's too harsh and your skin will feel even more inflamed than usual. And, that's right, inflammation triggers breakouts. However, go with a formula that's too mild and it won't properly penetrate into your pores. As a result, they'll soon clog up once again.
That's what makes our Stem Cell Facial Peeling so perfect. It's highly effective at clearing out the pores, yet it's gentle enough to not leave the skin feeling inflamed. Just to be sure, we've also added some vitamin E into the formula. This antioxidant is famed for how it soothes and calms the feel of the skin, preventing the complexion from looking red and irritated.
5) It Leaves the Skin Feeling Hydrated
Some exfoliants are infamous for how they leave the skin dry and raw. They're simply far too harsh, meaning that they strip away the skin's outer protective layer. As a result, not only does the skin not look very good for a while, but it's also much more susceptible to damage from UV rays, pollutants, and other environmental concerns.
In some ways, all exfoliants do this – those dead skin cells on the surface of your skin provide a physical barrier between your skin and the world around it. However, if an exfoliant is hydrating enough, then this helps to prevent the feeling of dryness and damage.
So, this is why you'll find a number of hydrating compounds in the Stem Cell Facial Peeling. Glycerin is one – it's a humectant with incredible moisture-binding properties. It leaves the skin looking plump and luminous.
We've also used phospholipids in this formula. These deliver fatty acids to skin cells, which leaves the skin feeling moisturized and protected.
Don't Believe Us? Read the Reviews!
There aren't many exfoliants out there that work well on all skin types. So, we understand why you may find this a little hard to believe!
However, check out some of the Introstem reviews out there and you'll see that what we say really holds true. Customers love how they can see results in just a few seconds, with some of the biggest benefits that they noted being:
Pores look smaller

Skin feels baby-soft

Evens out the look of the skin tone

Skin feels so much smoother

Hyperpigmentation is less visible

Complexion appears plumper and more radiant after just a few days

The product has a beautiful smell and texture
How to Use the Stem Cell Facial Peeling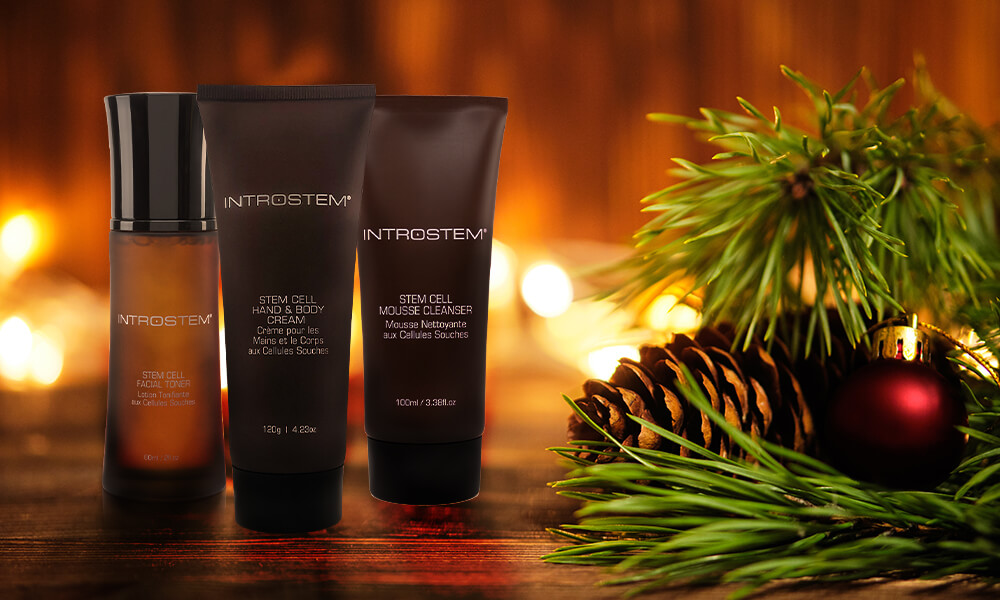 Convinced that you need the Stem Cell Facial Peeling in your life but aren't sure how to use it? Don't worry, we're here to help!
To start with, you'll need to cleanse your skin. That's right – even though exfoliation is almost like a deep clean for your skin, cleansing first is essential.
Why?
Because cleansing removes all of the surface debris. After all, the main purpose of exfoliation is to dive a little deeper and clear out your pores. However, if its blocked by the dirt, oil, and other impurities on the surface of your skin, it won't be able to do its job.
For the ultimate cleanse, we'd recommend trying the Introstem Stem Cell Mousse Cleanser. It's an exquisite formula that contains surfactants derived from coconuts. These are far gentler on your skin than many of the other cleansers out there. However, the rich lather that it forms still provides an effective cleanse.
Once your face is clean and dry, apply the Stem Cell Facial Peeling. To do this, scoop out a small amount from the jar using clean fingers. Massage it into your skin in circular motions. You don't need to apply any pressure – just gently massage your face. As you do, you'll notice that the peeling gel starts to form clumps. These are your dead skin cells slowly working their way loose.
At this stage, you can rinse the peel off with warm water.
Once you're done, follow up with a good serum. This is the perfect time for a concentrated solution since your pores will be feeling clear and receptive. Anything that you apply next will have a direct path deep into your skin!
Finally, finish off with a moisturizer. This will seal in all of the goodness that you've just applied, while enhancing the effects of the exfoliant.
How Often Can You Use the Stem Cell Facial Peeling?
Just like most exfoliants, our Stem Cell Facial Peeling should be used once or twice a week. Which you choose should depend on your skin type.
Those with dry skin are often best exfoliating once a week. If you have sensitive skin, then you may even need to save your exfoliant for use once every ten days or so.
However, those with oily or combination skin usually need to exfoliate a little more than this, making twice-weekly ideal.
Can You Use the Stem Cell Facial Peeling on Your Body?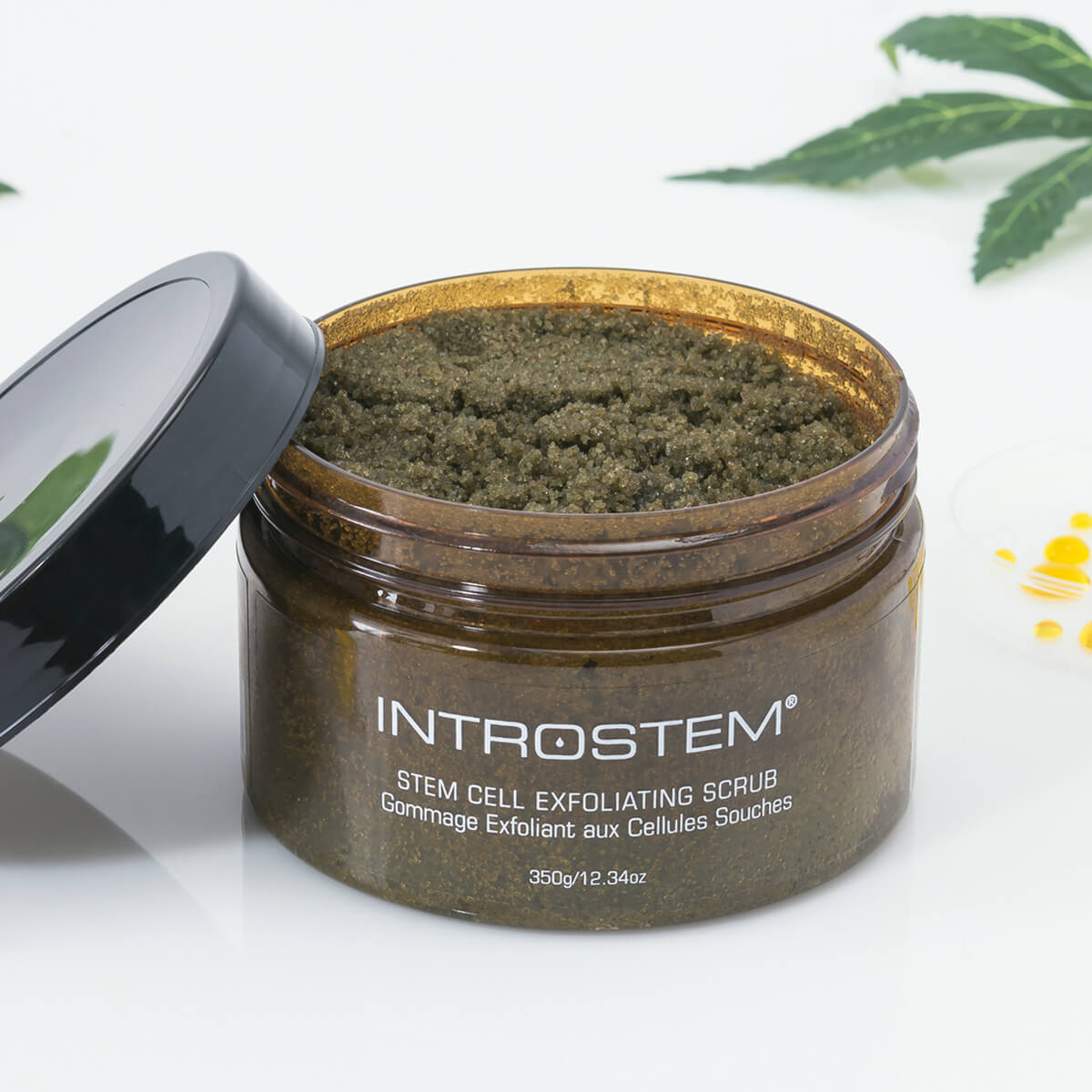 Now that you've read about all of these wonderful benefits that our facial peel can offer to your skin, you're probably wondering whether or not you can use it on your body too…
The answer is yes, but it wouldn't be as effective. The skin on your body is much thicker than the skin on your face. Therefore, a more abrasive exfoliant usually works best.
For this, give the Stem Cell Exfoliating Scrub a try. It's a salt-based scrub that's ideal for softening, smoothing, and brightening the look and feel of your body.
Summary
As you can see, the Stem Cell Facial Peeling can really do wonders for your complexion. Whether you're dealing with the appearance of acne, highly visible wrinkles, a dull finish to your skin, or the look of dark marks, this single product can help with all of that, plus so much more!
Interested in the other complexion-transforming formulas available from Introstem? Have a browse through our bestsellers here!